'Strongest storm this year' slams into Philippines as the latest to undergo rapid intensification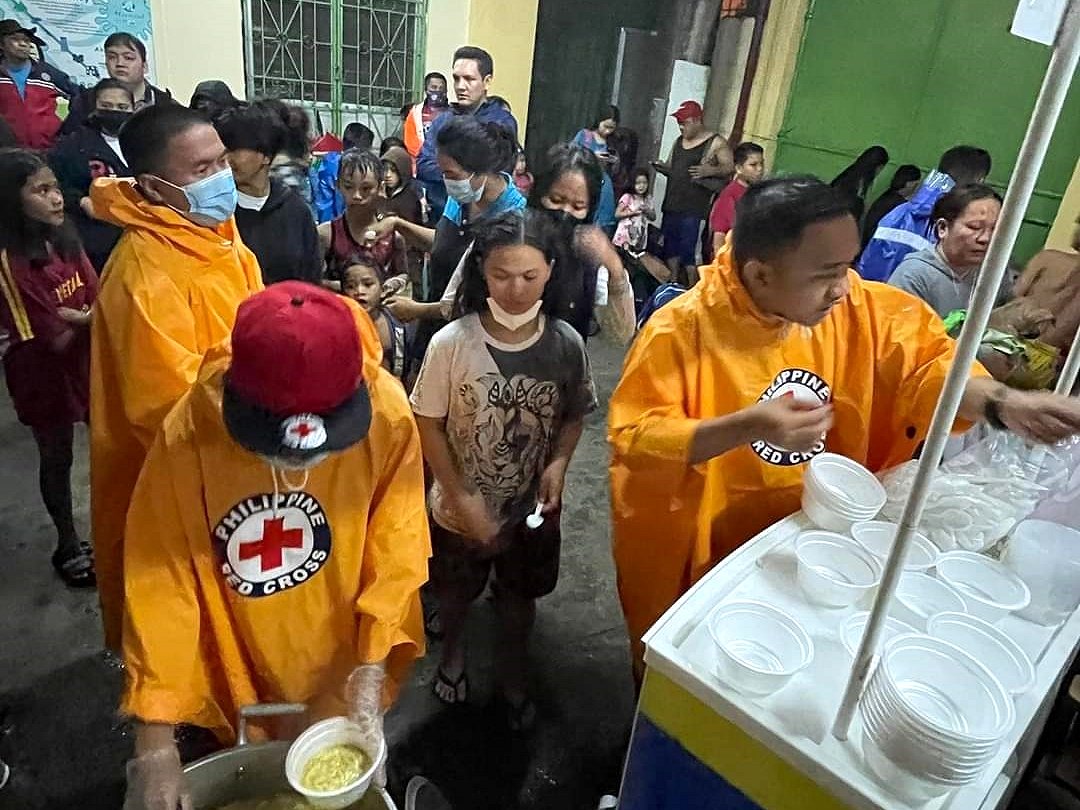 26 September 2022
By the Climate Centre
The Philippine Red Cross over the weekend mobilized at least 2,000 volunteers (photo) to assist residents in areas affected by Typhoon Noru, which made landfall yesterday as a super typhoon on the country's most heavily populated island, Luzon, media reports said.
The National Society's response included assistance to nearly 150 people stranded by the storm at Manila ferry port.
Philippine Red Cross Chairman Richard Gordon said earlier: "This storm is the strongest one yet this year to hit us. It is critical that we move everyone to safety right now as this typhoon is set to cause devastation in all central Luzon, including our capital, Manila.
"Our volunteers are on full stand-by mode working with authorities to move people to evacuation centres with all their necessities. We also pre-positioning emergency relief, hot meals, and medical supplies in anticipation.

"Our water tankers for drinking water and payloaders to quickly clear off debris, mud and fallen trees and make roads accessible to reach communities are also in place," he told the IFRC yesterday.
People in the northern Philippines were scrambling to safe areas and evacuation centres as the storm began to "batter thousands of cities, homes, and infrastructure," the IFRC said.
'Eye wall'
The Climate Centre's joint lead for science on anticipatory action, Liz Stephens, said today: Typhoon Noru is another super typhoon in the Philippines that has seen undergone rapid intensification, described as "explosive" by the Philippine government, after Goni in 2020 and Rai last year.
"These super typhoons have typically given less than 12 hours notice after being identified as such before making landfall in their more intense state.
"The latest forecasting systems are not able to capture the complex processes in the eye wall of the storm that drive this rapid intensification," added Stephens, who is Associate Professor of Climate Risks and Resilience at the University of Reading in the UK.
Alberto Bocanegra, IFRC Head of Philippine Country Office said yesterday: "We have learned from responding to last year's strongest typhoon, Rai. We believe we are continuing to adapt our emergency responses and are prepared to handle to the intensity of this storm.
"These weather-related events are intensifying and becoming more frequent. The super storm that hit the south-eastern Philippines was a mere ten months ago, and the people affected are barely picking up the pieces.

"We must be effective and quick to adapt no matter how bad the situation will be. The IFRC is working closely with the Philippine Red Cross and helping with relief and providing support."
Noru, known locally as Karding, was today tracking due west and was forecast to make landfall in central Vietnam Tuesday, having gathered strength again.
In the northern Philippines, Red Cross volunteers and staff handed out hot meals, medicines, drinking water and more this weekend as people sought safety from Typhoon Noru. They helped move people to evacuation centres and pre-positioned relief materials for immediate use. (Photo: PRCS via Twitter)