Anticipatory action tops list in UN blueprint for future humanitarian funding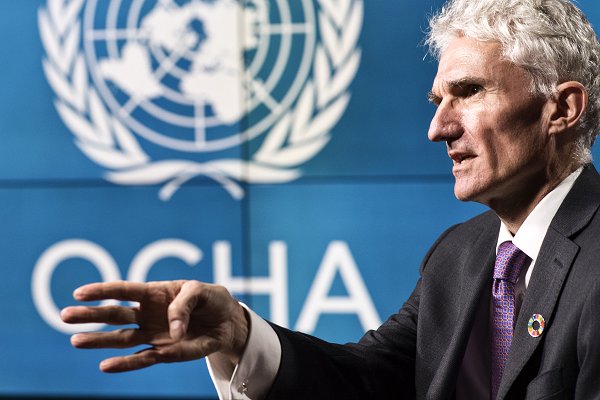 18 January 2019
The UN humanitarian chief, Mark Lowcock, has proposed expanding three approaches to funding to close what he calls the "stubborn and harmful gap between need and response".
Arguing that "humanitarian agencies need to break out of traditional funding models that are no longer sufficient for the complex and protracted crises we face," he lists anticipatory and contingency financing as the first of these.
Mr Lowcock – a former Permanent Secretary at the UK Department for International Development – says the IFRC's forecast-based [action] fund, the Start Fund's anticipation window and the World Bank-UN's Famine Action Mechanism are three examples.
Citing the intervention last year when CERF channelled US$ 30 million to Burkina Faso, Chad, Mali and Mauritania on early signs of a drought-based food crisis, he writes in an article for the World Economic Forum that tying funds to "pre-agreed triggers and implementation plans can go a long way to improving program design and impact, cutting response times and costs, and reducing suffering.
"By pre-agreeing contingency financing, the money can arrive in days, not months."
'Private sector models'
Mr Lowcock adds, secondly: "I would like to see insurance play a growing role in emergency protection in at-risk countries, as well as an exploration of using insurance even in conflict zones.
"Greater engagement with private sector models such as these will mean humanitarians improving our data collection and analytics, and boosting our financial analysis."   
Firms like Swiss Re and Munich Re, he says, already work with governments and humanitarians to provide "a degree of protection in the face of natural disasters", mentioning the Caribbean Catastrophe Risk Insurance Facility and the World Bank's Pandemic Emergency Financing Facility.
Thirdly, with a need to "maximize the value of every single dollar invested" and achieve a more sophisticated understanding of needs, funds such as CERF and the 17 pooled country-funds the UN manages, "which cut management costs, achieve economies of scale and incentivize collaboration", must grow in parallel to overall humanitarian need.
UN Under-Secretary-General for Humanitarian Affairs and Emergency Relief Coordinator, Mark Lowcock. (Library photo: Mark Garten/UN)