Ian rolls across Florida leaving 'catastrophic storm surge, winds, flooding' in its wake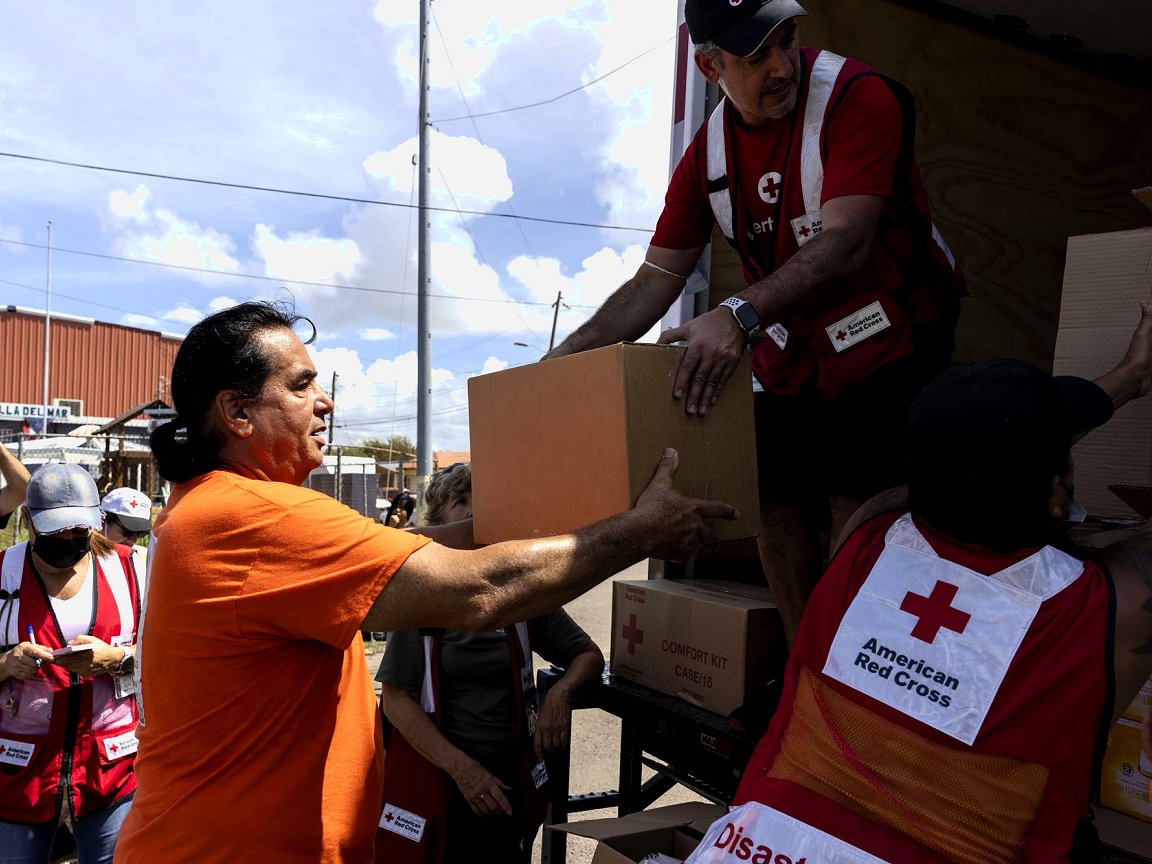 29 September 2022
By the Climate Centre
About 13,000 people escaping Hurricane Ian spent Tuesday night in shelters set up by the American Red Cross or its local partners across Florida, the National Society said yesterday.
The hurricane made landfall Wednesday "as an extremely dangerous Category 4 storm, bringing a catastrophic storm surge, winds and flooding to the state," the Red Cross said.
Ian has triggered evacuation alerts affecting more than 2 million people.
The American Red Cross beforehand moved many truckloads of cots, blankets, comfort kits and other relief supplies into the region to be prepared to help as many as 60,000 people.

Emergency response vehicles were pre-positioned across the state, and the Red Cross sent several hundred Type-O blood products to Florida ahead of the storm.
More than 500 trained Red Cross disaster workers were in place in Florida as Ian made landfall.
Floridians in the storm's path were able to find their nearest shelter through a free Red Cross app or a toll-free telephone number, at floridadisaster.org, and by following local officials and news bulletins.
A scientist with the US National Oceanic Atmospheric Administration, Christopher Slocum, yesterday said that rapid intensification had moved Hurricane Ian close to Category 5 by midday, with maximum sustained winds of 155 miles per hour, up from Category 3 the previous evening.
'We have never seen a flood event like this. We have never seen storm surge of this magnitude'
Hurricane Ian made landfall just north of Fort Myers yesterday evening local time, then tracked north-east across the state and was Thursday coasting out from the Atlantic seaboard; it was described in media reports as one of the strongest storms to hit the US mainland in recent years.
"It rapidly transformed Florida's south-western shoreline, dotted with sandy beaches, coastal towns and mobile home parks, into a disaster zone as it swept seawater into waterfront homes," Reuters news agency reported from the nearby Gulf coastal city of Venice.
State Governor Ron DeSantis told a news conference: "The impacts of this storm are historic and the damage that was done was historic … We have never seen a flood event like this. We have never seen storm-surge of this magnitude."
The US National Hurricane Center said today there was a danger of a "life-threatening storm surge through Friday along the coasts of north-east Florida, Georgia and South Carolina," as Ian tracks north along the Atlantic coast.
It continued: "Ongoing major-to-record flooding will continue across portions of central Florida, with considerable flooding in northern Florida."
By Tuesday, as Hurricane Ian bore down on Florida's Gulf coast, the American Red Cross had distributed nearly 20,000 relief items and more than 23,000 meals and snacks. The National Society was also providing health and psychosocial services, and replacing people's lost eyeglasses and prescriptions. (Photo: American Red Cross)