Alpine regions see deaths amid 'schneechaos'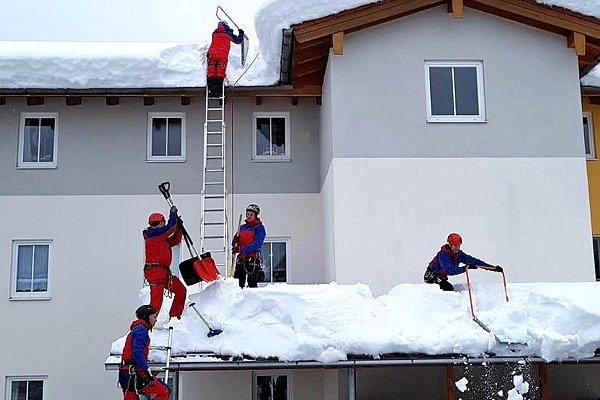 14 January 2019
Meteoalarm red alerts for dangerously heavy snowfall or avalanches were in force Monday for Alpine regions of Austria, southern Germany, Norway and Switzerland, and the IFRC reports Red Cross Red Crescent teams across Europe have been on the alert to assist people trapped in drifts or on roads.
National Societies say there is again a heightened risk of avalanches and have highighted their safety advice for ski slopes; three German skiers died in an avalanche near the near the Austrian resort of Lech am Arlberg.
That accident brought the number of deaths related to the extreme weather in Europe this month to at least 24, according to AP.
Austrian media quote Alexander Radlherr from the country's Central Institute for Meteorology and Geodynamics, as saying: "Such quantities of snow above 800 metres happen once every 30 to 100 years."
The BBC yesterday reported the German Red Cross had been helping drivers stuck on a motorway in Bavaria, while the army airlifted 66 students and teachers to safety after they became trapped at a ski station.
Warnings
The Climate Centre's Manager, Climate Science, Erin Coughlan, said yesterday: "We expect more precipitation in winter in northern Europe with climate change, and this can certainly fall as snow in the right conditions.
"The avalanche danger is complex in terms of climate: there are different kinds, caused by underground freezing or thawing, earth movement, or melting snow, for example.
"But this September the Intergovernmental Panel on Climate Change is expected to release a special report on oceans and the cryosphere, including a review of what we understand about mountains and snow under climate change."
A break in the weather Saturday was used to clear heavy loads of snow from roofs and roads before new warnings of avalanches were issued, Deutsche Welle reported yesterday, adding that new "snow on meadow slopes and in forests could suddenly start to slide, possibly even below an altitude of 2,000 metres above sea level."
Emergency workers in Bavaria clear snow from rooftops in danger of collapse. News reports say at least 24 people have now died in what's been dubbed the 'schneechaos' (snow emergency) facing Alpine regions of Europe. (Photo: Bayerisches Rotes Kreuz via Twitter)