Global humanitarian agencies list conflict, migration and climate among top priorities for 2019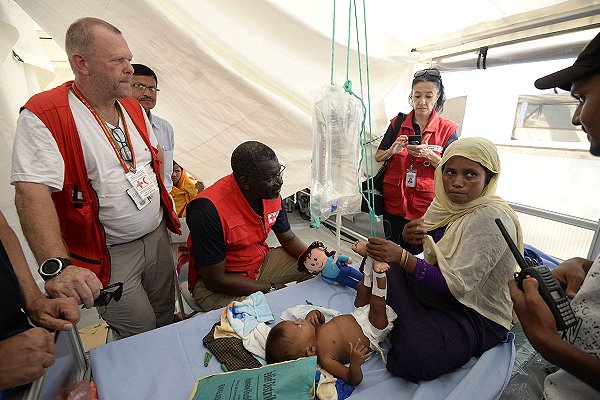 7 January 2019
Humanitarian agencies surveyed by the Thomson Reuters Foundation have said they are bracing for "a challenging new year" tackling conflicts from Yemen to Central African Republic and escalating crises such as people from Venezuela fleeing turmoil at home.
In one of 12 edited responses, IFRC Secretary General Elhadj As Sy listed "community engagement, emergency health care, water and sanitation services" as part of an effort to prepare for the next pandemic as the organization's top priority for 2019.
Protecting "missing millions" of migrants on the move, women and children, and disabled people left out of humanitarian response came next, followed by preparing for "climate-related shocks and hazards".
In that context Mr Sy mentioned "adaptation to build resilience, activating early-warning systems and early action, and building on innovative approaches like forecast-based financing".
Digital technology
In the Thomson Reuters survey, agency CEOs and directors were asked to name their first three priorities for the year ahead.
Pointing out that the record US$ 14.3 billion from donors for humanitarian response coordinated by the UN this year meets only 57 per cent of estimated needs, OCHA chief Mark Lowcock said his top priority was to close "the persistent funding gap between what we receive and need".
Next for OCHA came measures to improve warring parties' respect for international humanitarian law and stronger measures to prevent sexual exploitation and abuse within the aid community.
Corinne Woods, communications director at the World Food Programme put Yemen at the top of her list, while next came helping to rebuild "the livelihoods and strengthen the resilience of millions around the world whose lives are being torn apart by conflict and climate change".
Harnessing digital technology, "including blockchain and biometrics, to move the fight against food insecurity into a different gear" came third.
'Ambitious targets'
One agency, CARE International UK, puts climate at the top of its list of three prioritieee. Tom Newby, who leads its humanitarian team, said: "The Intergovernmental Panel on Climate Change's ['SR1.5'] report was quite frightening in its warning that we only have 12 years to limit catastrophe."
As a second priority out of three, CARITAS Secretary General Michael Roy wants to push for "more ambitious targets on limiting global warming to no higher than 1.5 degrees".
Other agency leaders included in the survey are from Save the Children International, Oxfam GB, ActionAid, the International Rescue Committee, Islamic Relief Worldwide, Mercy Corps, and the Norwegian Refugee Council.
The UN has asked donors for US$ 21.9 billion to address 21 humanitarian crises in 2019, including Yemen but not including include Syria, which is expected to bring the total to US$ 25 billion.
IFRC Secretary General Elhad As Sy (seated, at centre) on a visit to a Red Cross Red Crescent field hospital in Cox's Bazar. He has listed pandemic disease, the "missing millions" of people left out of humanitarian response and climate as top priorities. In the photo is 18-month old Shahed Ullah, whose leg was broken when his mother fell with him in her arms on the trek from Rakhine in Myanmar to safety in Bangladesh. (Library photo: Victor Lacken/IFRC)