First-ever early action protocols triggered in Central America for TS Julia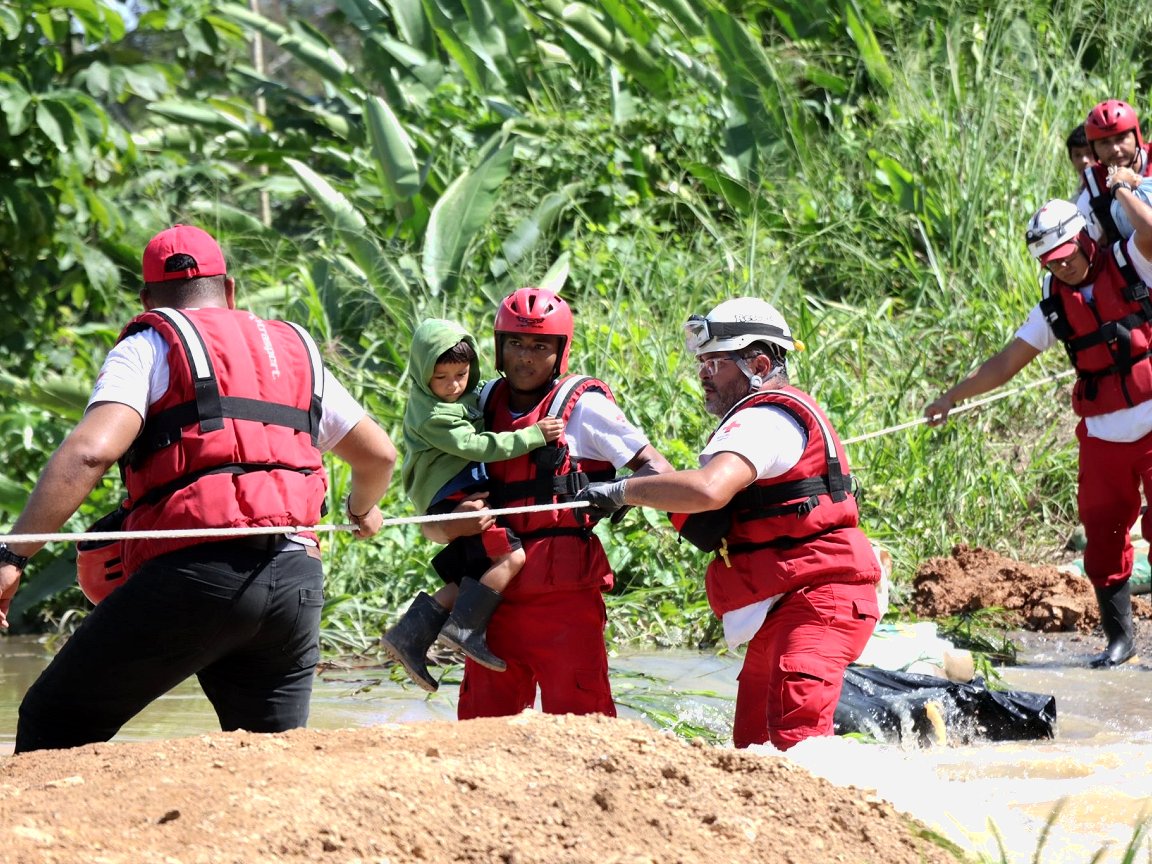 13 October 2022
By the Climate Centre
The IFRC was today readying a second humanitarian cash grant to Guatemala, one of the countries worst affected by Tropical Storm Julia, which cut a path of destruction through Central America earlier this week.
The new grant, from the response pillar of the IFRC's Disaster Relief Emergency fund, follows the activation last Friday of two pre-funded early action protocols for floods caused by tropical storms for Guatemala and Honduras – the first EAPs to be triggered in Central America – for nearly 500,000 and just over 360,000 Swiss francs respectively; these two grants were from the DREF anticipatory pillar.
"Early actions led by the Red Cross were encompassing up to 3,000 Guatemalan families in Izabal and Alta Verapaz departments and 2,700 Honduran families in the River Sula valley, through cash transfers and safe water, including purifying equipment," the two National Societies said in a joint press release Sunday.
Media reports say at least 25 people were killed by the storm, mostly in El Salvador and Guatemala.
Immediate needs
Mathieu Destrooper, German Red Cross regional forecast-based financing coordinator, who is one of the main partners to both National Societies for their work on anticipatory action, told the Anticipation Hub Sunday: "In [Guatemala and Honduras], the focus is on cash assistance and support in water, sanitation and hygiene.

"Past floods have shown that access to safe drinking water is a severe challenge, for example following the inundation of wells, and we have seen a significant increase in the occurrence of acute diarrhoeal diseases.

"To mitigate and reduce these impacts, we plan to distribute water purification kits, and install water treatment plants and storage tanks to ensure access to safe drinking water, while at the same time raising awareness among at-risk communities."

Cash assistance under the EAPs to the most vulnerable families would also cover immediate needs such as evacuating people and assets, protecting homes, and buying emergency stock.
The Red Cross in Costa Rica, El Salvador, Nicaragua and Panama has also this week been closely engaged in relief and rescue work in response to Julia, which made landfall Sunday on Nicaragua's Caribbean coast before crossing to the Pacific Ocean.
The EAPs in Guatemala and Honduras were finalized earlier this year as part of a project for forecast-based financing implemented by the two National Societies, with support from the German Red Cross, the IFRC, and the Climate Centre, and funding from the German Federal Foreign Office.
Guatemalan Red Cross volunteers evacuate residents shortly before the River Motagua in the centre of the country broke its banks. (Photo: Guatemala Red Cross via Twitter)