New IFRC report addresses climate change as #1 threat-multiplier for displacement in Asia Pacific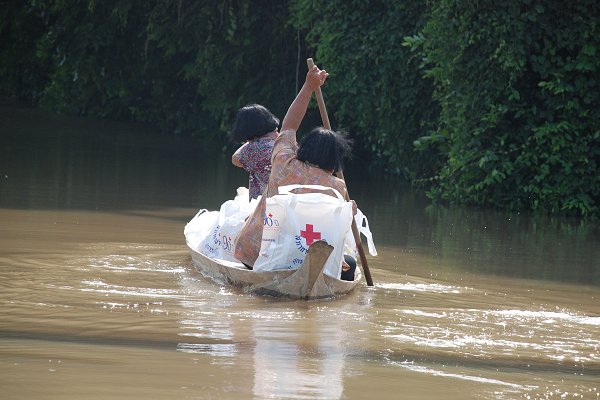 18 December 2018
An IFRC report launched last week at the ISDR-Asia Partnership Forum in Bangkok says migration and displacement linked to the impacts of climate change will be one of the defining humanitarian challenges of the 21st century.
Citing a variety of sources it says more than 20 million people are newly displaced every year on average by floods, storms, wildfires, extreme-winter conditions, landslides, earthquakes and volcanic eruptions.
"The vast majority of such displacement occurs in the Asia Pacific region," says the IFRC report – Disasters and Displacement in a Changing Climate: The Role of Asia Pacific National Societies, which affirms the view that climate change is the now ultimate threat-multiplier facing humanity.
'Diversity and strength'
It adds: "The increase in frequency and intensity of sudden-onset hazards is widely expected to lead to increasing levels of displacement and humanitarian need.
"Slow-onset hazards linked to climate change are also expected to…lead to further displacement, including those related to increasing temperatures, sea-level rise, ocean acidification, salinization, glacial retreat, land and forest degradation, biodiversity loss and desertification.
"Sea-level rise alone is predicted to displace up to 90 million people in the Pacific and East Asia."
The report also highlights initiatives by Asia Pacific National Societies, "demonstrating the diversity and strength of Red Cross Red Crescent action to address this emerging and critical challenge."
Expertise
Societies featured include (alphabetically) the Bangladesh, Maldives and Pakistan Red Crescent, and the Red Cross of Australia, China, Fiji, Indonesia, Mongolia, Myanmar, the Philippines, the Solomon Islands and Thailand.
The report is intended to enhance the understanding of National Societies, governments and other key stakeholders of "the trends, dynamics and humanitarian needs of people on the move in the context of disasters and climate change", while building on the latest expertise on human mobility.
Innovative preparedness measures by the IFRC and Asia Pacific National Societies include early warning systems and evacuations, forecast-based financing, initiatives on disaster law, and various kinds of advance mapping.
In Asia Pacific, says Disasters and Displacement, FbF initiatives are being developed or now actually implemented by the Red Cross of Indonesia, Mongolia, Nepal, the Philippines, the Solomon Islands and Vietnam.
Women affected by massive flooding in Sing Buri province, central Thailand in 2010 row home after collecting relief supplies from the Thai Red Cross. (Photo: Sunthon Tipayakorn/Thai Red Cross)