Research: Heatwaves, droughts and floods among recent weather extremes linked to climate change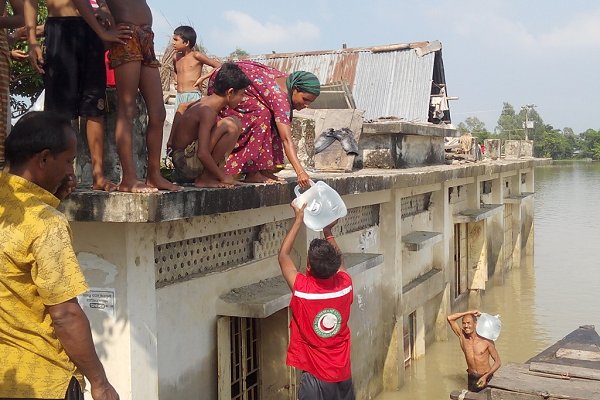 13 December 2018
New research published on Monday, as the second week of UN climate talks in Poland got underway, shows "clear ties between today's extremes and human causes" in both the developed and developing world.
Droughts in the US Northern Plains and East Africa, floods in South America, China and Bangladesh, and heatwaves in China and the Mediterranean "were all made more likely by human-caused climate change", according to a summary in the Bulletin of the American Meteorological Society (BAMS).
The report – Explaining Extreme Events in 2017 from a Climate Perspective – is the seventh in an annual series that began in 2011.
It includes analyses of oceanic events and "intense marine heatwaves" in the Tasman Sea in 2017 and this year that would have been "virtually impossible" without climate change.
"These attribution studies are telling us that a warming Earth is continuing to send us new and more extreme weather events every year," said BAMS Editor Jeff Rosenfeld.
"The message of this science is that our civilization is increasingly out of sync with our changing climate."
'In a decade the research has evolved enough
to address a wider scope of societal challenges'
This is the second year that scientists have identified extreme weather they say could not have happened without warming.
Explaining Extreme Events features the work of 120 scientists from ten countries who look at both historical observations and models.
"These studies confirm predictions of the first 1990 IPCC report, which foresaw that radical departures from 20th century weather and climate would be happening now," according to BAMS Special Editor Martin Hoerling – a meteorologist at the US National Oceanic and Atmospheric Administration.
"Scientific evidence supports increasing confidence that human activity is driving a variety of extreme events now," he added.
"These are having large economic impacts across the United States and around the world."
'Local risks'
The extreme-weather events studied in the seven issues of the report to date do not represent a comprehensive analysis of all events during that span, BAMS said. About 70 per cent of the 146 research findings published in the series identified a substantial link between an extreme event and climate change; 30 per cent did not.
The latest report goes beyond conventional scientific attribution studies in that its editors asked planners in various sectors to reflect on the potential use of attribution science in, for example, managing water storage, planning for rising sea-levels, and assigning legal liability.
Researchers are "often going after more local risks like heatwaves, fire danger, and floods on scales of a few days, for pinpoint areas of extreme impacts," Rosenfeld added.
"In barely a decade, the research focus has evolved enough to address a wider scope of societal challenges."
Coastal waters
The research on 2017 includes findings that very warm seas off the coast of Africa that "could not have occurred in a pre-industrial climate" doubled the probability of drought in East Africa, which left more than 6 million people in Somalia facing food shortages.
Climate change made heatwaves in the European Mediterranean region at least as hot as last year's three times more likely than in 1950, it says, while the record-breaking 2017 heat in China, once rare, is now a one-in-five-year event due to climate change.
The extreme pre-monsoon rainfall that inundated north-east Bangladesh was made up to 100 per cent more likely by climate change, and the rain that destroyed thousands of houses in south-eastern China in June twice as likely.
Floods in Peru in March were influenced by a naturally warm coastal waters, but climate change on top of that made this extreme at least 1.5 times more likely.
Bangladesh Red Crescent volunteers provide safe drinking water to villagers who have taken shelter on the roof a school in Islampur last year after what were described as the worst floods in 40 years. New research into extreme weather in 2017 suggests extreme pre-monsoon rainfall over the north-east of the country was made 100 per cent more likely by climate change. (Library photo: Kamrul Hasan/Bangladesh Red Crescent Society via IFRC)