'Follow the science,' lead climate negotiator for LDCs tells Development and Climate Days closing event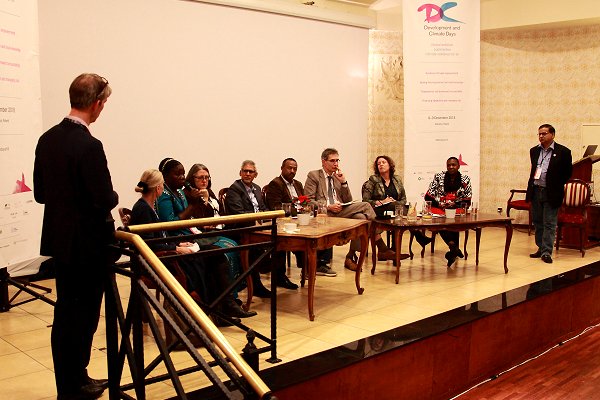 9 December 2018
The lead climate negotiator for the world's least developed countries has called for action on the ground to be guided by science, specifically the IPCC's recent Special Report on Global Warming of 1.5ºC.
"Not only must we welcome the report but we all need to own it and make use of it in our day-to-day work," Gebru Jember Endalew of Ethiopia told the closing panel at the end of the Development and Climate Days weekend (final key messages) alongside the 2018 UN climate talks in Katowice, Poland.
"We are in a climate crisis – why are we questioning the science?" he asked.
Mr Endalew added: "One point five will be very expensive, and if we don't act now it will be even more expensive."
Joining the D&C Days closing panel for the first time was IFRC Undersecretary General for Programmes and Operations Jagan Chapagain, who called on the audience to be mindful of the "real lives" behind the numbers.
"We need to change the perspective from value for money to value for people," he said.
Oxen, ploughs
Constance Okolett, a farmer, community activist and chair of the Osukura United Women Network in eastern Uganda, emphasized that a little climate finance goes a long way.
A recent 5,000-euro grant enabled her group to buy oxen, ploughs and hoes, and boost both their harvest and their incomes.   
With €100,000 in direct financing, she added, her community "will have everything they need."
Another closing panellist, Bernice Van Bronkhorst, Director of the World Bank Climate Change Group, said agencies needed "to use every dollar of development finance to make it climate-smart."
Michelle Winthrop, who leads on climate policy at the Irish Department of Foreign Affairs and Trade, said all climate finance should have a transformative effect on gender issues and "women must be at the table for decision-making".
Veronica Gundu-Jakarasi of Zimbabwe, lead negotiator for the African group at UN climate talks, called for a package on climate that addresses both policy and community needs. Relevant guidance had to be made available for policy-makers
"If we want to strengthen community resilience it's not just about strengthening technical skills, it's also about advocacy skills," said Inge Vianen, CARE International Climate Change and Resilience Platform lead, as well as "strengthening confidence in policy debates".
Barney Dickson, Director of Strategy and Policy at the new Rotterdam-based Global Centre on Adaptation, said that part of the case was simply economic: "Looking at the costs of inaction versus the cost of action.
"Often the costs of inaction tend to be greater, but that that doesn't necessarily mean action will follow."
'Responsibility'
The D&C Days closing panel was moderated by Saleemul Huq, Director of the Bangladesh International Center for Climate Change and Development, and Climate Centre Director Maarten van Aalst.
Also Sunday at D&C Days, Alima Arbudu, a specialist at the ICRC's Policy and Humanitarian Diplomacy Division, said humanitarians had "a role to play and a responsibility to take by helping people we work with adapt to the consequences of climate risks and shocks.
"The ICRC is committed to bolstering the sustainability of our humanitarian response through seeking to reinforce conflict-affected communities' ability to absorb the combined consequences of climate shocks.
"At the same time, urgent political efforts are critical to mitigate climate change: adaptation can complement mitigation efforts – but it will not be sufficient to protect people from the risks."
The closing panel at D&C Days in Katowice – no longer high-level but "gender balanced, north-south balanced, [with] local, national and global voices. This is how all panels should be", tweeted IIED's Sam Greene. (Photo: Climate Centre)