At D&C Days in Katowice, a recipe for eradicating world hunger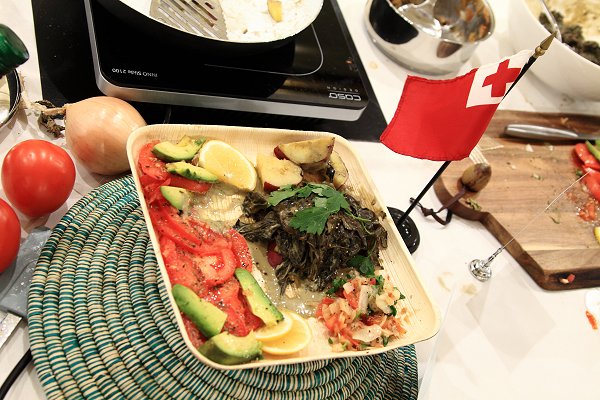 9 December 2018
The role of cooks in advocating for the second Sustainable Development Goal – to wipe out world hunger – was highlighted at Development and Climate Days yesterday in a 'Recipes for Change' cooking challenge (video).
Teams of D&C Days participants representing Bolivia, Cambodia, Mexico, Rwanda, Senegal and Tonga each prepared a meal using the same vegetable ingredients from Africa, Asia and Latin America.
The foods were typical of those cultivated by smallholder farmers facing similar climatic and nutritional issues.
Celebrity chef Ska Moteane from Lesotho presided.
The challenge, won by the group representing Tonga, was organized by D&C Days partner IFAD (the International Fund for Agricultural Development) and the Kitchen Connection online community of cooks and chefs working to end hunger through 'gastrodiplomacy'.
'Rural women'
It dealt "squarely with the fact that one in three people worldwide depends on smallholder farms for their food security, and that smallholders are often located on marginal lands where the impacts of climate change are most strongly felt, reducing crop yields and incomes."
There are more than 800 million hungry people in the world today, the groups said in an introduction, a significant increase from more than 700 million in 2015.
"The biggest factors that contribute to this increase are certainly provoked by conflict and weak governance…compounded by natural disasters and climate change…
"Rural women, who make up 20 per cent of humanity, are most likely to suffer the effects of malnutrition," working land they do not own.
IFAD's #RecipesForChange initiative engages civil society to address hunger through kitchens in people's homes and beyond in the entire food system.
The winning creation, representing Tonga, at the D&C Days Recipes for Change cooking challenge at D&C Days in Katowice. All the food for the event was later taken and used by young Polish volunteers assisting with the weekend workshop alongside the COP 24 UN climate Talks. (Photo: Climate Centre)