: Extreme heat damaging health and livelihoods and threatening to overwhelm hospitals worldwide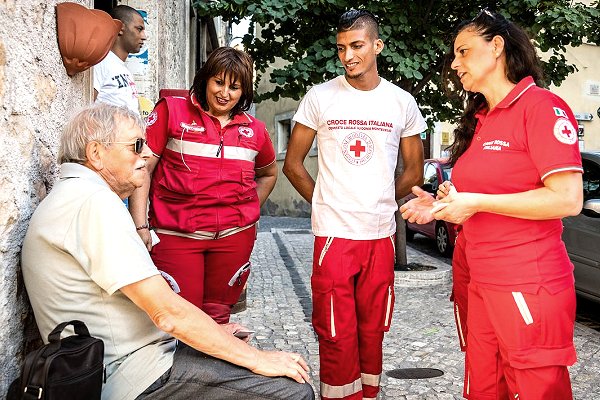 29 November 2018
One of the world's most widely respected medical journals, The Lancet, yesterday published research showing that rising temperatures caused by climate change are placing vulnerable populations at increased risk worldwide.
Leading doctors, academics and policy professionals from 27 organizations – all members of The Lancet Countdown: Tracking Progress on Health and Climate Change network – contributed analysis and jointly authored the report.
Other partners in the research include the World Bank, the World Health Organization, University College London and Tsinghua University.
"Exposure and vulnerability to extreme heat is unacceptably high and rising for people all around the world," said Professor Hugh Montgomery, the group's co-chair and Director of the Institute for Human Health and Performance at UCL.
"Heat stress is hitting hard – particularly the urban elderly and those with underlying health conditions such as cardiovascular disease, diabetes or chronic kidney disease.
"In high temperatures, outdoor work, especially in agriculture, is hazardous."
Lost hours
Some of the heat impacts detailed in The Lancet report include:
*157 million more vulnerable people experienced a heatwave last year than in 2000, and 18 million more than in 2016.
*For the first time, new methodologies have enabled the number of working hours lost to extreme heat to be tracked: 75 billion in India, for example; 21 billion in China; 153 billion worldwide.
*Ageing populations in cities in Europe and the eastern Mediterranean are particularly at risk.
*Heat greatly exacerbates urban air pollution, with almost all cities in low- and middle- income countries failing to meet WHO guidelines on air quality.
A press release yesterday from The Lancet described heat stress as "an early and severe effect of climate change, [it] is commonplace and we, and the health systems we rely on, are ill equipped to cope".
It added that rising heat "is responsible for cholera and dengue fever spreading, with vectorial capacity for their transmission increasing across many endemic areas."
According to Kris Ebi, professor of global health at the University of Washington: "Increased mortality in extreme heatwaves is not something that may happen; it's happening now and will continue as global temperatures continue to rise.
"There is abundant evidence that communities are not prepared for the ongoing increases in the frequency, intensity, and duration of heatwaves. 
"Actions are needed right now, matched with investments, such as implementing early warning systems for heatwaves, including mapping vulnerable populations and providing interventions designed to increase resilience during hot weather."
'Urgent need'
The Lancet also argues that stronger labour regulations are needed to protect workers from extremes of heat, and hospitals and the health-care systems need to be better equipped for extreme heat so they are able to cope.
A scientific study earlier this year showed that the "remarkable" 2018 summer in northern Europe – which triggered a warning from the IFRC and humanitarian intervention by the Red Cross societies across the continent – was twice as likely as a result of man-made climate change.
"Managing present and future heat risks should be one of the highest priorities on the climate adaptation agenda," said the Climate Centre's Julie Arrighi, who leads its work on heat extremes.
"There is an urgent need to scale-up investments in early warning and programmes to reach the urban elderly – the Australian Red Cross Telecross REDi service is a good example – and adapt health systems to manage this pressing risk."
Better response to forecasts of extreme temperatures could reduce the risks faced by five billion people – two thirds of humanity – in both heatwaves and coldwaves, according to research earlier this year led by the Climate Centre and Columbia University.
Italian Red Cross volunteers were among many last August checking up on vulnerable elderly people in Europe's "remarkable" heatwave summer that was also potentially lethal. (Library photo: Emiliano Albensi/CRI via IFRC)