IFRC: Amid worst drought in 40 years, chance of famine rises 25% in Somalia if displaced people don't get help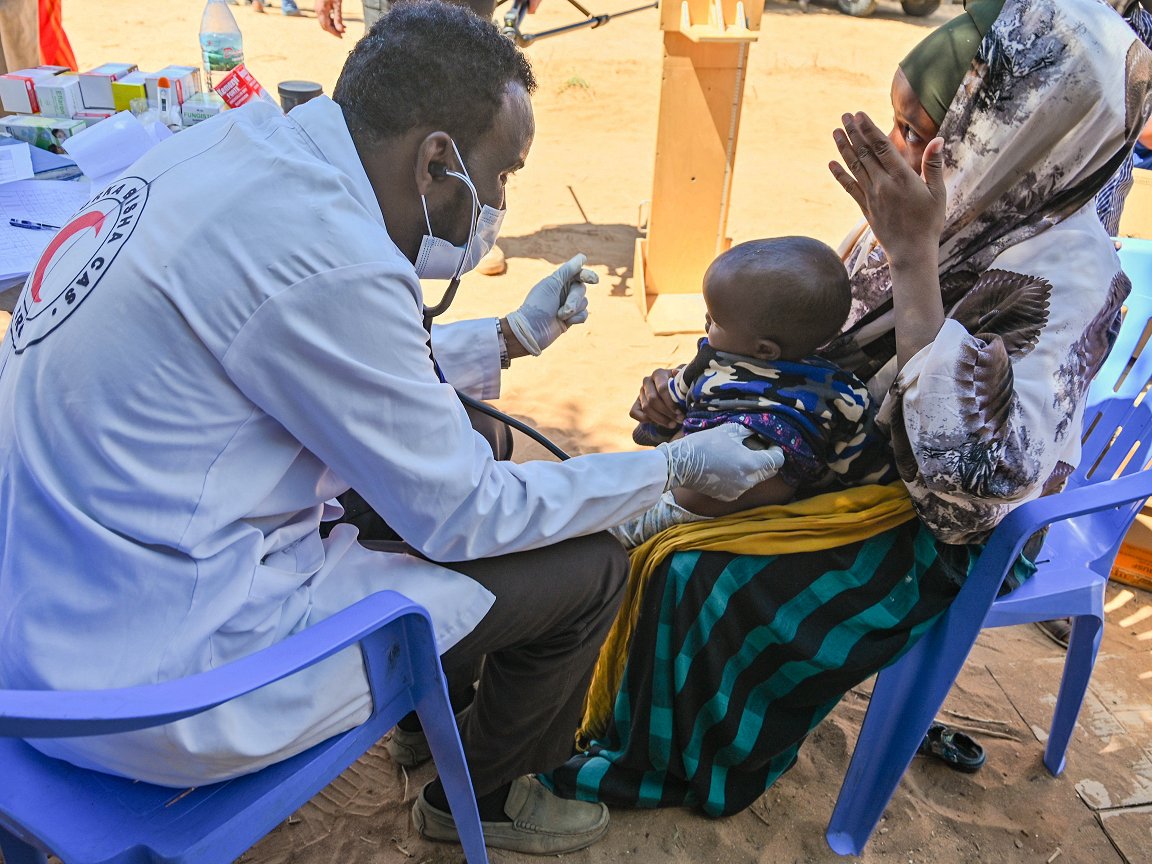 2 January 2023
By the IFRC
(This story is an IFRC press release issued in Nairobi and Geneva on 19 December.)
Somalia's worst drought in 40 years is forcing more and more people to leave their homes in search of food security and greener pastures for livestock.

Without special attention to displaced people, the likelihood of famine will increase by about 25 per cent, according to IFRC estimates.
The ongoing hunger crisis in Somalia does not yet meet the threshold for a famine categorization, according to the latest report by the Integrated Food Security Phase Classification (IPC) – the international organization responsible for monitoring global hunger – but the situation is likely to worsen in the coming months.

IPC forecasts famine between April and June 2023 in parts of Somalia.
Mohammed Mukhier, IFRC Regional Director for Africa explained: "Displacement is one of the four major factors, or 'threat multipliers for famine', in Somalia. The other three factors include worsening drought, increasing food prices and fighting.

"Addressing the unique needs of displaced people efficiently will reduce the probability of famine significantly."
Over one million people have been forced to leave their homes as the hunger crisis rages, and this number is expected to rise.

The increasing number of displaced people in already overcrowded temporary settlements will limit access to clean water, sanitation, nutrition and health services.
The situation is likely to worsen
in the coming months
Although some displaced people live with their friends and relatives, this arrangement puts additional strain on host families, who share their limited food reserves with guests.

Providing displaced people with tailor-made humanitarian assistance is one of the most efficient ways of protecting host families from slipping into hunger themselves, while at the same time ensuring people on the move meet their nutritional needs.
Bringing humanitarian assistance to families who are continually on the move is one of the greatest challenges aid workers face.

One of the methods used by Somali Red Crescent teams, supported by the IFRC, is to reach nomadic communities with mobile clinics to provide basic health services in remote regions of the country.
Some of the urgent actions needed to reduce the likelihood of famine include the strengthening of health and nutrition services, cash assistance and shelter.
"We reiterate our call to prioritize the growing hunger crisis in Somalia, the country's worst drought in 40 years. As an organization, our focus is on displaced people, because of our unique ability to reach them with assistance," Mukhier added.
Nomadic communities

The Somali Red Crescent Society has a countrywide network of branches and a large number of volunteers in all parts of the country. It also has a wide network of health facilities.

Red Crescent teams focus on delivering cash to families to meet their food, health and other urgent needs. Cash gives people the freedom to choose what they need most to help their families stay healthy, and is more convenient for nomadic communities who would otherwise need to carry in-kind aid with them as they move.
According to the IPC, the April-June 2023 rainy season is likely to be below normal and there is a 62 per cent probability that cumulative rainfall will be within the lowest tercile. This will represent the sixth season of below-average rainfall.

Food prices will also remain high, and insecurity will limit access to markets and will impede humanitarian assistance. Displaced people will be among the most affected.
Though they appear to smile through their situation, the reality is that many mothers in Somalia are feeding their children one meal a day, the IFRC reported late last year. A balanced diet is not assured. Hospitals see underweight children returning just a few weeks after being discharged. (Recent library photo: Rita Nyaga/IFRC Nairobi)