Drought drives Afghans off their land in hundreds of thousands as IFRC issues emergency humanitarian cash grant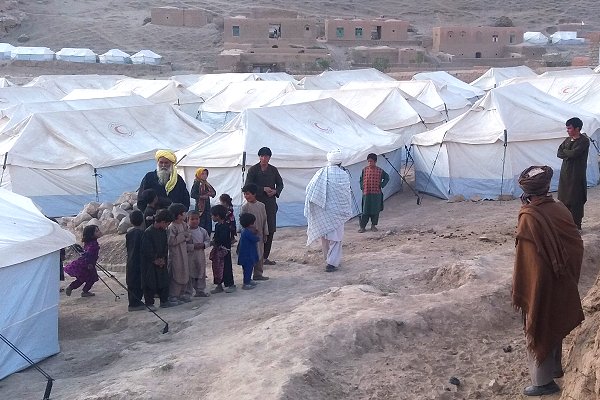 8 November 2018
The IFRC last week issued an emergency grant of humanitarian cash of just over US$ 250,000 to help the Afghan Red Crescent Society (ARCS) tackle the consequences of four consecutive years of drought and prepare for an expected increase in needs this winter.
Fourteen-thousand of the worst-affected people in north-west Herat and Badghis provinces will be helped by the from the IFRC's Disaster Relief Emergency Fund in an operation due to last at least until March.
It complements an existing ARCS plan to meet the immediate needs of 15,000 families for food, livelihoods, health, water and sanitation.
The ICRC last month welcomed the renewal of security guarantees in Afghanistan that will enable it and Movement partners to continue to reach people in need, including the many thousands who are internally displaced.
The IFRC on Thursday said a combination of below-average rainfall and above-average temperatures since last October had reduced snow, river levels and water tables, "negatively and irreversibly" affecting the most recent two harvests.
'Increased needs'
It added: "Four years of failed rains have led to massive loss of livelihoods for millions of Afghans in the north-western provinces," where almost all the population depend on livestock and rain-fed crops.
The IFRC quoted UN country data as showing that the number of people displaced by drought in western Afghanistan and mostly forced to take refuge in the Herat and Badghis provincial capitals had reached 266,000 in September.
"Temperatures in these areas has already dropped close to zero degrees at night," the International Federation says, and "the coming weeks will really be testing for drought-affected families with freezing conditions potentially resulting in [sickness and death]."
Households have started preparing to plant winter wheat, and because of the current forecast likelihood of El Niño – associated with wetter than average conditions in most of Afghanistan – the "area planted…is anticipated to be higher than last year," the IFRC says. But it adds that "there remains a large spread of possible precipitation outcomes for the season."
The latest sitrep from the Famine Early Warning Systems Network, cited by the IFRC, says that amid the drought, "Crisis (IPC Phase 3) outcomes are present throughout Afghanistan due to declining purchasing power, disruption of normal livelihoods due to conflict, and poor rain-fed staple [crop] performance, and will contribute to increased food-assistance needs as compared to recent years."
The latest FEWSNET chart for October to January 2019 shows several areas of Badghis and Faryab provinces in red for emergency status.
Conflict-climate
Climate Centre Director Maarten van Aalst writes: Scientists say that for obvious reasons there is an acute shortage of data in Afghanistan that might help them determine whether any long-term climate-related trends exist in droughts or precipitation.
But some climate models indicate up to a 10 per cent decrease in precipitation in the future in parts of the country, and higher average temperatures would also mean less snow in winter and hence less water after the thaw.
In any case, the experience of the last few years in Afghanistan demonstrates that we need to raise our game on managing extremes and be prepared to deal with growing uncertainties.
The humanitarian system is rising to the challenge through, for example, the Afghan Red Crescent's current drought-response plan that is flexible enough to adapt both to changing needs and security constraints.
It's also worth noting that although this is not an FbF operation, the DREF was expanded earlier this year to include a window for forecast-based financing that could include droughts.
Four years of failed rains have led to massive loss of livelihoods for millions of Afghans in north-western provinces. Here in the Ab Kamari district of Badghis province, the IFRC in September helped the Afghan Red Crescent Society set up a tented encampment for hundreds of people recently driven off their land by drought. (Photo: ARCS vis IFRC)