Resilience roadshow rolls into Kenyan capital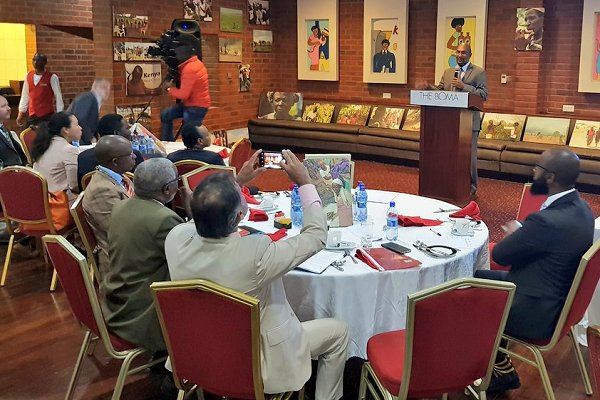 7 November 2018
The Climate Resilience Roadshow initiative expanded its consultations to Africa last week with an event at the University of Nairobi's Chiromo campus, jointly organized with the International Center for Humanitarian Affairs (ICHA) of the Kenya Red Cross Society.
Roadshow events, supported by the PfR and BRACED programmes and partners such as Action on Climate Today, have been held this year in London, Singapore and Manila, with another due next week in Dakar, Senegal.
While firmly grounded in local experience the roadshow events are also generating lessons of global relevance welcomed by the specialist Adaptation Committee of the United Nations Framework Convention on Climate Change, for example, and the Green Climate Fund.
The Nairobi event was billed by organizers as an opportunity where "practitioners, students, academia and government representatives can have an open discussion" on the challenges governments face in strengthening resilience.
It was covered by Switch TV Kenya, a new digital free-to-air station whose vision is "to be the most influential platform for educating and empowering youth to solve humanitarian issues" worldwide, and which is fully owned by the KRCS.
                             'We must bring all on board.
                             Resilience is an inter-sectoral agenda'
In a keynote address at the Nairobi roadshow, Professor Shem Wandiga, director of the university's Institute for Climate Change and Adaptation, called for increased contributions from African scientists in generating the regular assessments of the global climate from the Intergovernmental Panel on Climate Change.
Abede Tadege, from the Climate Prediction and Applications Center of the Djibouti-based Intergovernmental Authority on Development, emphasized the need for "early action beyond early warning".
The UN Resident Coordinator in Kenya, Siddharth Chatterjee, told participants that "present and relevant innovation and technology and big data will help Kenya bypass the challenges of climate change."
He said: "Government must be at the centre of the resilience agenda and provide a centrifugal force to get all other partners on board."
Mohammed Elmi, Chief Administrative Secretary at Kenya's environment ministry, said: "For resilience to be built there has to be a foundation, that is improved infrastructure, security and education."
His message was that: "We must bring all on board. Resilience is an inter-sectoral agenda."
'Policy frameworks'
The IFRC's Deputy Regional Director for Africa, Robert Kaufman, said the building of resilience should be measured by how few people are in need. "Disasters are a certainty," he said, "but we do know the solutions."
According to John Burns, Kenya Country Director for Mercy Corps: "Partnerships are essential for leveraging the necessary resources and expertise to build resilience at scale."
At the roadshow, Kenya's 'Ada' consortium – a component of the National Drought Management Authority that oversees the deployment of climate finance in the arid or semi-arid regions of Garissa, Isiolo, Kitui, Makueni and Wajir – facilitated a discussion on scaling up resilience through "policy and government frameworks at county level".
Lessons from the BRACED programme were shared by Lena Weingärtner, Research Officer specializing in risk and resilience at the UK Overseas Development Institute, and from PfR by Sara Nduku, ICHA Policy and Advocacy Officer.
"We need more involvement by the private sector in scaling up resilience," said Nduku.
The Chief Administrative Secretary at Kenya's environment ministry, Mohammed Elmi (pictured speaking), told the resilience roadshow in Nairobi last week that: "We must bring all on board. Resilience is an inter-sectoral agenda."(Photo: KRCS via Twitter)