Hands-on experience of 'risk-free risk' in climate adaptation for farming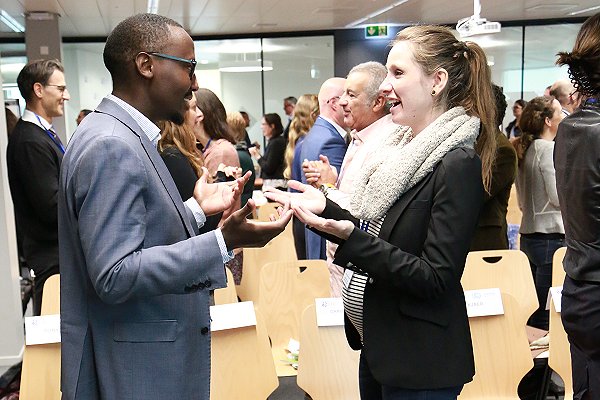 2 November 2018
The Climate Centre this week represented the IFRC at a workshop in Geneva aimed at helping the farm sector globally promote climate resilience.
Jointly organized by the secretariat of the UN Framework Convention on Climate Change (UNFCCC), including its specialist Adaptation Committee, and the Geneva-based International Trade Centre, the event focused on "how stakeholders can work towards fostering [Small and Medium Enterprises'] capacity to adapt to climate change," organizers said. 
It gathered "practitioners, experts and researchers in an interactive setting designed to provide inspiration by presenting innovative solutions [and] foster exchanges and connections between participants, and transfer knowledge." 
The opening session of the three-day #FoodXClimate workshop was moderated by the Adaptation Committee's Julio Cordano and began with remarks from ITC Deputy Executive Director, Dorothy Tembo, and Carolyn Rodrigues Birkett, Director of the UN Food and Agriculture Organization's Geneva office.
                     'The games highlighted the challenge of planning for
                     long-term resilience in a world of
                     short mandates and immediate pressures'
Three plenary sessions covered climate risk, adaptation in the farm sector through finance, technology, public-private partnerships and capacity building, and incentives for private investment.
"Climate change presents risks to all aspects of the agri-food value chain from production and logistics to processing and marketing," according to an introduction to the first plenary session.
A keynote speaker on Monday – citing Brazil's Modulo Agroclimático Inteligente e Sustentável, which won a UN Momentum for Change award – said agriculture needed to look for innovations on climate resilience and lower its own carbon footprints.
To achieve the transformation required, the food sector "needs to become a catalyst for regenerative agriculture and help farmers adopt new solutions at an exponential rate," said Daniele Cesano of the Adapta group.
Data
Representing BRACED, Margherita Calderone said her programme encouraged "local value chains by supporting the income-generation capacities of producers, processors and traders.
"This is achieved through public-private partnerships, income diversification…rural cooperatives, financial services tailored to users, mobility for actors in the livestock value chain, and research on certification standards," added Calderone, a research fellow at the UK Overseas Development Institute.
One mini-workshop focused on data and its "crucial role…in maximizing the capacity of farmers and the agri-food sector to adapt to climate change" and will generate feedback for regional dialogues, COP 24 in Poland in December, and Africa Climate Week 2019.
Another, 'Experiencing climate risk', involved a new Climate Centre game, The Island, developed with support of the EU's Climate-KIC initiative and facilitated by Learning Coordinator Margot Curl; it puts players in charge of financial decisions and lets them experience risk hands-on (without the risk).
Other game sessions organized by the Climate Centre at the Geneva workshop included SNAP!, a version of Decisions for the Decade, and some shorter activities.  
'Perfect environment'
"The games were extremely valuable in drawing the group together, and ensured a relaxed atmosphere while illustrating key ideas," said Donald Lemmen, Co-Chair of the Adaptation Committee.
"They ranged from a minute on effective communication and collaboration to a more intensive exercise highlighting the challenge of planning for long-term resilience in a world of short mandates and immediate pressures.
"Every game produced a room full of energy and laughter, a perfect environment for the substantive and challenging discussions."
The UNFCCC secretariat's Annett Möhner added: "Given the diversity of participants from different regions and backgrounds – business, farmers, governments, research, banks – the games helped to create a conducive atmosphere for constructive, meaningful and fun interactions."
A new Climate Centre game, The Island, put players in charge of financial decisions and lets them experience risk hands-on without the risk at the Geneva workshop on climate adaptation in farming. Other sessions included the SNAP! game (pictured) and some shorter activities. (Photo: Xuelian Jian/ITC)