Kenya Red Cross early-action seeds help farmers beat drought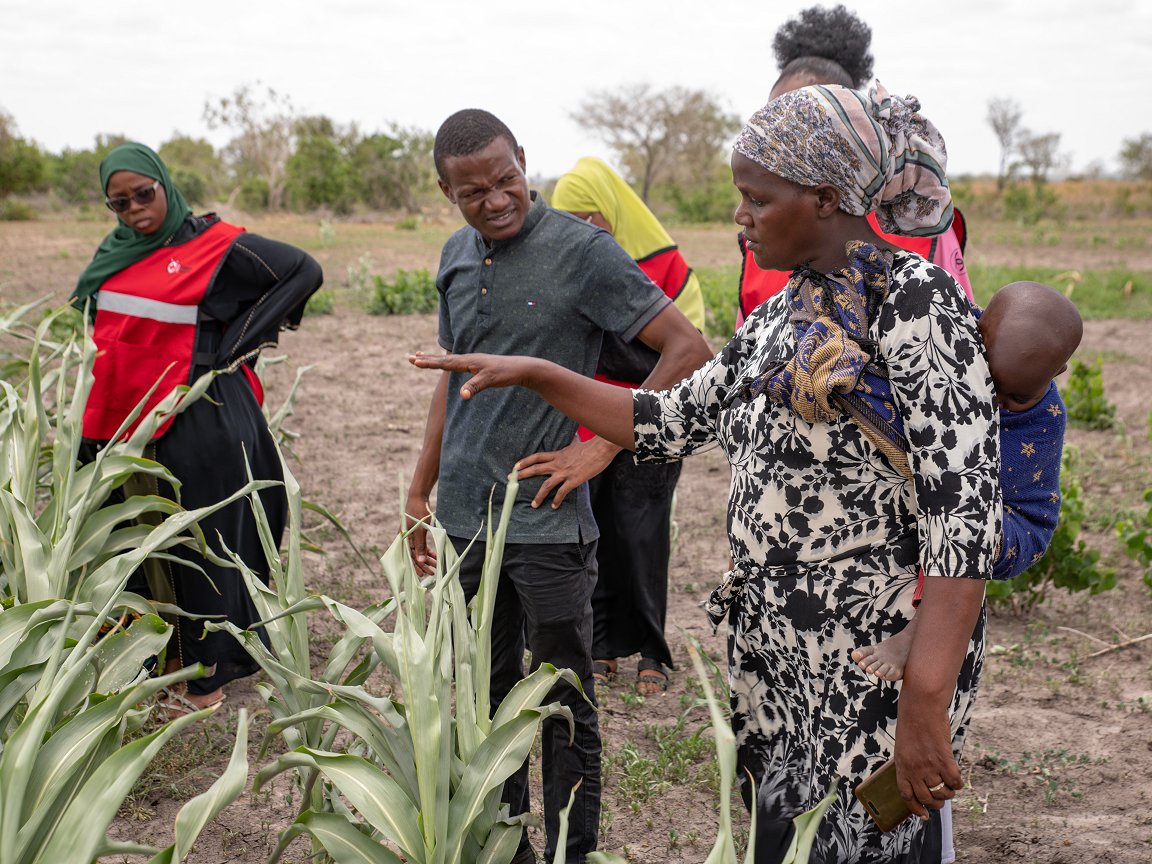 9 February 2023
By Denis Onyodi, Climate Centre, Kwale county, Kenya
Farmers in Kenya's southern Kwale county who had turned to logging and quarrying after prolonged drought have been harvesting a variety of crops over the past few weeks thanks to an early-action distribution of specialized seeds by the Kenya Red Cross Society (KRCS).

In a story from Kwale, Kenya's Star newspaper noted that most drought-hit residents have relied on food aid to survive: "Some were reported to have one meal a day with children and women suffering the most," the paper's correspondent Shaban Omar added; Citizen TV Kenya also reported last week on the KRCS project's success.
The Kenya Drought Early Action Protocol Light Activation, supported by the British and Dutch Red Cross, began last October with the distribution to 1,500 Kwale farmers of three types of drought-tolerant and disease-resistant seeds: green grams, cowpeas and sorghum (video).
The seed types replaced traditional but vulnerable maize and were selected in consultation with the farmers and experts from the Department of Agriculture.
Green grams
Most of Kwale experienced some rain during the short-rains in November and December. No farmer got the full yield that was theoretically possible from the quantity of seed planted, given the patchy short rains, but the harvest of green grams, especially, was above the long-term average.
Project monitoring that included face-to-face community meetings has now established that 80 per cent of the beneficiary farmers have enjoyed relatively high yields.
"In three weeks, the seeds we got worked," says Kwale farmer Hamadi Befujo, standing amid his green gram crop that he mixed with maize.

"This is unlike the randomness we are used to. Right now, we are thankful, even as I hold these green grams in my hands, as they actually appeared in my garden. I was not expecting this at all."
The early action also supported the rehabilitation of a borehole that supplies water to 750 households in three villages. "I think this has been a very successful project," said KRCS branch leader, Mohammed Mwaenzi.
"Kwale county is currently faced with a serious drought situation, but in areas where we have handed out these crops, most of the farmers are doing well.

"If we could support farmers with this type of drought-resistant seed during the short rains we would not talk about people needing food aid. They would still be in a drought situation, but they would get some food from these crops. This is the way to go."
Water pans

Coastal Kwale – although small compared to its neighbouring counties to the north – incorporates a wide variety of micro-climates.
The recommendations listed by the project team include supplying farmers with approved pesticides, supporting communities with environmental education, planting fruit trees and diversifying livelihoods (given the lack of adequate tree cover); helping with sustainable fuel for cooking such as eco-friendly briquettes instead of charcoal, and stepping up construction of boreholes, dams and water pans for irrigation.
In its network country plan for Kenya published last month, the IFRC says droughts and recurrent floods have affected livelihoods and driven widespread food insecurity.

"The changing nature and frequency of extreme-weather events, brought about by climate change, is creating social and economic risks and it's estimated that limited access … to sufficient good-quality food affects more than 10 million people in Kenya," the plan says.
The hunger crisis in Kenya is an ongoing emergency being addressed by the IFRC and supporting National Societies through a 14-nation emergency appeal for Africa worth more than 200 million Swiss francs.
Agnes Ngula takes Red Cross teams on a tour of her fields in Gozani village in Kinango sub-county. She is among 1,500 farmers in Kwale who were supported with drought-resistant seeds by the Kenya Red Cross Society late last year, most of which have now produced a good harvest. (Photo: Denis Onyodi/KRCS)