Games integrated into technical training at 4th Pacific Islands Climate Outlook Forum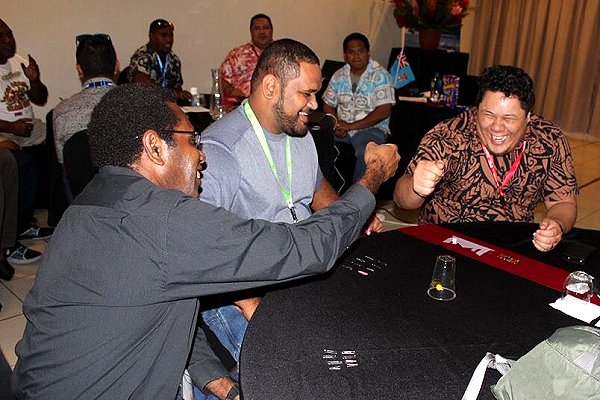 16 October 2018
The 4th Pacific Islands Outlook Forum (PICOF) took place last week in Nadi, Fiji, bringing together national meteorological services and technical partners to determine the climate and tropical cyclone outlook for the upcoming season – technical training for officers whose work centres on climate was the focus.
The Climate Centre worked with Secretariat of the Pacific Regional Environment Programme (SPREP) to provide training on games (photo) to equip officers with new ways of engaging stakeholders on the value – and limitations – of using probabilistic seasonal rainfall forecasts to aid preparedness for drought.
"[Games] are tools that you can use in communities setting where not everyone can read and write," said Azarel Maiai, Capacity Development Officer with the Climate and Oceans Support Program in the Pacific (COSPPac).
"There will be times when you need to go out to present your climate outlook or bulletin in communities, and using games to help people understand the concepts you are trying to communicate is so much easier."
                         'We learnt the importance
                                 of understanding probabilities'
Through an interactive session of the SNAP! game, climate officers identified reasons that serious games can stimulate learning and dialogue: connectivity, stress reduction, something different, practising were all words that participants associated with games. 
"You feel things, you are involved," said COSPPac Climatology Officer Philip Malsale.
In a version of Paying for Predictions tailored for drought in the Pacific, climate officers put themselves in the shoes of disaster managers who need to use the information they produce about the next season to make decisions about preparedness.
"We learnt the importance of understanding probabilities," said Faapisa Aiono, Senior Scientific Officer with Samoa's meteorological service. 
"We also got to discuss amongst ourselves and this gave us an insight into our decision-making."
The training was seen as timely since an alert is in force putting the likelihood of an El Niño in 2018 at approximately 70 per cent; the phenomenon can increase the probability of drought in some countries in the south-west Pacific.
Climate officers make decisions about whether to prepare for drought based on a seasonal forecast during the game 'Paying for Predictions'. (Photo: SPREP)