Back-to-back cyclones in South Pacific mean 'huge immediate needs'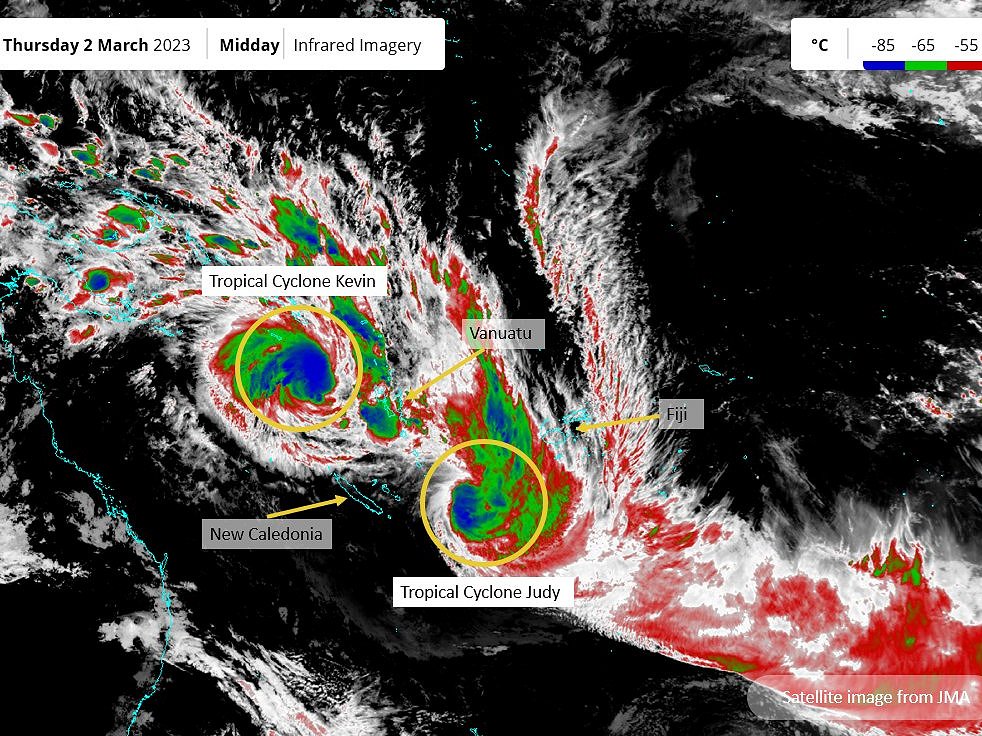 5 March 2023
By the Climate Centre
(This story is edited from IFRC press releases and social media linked in the first two paragraphs.)
Barely a week after the IFRC in the Pacific warned that escalating climate impacts will destroy decades of progress in development without "a major shift from disaster response to anticipatory action," Cyclone Judy and just hours later Cyclone Kevin – both reaching at least Category 4 – tore through Vanuatu on similar tracks.
The IFRC Regional Director for Asia Pacific, Alexander Matheou, tweeted Friday that it looked like much of Vanuatu's entire population of 250,000 people had been affected.
Vanuatu Red Cross Secretary General Dickinson Tevi said Saturday the National Society was still trying to establish communication with its branch in Tanna – an island near the southern tip of the Vanuatu group thought to be the worst-affected area.
"We still have not heard anything since Cyclone Judy hit. We have pre-positioned relief items on the island ready to be distributed to affected households.

"Despite being cut off from the rest of the country, our trained staff and volunteers on the island will know what to do as this is what we prepare them for every year as part of our disaster preparedness trainings."
Late last month, IFRC Pacific Head of Delegation Katie Greenwood told a Red Cross Pacific leadership meeting in the Fiji capital, Suva, involving 14 National Societies: "We have a lot of humanitarian challenges in the Pacific which we need to address together as a region, and not only as the Red Cross in each country.
"Climate change and disasters are all constantly affecting our region in some shape or form. We need to ensure resources, financing, and knowledge to address the challenges of climate change are available to be able to better anticipate how we can prepare and respond."
The IFRC in the Pacific had reported last Thursday that a matter of hours after Cyclone Judy caused havoc, "another tropical low-pressure system has entered Vanuatu's area of responsibility as of today and is predicted to follow the same path"; there was then thought to be a high potential for the low to develop into the cyclone that became Kevin within 24 hours and move towards Vanuatu.
'We need resources and knowledge to address the challenges of climate change and anticipate how we can prepare and respond'
Cyclone Judy left "a massive trail of destruction in its path across Vanuatu", the IFRC in the region added Thursday, and with winds gusting at 200km per hour it caused severe damage to infrastructure, buildings, connectivity, and crops.
"Immediate pre-positioned relief items such as tarpaulins for shelter are ready to be distributed to 2,500 affected households [and] hygiene kits for washing and cleaning, solar lanterns, mosquito nets and cooking items are also ready for distribution."
Vanuatu was last affected by a cyclone of this scale in 2015 when Category 5 Cyclone Pam caused widespread damage across the capital, Port Vila.
"Climate change is exacerbating underlying vulnerabilities which will continue to degrade livelihoods and resilience as the frequency and intensity of extreme weather events, such as cyclones and floods, are set to increase in the coming decades," the IFRC said after the Suva regional meeting.

After Kevin's passage, Katie Greenwood said Saturday: "Two back-to-back cyclones means that the immediate needs will be huge.

"The IFRC is ready to provide support as we anticipate that the needs will be scaled up in the coming days. We are working closely with the team at Vanuatu Red Cross and preparing for the days ahead."
"Disasters of this scale require collaboration with all relevant stakeholders so that we reach the most affected people with assistance as fast and as safely as we can."
The official Pacific cyclone season has nearly two months to run, but storms are still possible beyond that.

(Satellite image: Japan Meteorological Agency via New Zealand MetService.)