Climate: 'Count on us as partners in the future', Elhadj As Sy tells Geneva science-humanitarian dialogue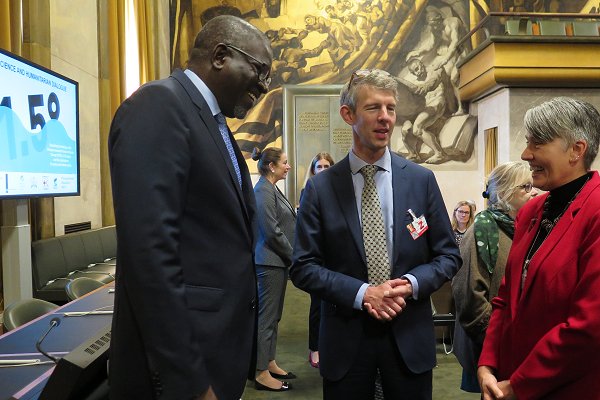 12 October 2018
IFRC Secretary General Elhadj As Sy today told the historic 'Climate Science and Humanitarian Dialogue' in Geneva that for many people climate change had become a "matter of life and death – it's that simple".
It was "also about livelihoods, with climate now altering the ways of life of people" all over the world.
The dialogue event in Geneva was jointly organized by Switzerland, the Netherlands, Fiji, the IFRC and the Climate Centre, the Intergovernmental Panel on Climate Change (IPCC), and the Climate Action Network.
It included representatives of nearly 30 states as well as UN agencies, international organizations, NGOs, and academic staff and students, and it comes at the end of a week in which – in the new IPCC report known as 'SR1.5' – scientists spell out the likely impacts of 1.5°C and 2.0°C rises in the global temperature by the end of the century.
Mr Sy told the meeting: "If you're a pastoralist in the Sahel, you know what it's about; if you're in Mongolia and having to survive…you know exactly what it's about."
And if you're facing shocks and hazards in Asia "right now", he added, you were experiencing climate change "empirically".
Red Cross Red Crescent National Societies and the Movement's millions of volunteers were all committed, he said: "Count on us as partners in the future."
Cooperation is 'so necessary to enable humanitarians to act early'
Opening the dialogue, Ambassador Valentin Zellweger, Head of the Swiss Mission to the UN in Geneva, said the meeting would "unpack the findings" of SR1.5, which he described as alarming, and what they might mean for the most vulnerable people in the world.
Ambassador Zellweger also referred to the ICRC's recently published institutional strategy 2019–22 which had said that "short-term humanitarian problems caused by conflict and violence are made worse by longer-term trends like climate change."
He added: "The number of people forced to flee their homes because of floods, because of tropical storms, droughts and other hazards has never been so high as today."
Other opening speakers included Mr Zellweger's Dutch counterpart, Ambassador Monique van Daalen, who said: "Climate change will shape tomorrow's humanitarian needs, tomorrow's conflicts, tomorrow's vulnerabilities, and it will shape tomorrow's humanitarian response."
IPCC Secretary Abdalah Mokssit said the four key messages of SR1.5 were that climate change was already affecting "people, ecosystems and livelihoods all around the world" but limiting warming to 1.5°C was not impossible; thirdly, there would be "clear benefits" in achieving that as against a 2.0°C rise, thereby, fourthly, assisting other global goals.
'Bad dream'
The dialogue was moderated by the director of the IRIN news service, Heba Aly, who quoted ICRC Vice-President Gilles Carbonnier as saying this week that humanitarians had actually been addressing the impacts of climate change for decades – "we just never framed it as such".
Referring to what he called the "bad dream" of repeated disaster in his country, Haitian Red Cross President Jean-Pierre Guiteau recalled Hurricane Jeanne in 2004 which had killed nearly 3,000 people in a single department.
Even last week's earthquake north-west of the city of Port-de-Paix, he said, "happened in a place where you already see the effects of climate change…it's like a desert."
Ambassador Elayne Whyte Gómez of Costa Rica concluded her remarks in the morning session by saying that the Red Cross was "at the forefront in our communities delivering first assistance, so it's very important that we analyse the role of humanitarian organizations."
It was also important to remember that "most of the impacts we're talking about don't make the headlines".
Knowledge gaps
Peter Felten, Head of the Humanitarian Assistance Division at the German Federal Foreign Office, said the kind of cooperation between climate scientists and humanitarians embodied by the Geneva dialogue was "so necessary to enable humanitarians to act early", while donors had a duty to make funds available so they could.
Germany, which supports ground-breaking forecast-based financing operations around the world, was "working on mainstreaming an anticipatory approach into humanitarian assistance".
On a later panel Climate Centre Director Maarten van Aalst highlighted two areas where he said there had been slight recent improvement, but much more remained to be done.
Humanitarian realities were difficult to assess in a report like SR1.5, he said, because "so little of it gets formally documented…properly, scientifically written down." Much more systematic monitoring of the impact of extremes, in particular, was needed.
In addition, in terms of the knowledge gaps the IPCC still faced, it was also the case that "the most vulnerable places had the poorest science", and more investment in science and scientists in the developing world was essential.
He called for humanitarians to be ambassadors for climate action by telling stories of impacts on the ground.
The science-humanitarian dialogue in Geneva is seen as the first-ever opportunity for the humanitarian and diplomatic communities to engage with climate scientists on the consequences for vulnerable people of temperature increases of 1.5°C, 2°C, or even more.
'Clear call'
In plenary and breakout sessions in the afternoon, it covered both the policy implications of the SR1.5 report and the climate action that humanitarian and development actors are taking to build resilience and reduce risk.
Fiji's Climate Ambassador and Head of Mission to the European Union, Deo Saran In a closing address, said the humanitarian community had made a "clear call for more ambitious action on mitigation and adaptation, with a particular focus on the most vulnerable people".
Climate finance needed to be targeted towards them, while humanitarians also needed to adapt, including with a stronger focus on anticipation such as forecast-based financing and "more emphasis on partnerships across the climate-humanitarian continuum".
Fiji would now take conclusions from the meeting into the 2018 Talanoa Dialogue, and he called for "all of you to continue to join us on the journey to step up ambition at COP 24 in Katowice and beyond."
Engagement by the Climate Centre, which helped develop the original idea for the dialogue, included a 'Climate Cafe' where participants mingled all day to exchange ideas, thoughts and experiences – a side-event supported by the PfR and BRACED programmes.
At the high-level science-humanitarian dialogue in Geneva, IFRC Secretary General Elhadj As Sy talks to Dr Debra Roberts (at right), who co-chair's the IPCC's working group on impacts and adaptation, and Climate Centre Director Maarten van Aalst (centre). (Photo: Laura Ngo-Fontaine/IFRC)