Climate Centre publishes pioneering research that underpinned early years of forecast-based financing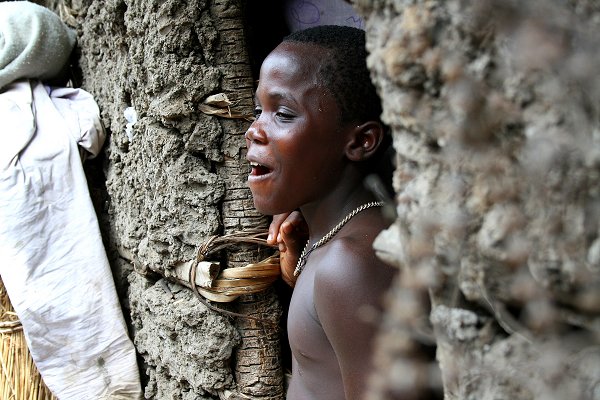 12 October 2018
A panel of international scientists specializing in various fields linked to climate risk gathered at the Vrije Universiteit Amsterdam earlier this week to discuss next steps in the use of early-warning systems, specifically forecast-based financing (FbF), to plan for early action in the humanitarian sector and identify priorities for future research.
The event coincided with the successful defence at the university of her PhD thesis on FbF by the Climate Centre's New York-based Manager, Climate Science, Dr Erin Coughlan de Perez – research she began in 2013 that has provided the scientific foundation for FbF pilots around the world, funded by the German government through the Red Cross.
The VU Amsterdam event was jointly organized by the Climate Centre and the university's Institute for Environmental Studies (IVM).
Introducing the session and paying tribute to Dr Coughlan de Perez, Climate Centre Director Maarten van Aalst, said the question of where next for FbF would incorporate a "research agenda, an operational agenda and a policy agenda".
It later included a participatory debate entitled, "Should we be trying to assess the value of early warnings?" while questions were also taken from a global audience online.
The five-strong panel included two experts working with their national meterological services: David N. Bresch, Professor of Weather and Climate Risks at the Swiss Federal Institute of Technology and MeteoSwiss, and Richard Jones, science fellow at the UK Met Office and a visiting professor at the University of Oxford.
Also on the panel were Arthur Petersen, Professor of Science, Technology and Public Policy at University College London, Liz Stephens, an associate professor at the University of Reading, and Ted Veldkamp, an assistant professor at IVM.
                   'Let's think of FbF as an element
                 in that system adding value to
                 the money you are already spending'
Offering thoughts on how FbF "could be built on in a wider context", Professor Bresch said it shared with the insurance industry the notion of prearranged ways of coping with disasters, and each sector could play to the strength of the other.
"You could say, why not use forecast-based financing to preallocate means for people to be better prepared to cope with the situation?…And use a physical trigger for an insurance payment to be made to complement that picture."
Addressing the question of false alarms and possible waste, Professor Jones said that if there were development activities already taking place like standard social protection, "let's think of forecast-based financing as one of those elements in that system that would add value to the money you are already spending [on development]."
For Professor Petersen, a key question too was: "What is an acceptable level of false alarms?" That was his "bottom line" and it also provided a link with the involvement of the insurance industry.
"My take is that we are just going to be muddling through. There is no silver bullet; there is no one size fits all. There is no rational way to set what this should be.
"There is learning involved in communities; there are lots of interactions. We still need to have that."
'Bright future'
Professor Stephens felt that in FbF history there had been too much emphasis on seasonal forecasts "when we can get much more value from the short to sub-seasonal time range in terms of forecasting natural hazards.
"We could put much more emphasis in terms of forecasting rainfall, for example, on the tropical and subtropical regions. And maybe we can show that has wider benefits in terms of forecasting in Europe and North America as well."
Professor Veldkamp said FbF "needs information from a multitude of sources. Not only scientific understanding and models but on-the-ground understanding of limitations but also possibilities, and also the infrastructure that's needed to put these systems in place."
FbF, she added, "cannot be expected to be a 100 per cent successful at the first moment because you need some tailoring" and that took time.
The challenge was "how to sell a system which was not 100 per cent developed yet but for which we see a bright future".
In May this year the IFRC's disaster response emergency fund (DREF) opened a window for forecast-based action – a first for humanitarian financing systems that now enables FbF to be carried out at scale.
                                                                              *
Our first paper in 2013 focused on how an FbF system would set up triggers and pre-defined early actions, writes Dr Erin Coughlan de Perez.
We identified combinations of forecasts and actions that would reduce disaster losses, accounting for the occasions when a hazard does not materialize and we 'act in vain', as the theory puts it, due to forecast uncertainty.
The thesis tackles four major questions. Firstly, we looked at whether seasonal forecasts of total rainfall can be used to prepare for flooding in Africa. Comparing seasonal rainfall that went into a model with what later happened, we can show that increased seasonal totals do slightly increase the probability of seasonal flooding in some areas.
We then examined the relationship between rainfall and food security in East Africa, discovering that a combination of forecasts and observations of rainfall give some warning of possible food insecurity.
Hydrological model
Thirdly, we looked globally at heatwave and coldwave forecasts and found that no fewer than 5 billion people – a large majority of the entire population of the planet, that is – live in places where heatwaves and coldwaves can be forecast with reasonable reliability at least three days before they happen.
Finally, we evaluated a global hydrological model to see whether it could be used to trigger early action for flooding in north-east Uganda, arriving at actions that could be used at a probability of 50 per cent for flooding, and this was then tested operationally in 2015 and again in 2016.
Now FbF systems around the world can benefit from further research into the predictability of extreme events and the verification of forecasts to know which actions are worth taking based on what forecasts.
But more research is needed into FbF actions themselves, to understand how to support vulnerable populations before an extreme event while including all the uncertainties and ethical aspects of each FbF decision.
A Togolese boy in his village in Maritime province on the banks of the Mono river shortly after floodwater receded in late 2007. It was the experience of the massive seasonal floods across Africa that year that killed at least 250 people, and the determination that it should never be repeated, which gave birth to the 'early warning early action' operating model and later forecast-based financing. Togo also saw one of the first FbF pilots, implemented by the Red Cross in 2013. (Library photo: Alex Wynter/WHO)