'Feasible, effective options' to reduce emissions and adapt remain, but it means fundamental transformation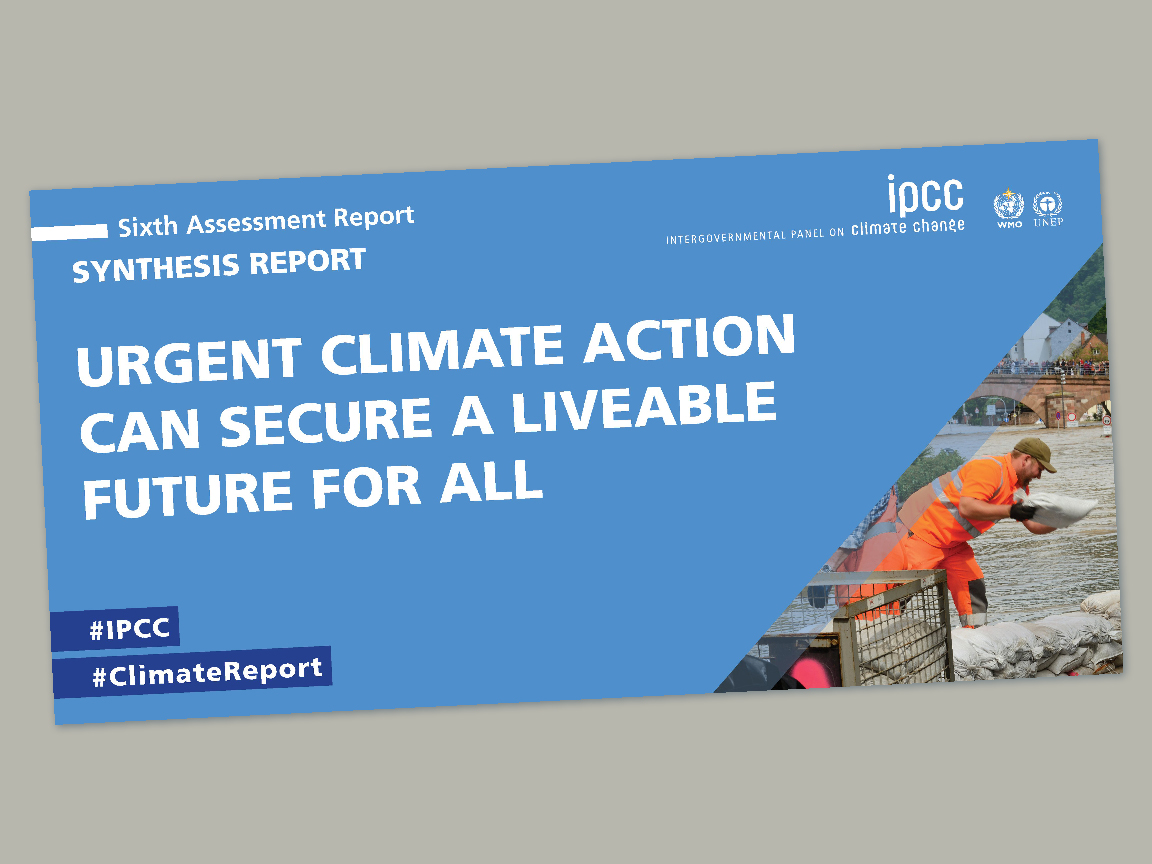 20 March 2023
By the Climate Centre
The IPCC's summary of its now-complete sixth assessment of the global climate was published today after a week-long session in Interlaken, Switzerland: it says that while "multiple, feasible and effective options" to reduce emissions and adapt to climate change remain, current plans are not sufficient to tackle the crisis.
Accelerated action to adapt to climate change is essential this decade to close the gap between existing adaptation and what is needed, a press release from the IPCC said; keeping warming to 1.5°C above pre-industrial levels requires "deep, rapid and sustained greenhouse gas emissions reductions in all sectors.
"Emissions should be decreasing by now, and will need to be cut by almost half by 2030 if warming is to be limited to 1.5°C."
IPCC Chair Hoesung Lee said: "Mainstreaming effective and equitable climate action will not only reduce losses and damages for nature and people, it will also provide wider benefits.
"This Synthesis Report underscores the urgency of taking more ambitious action and shows that, if we act now, we can still secure a liveable sustainable future for all."
'Everything, everywhere, all at once'
on climate action
In a video message also released today, UN Secretary-General António Guterres described the report as a "how-to guide to defuse the climate time-bomb."
Climate action is needed on all fronts: "everything, everywhere, all at once," he declared – a reference to this year's Best Film Academy Award winner.
The Climate Centre's Erin Coughlan de Perez, a Lead Author of the IPCC Working Group II report on impacts, said today: "This report is a stark reminder of what we, the IFRC, as the world's largest humanitarian network have been witnessing and warning of for years: climate change is driving humanitarian crises and human suffering around the world."
The WMO tweeted today that all climate indicators are moving in the wrong direction: greenhouse gas, ocean warming and acidification, melting glaciers, rising sea-levels, floods and drought.

Coughlan de Perez added: "What is interesting about this report is that we usually talk about different parts of the climate crisis separately – reducing emissions, adapting to save lives, or responding to loss and damage.
"This report acknowledges that we need to do everything at once, and it gives a road map for how we can achieve this. That road map is not a simple one, where we just make a few minor changes and keep going with the status quo. Instead, it is a call to transformation – fundamentally altering society to achieve climate-resilient development."   
'Resilient development'

The IPCC said today that resilient development involves integrating adaptation with actions to reduce or avoid greenhouse gas emissions in ways that provide wider benefits: access to clean energy and technologies improves health, especially for women and children, for example, as well as low-carbon electrification, walking, cycling and public transport.

The economic benefits for people's health from air quality improvements alone would be roughly the same, or possibly even larger than the costs of reducing or avoiding emissions, the Synthesis Report argues.
But it adds: "Climate resilient development becomes progressively more challenging with every increment of warming.

"This is why the choices made in the next few years will play a critical role in deciding our future and that of generations to come.

The IPCC calls for clear signals from governments to investors and through public funding, while "[p]olitical commitment, coordinated policies, international cooperation, ecosystem stewardship and inclusive governance are all important for effective and equitable climate action.
"If technology, know-how and suitable policy measures are shared, and adequate finance is made available now, every community can reduce or avoid carbon-intensive consumption.

"At the same time, with significant investment in adaptation, we can avert rising risks, especially for vulnerable groups and regions."
Image: IPCC