Climate change already making humanitarian work harder, less predictable, more complex, says IFRC, as scientists spell out dangers of overshooting 1.5°C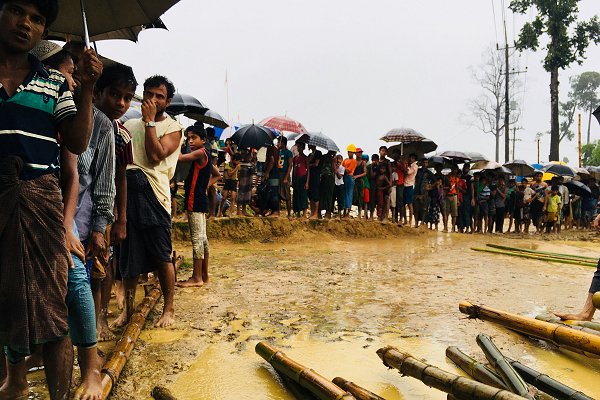 8 October 2018
(This story is an IFRC press release issued earlier today in Geneva. Its month-long  #ForOurKids media and digital campaign, profiling the impact of climate change on the most vulnerable and the work of National Societies and the IFRC on adaptation and resilience, was launched on Friday.)
Climate change is already making emergency-response efforts around the world more difficult, more unpredictable and more complex, according to the world's largest humanitarian network.
This warning from the International Federation of Red Cross and Red Crescent Societies (IFRC) coincides with the launch of a UN Intergovernmental Panel for Climate Change (IPCC) report that sets out the predicted impacts of both a 1.5°C and a 2.0°C rise in the global average temperature by 2099.
IFRC President Francesco Rocca said: "More than half of our operations are now in direct response to weather-related events, and many others are compounded by climate shocks and stresses.
"If this is the situation now then it is difficult to comprehend the scale of crises confronting vulnerable communities in a world that is 1.5°C or 2.0°C hotter."
In 2017, IFRC and the global Red Cross and Red Crescent network responded to over 110 emergencies, reaching more than 8 million people. More than half of these were in response to weather-related events.
"No one can afford half measures;
our future existence depends upon it'
National Red Cross and Red Crescent Societies are also bearing witness to rising climate displacement. Weather-related events displaced 23.5 million people in 2016, according to the World Meteorological Organization.
Mr Rocca said: "In a 1.5°C-warmer world, more extreme-weather events will affect everyone. But it will be especially cruel for communities that are already struggling to survive because of conflict, insecurity or poverty.
"We are already working with some of these communities to help them anticipate and adapt to what might be to come. These efforts need to increase significantly.
"A higher proportion of global climate finance needs to be dedicated to helping these communities adapt to changing risks. Currently, not event 10 per cent of funding does this."
'Lethal heatwaves'
Dr Maarten van Aalst, a climate scientist and director of the Red Cross Red Crescent Climate Centre based in The Hague, added: "Climate remains at the centre of the international agenda. In 2018, we have seen lethal heatwaves and wildfires across the Northern Hemisphere, including in unexpected places like eastern Canada, Japan and Sweden.
"A rapid analysis in July by an international group of climate scientists showed that in some European locations climate change made the heatwave at least twice as likely."
Today's IPCC report sets the scene for COP 24 which opens in Katowice, Poland on 3 December.
Mr Rocca said: "COP 24 must deliver a rigorous rule book for how to implement the Paris Agreement. No one can afford half measures; our future existence depends upon it.
"IFRC welcomes this IPCC report. We hope this leads to action. Millions of lives – and billions of dollars of disaster response – are at stake."
Monsoon rains possibly intensified by climate change this year damaged critical infrastructure in the camps in Cox's Bazar, including roads, community centres, schools and health clinics. This is one of the human stories featured in the IFRC's month-long #ForOurKids media and digital campaign profiling the climate-related work of National Societies. (Library photo: Lynette Nyman/IFRC)