Yemen Red Crescent prepares for forecast 'severe weather' in year's first rainy season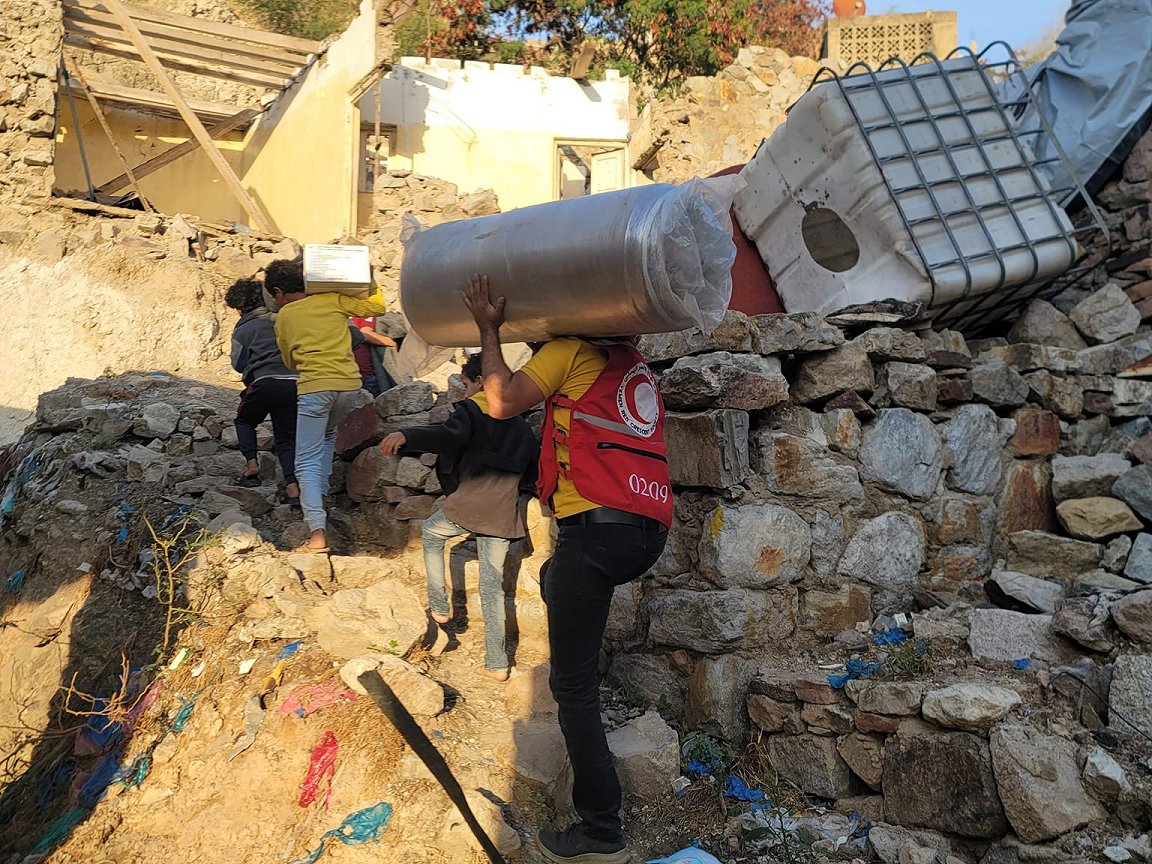 17 April 2023
By the Climate Centre
Heavy seasonal rainfall since mid-March has caused flooding in many of Yemen's governorates, affecting more than 13,000 families in internally displaced camps, the country's Red Crescent society said Friday.
The heaviest downpours have damaged IDP shelters, crops, roads and buildings in the governorates of Al-Jawf, Marib, Sayun, Taiz and Al-Mahra, leaving 14 people dead and more than 30 injured, it added; nearly 1,000 buildings have at least partially collapsed.
Under its established system for early warning, the Red Crescent has been forwarding alerts from the authorities to its key branches, first converting them to SMS messages.
Red Crescent volunteers have evacuated some IDPs from at-risk camps to schools, assisting nearly 2,000 families in total so far in the season.
Yemen's National Center of Meteorology has forecast "severe weather" over the next few weeks in parts of the country, including heavy rainfall and thunderstorms and more flood-related disruption.
'Evacuation orders'

The NCM warns that flash floods and landslides are possible in areas accustomed to heavy rain, as well as dangerous driving conditions; fishermen are advised to be vigilant faced with very turbulent seas.
Abdullah Saleh Al-Azap, the Yemen Red Crescent's National Disaster and Crisis Management Coordinator, said Friday: "I expect mandatory evacuation orders for flood-prone communities over the coming months. Disruption to electricity and telecommunications is possible where significant flooding or landslides impact utility networks.

"Sustained heavy rainfall could trigger flooding in low-lying communities and wadis [valleys and ravines], streams, and creeks.

"Urban flooding is also possible where drainage systems are easily overwhelmed, as well as landslides in hilly or mountainous areas where the soil has become saturated."

The rains also expose people to significant health risks, especially in the IDP settlements of Hajjah, Alhudaydah, Taiz and Marib, when backed-up storm drains generate stagnant pools that are ideal breeding grounds for mosquitoes and bacteria.
The IFRC's Disaster Response Emergency Fund last July released more than 450,000 Swiss francs to the Red Crescent after tens of thousands of people were affected by unusually heavy rainfall at the onset of the second annual season.
Honey industry

At almost the same time last year, "Yemen experienced two weather extremes, swinging from a severe drought to intense flooding as the country bears the brunt of climate crisis," the UN said.

Already one of the world's largest humanitarian crises, only 13 countries were assessed as being more vulnerable to climate impacts out of the 181 for which data was available to the Notre Dame Global Adaptation Initiative that is quoted by the Climate Centre in its 2021 country profile.
In general, temperatures have been rising in Yemen faster than the global average, the profile adds, and are now fully 2°C higher than in the pre-industrial era.
Another casualty of climate change in Yemen has been the country's ancient honey industry, long-regarded as producing some of the best in the world and dating to the start of the first millennium BC.
In a video case study last year, the ICRC said armed conflict and climate change had inflicted "enormous losses" on the industry since the conflict started in 2011.
Yemen Red Crescent volunteers and local children last week struggle up steep slopes to get relief supplies funded by the IFRC to families affected by recent floods, including bedding, kitchen sets and hygiene kits. The country is again facing severe weather in the current rainy season. (Photo: @SamiFakhouri6 via Twitter)