Not all trash is waste, say Haiti youth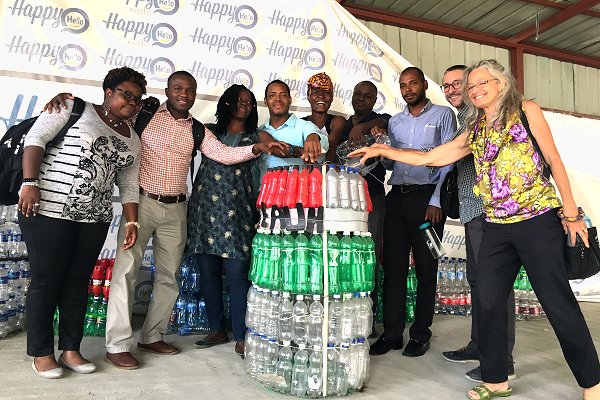 26 August 2018
"ECEAUH has identified the lack of waste disposal as one of Haiti's most serious environmental concerns, and while it can aggravate climate impacts like floods when drains clog and back up, of equal concern are the cascading effects of plastic as it breaks down in the environment, entering the food chain and, according to some research, even contributing to greenhouse gas emissions."
This is the considered view of Haitian Red Cross (HRC) Vice-President Claudine Joseph, a dedicated adviser to the Ensemble contre Changement Climatique dans un Environnement assaini dans L'Unité haitienne*.
The new environmental youth group coordinated by student leaders from the Université Espoir, the Université d'Etat d'Haiti, and the Calvary Chapel Foundation. 
Earlier this month they met HRC youth coordinators Elisée Pierre and Valencia Estime to share a recently designed action plan for plastic waste with the Partners for Resilience (PfR) country team.
The plan incorporates 'J'adapte' methodology, a French-language version of the Y-Adapt programme introduced to them last March by the HRC and with an expert briefing on waste management.  
Bins
They first collected waste plastic in the Chapel Calvary neighbourhood of Port-au-Prince, then held a design competition to come up with ways to make use of it, and finally put the resulting product to use.
ECEAUH students showed the PfR team the winning 'waste waste-bins' (photo) they've been cleverly building out of discarded plastic bottles and installing in their neighbourhoods – and which are clearly their own best advertisement. 
Their next challenge is to advocate with city officials to put better systems in place for refuse collection and recycling.
J'adapte was developed by Plan International and the Climate Centre with PfR support and introduced to the ECEAUH group by HRC youth coordinators also trained as facilitators.
*Together Against Climate Change and for a Clean Environment in Haiti.
Haitian youth have found highly imaginative new ways of putting the plastic waste that aggravates local flooding and contaminates their neighbourhoods, rivers and coastline to good use, like these public refuse bins made from discarded soda bottles. (Photo: HRC)