In East Africa, early action protocols enlisted to expand flood response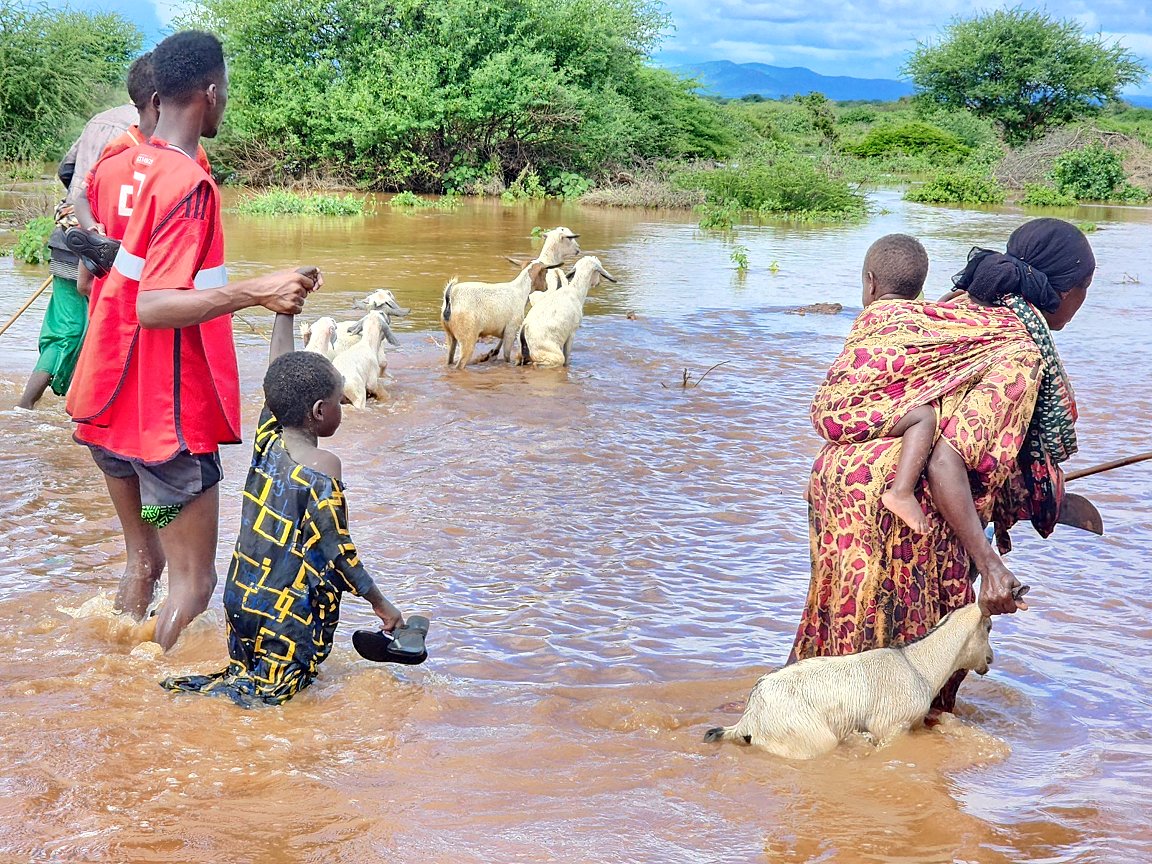 16 November 2023
By the Climate Centre

(Since this story was posted and with floods affecting large parts of East Africa, the Uganda Red Cross Society activated its own early action protocol for floods, worth nearly 350,000 Swiss francs from the IFRC DREF that will which assist some 11,000 people in areas predicted to be the worst hit. The URCS says 25,000 people have already been affected by the El Niño-related floods.)
National Societies in the Horn of Africa and beyond have been responding to severe flooding that has affected hundreds of thousands of people in recent weeks, some of which is typical of El Niño impacts in the region.
With assistance from the anticipatory pillar of the IFRC's Disaster Response Emergency Fund, the Kenya Red Cross used an early action protocol to access nearly 200,000 Swiss francs to give what the National Society has called a "major boost" to their flood response that began at the start of this month.
"With this [new] funding, we can enhance the provision of basic necessities like food, water, shelter and healthcare," the KRCS said yesterday on X/Twitter.
The Kenya National Disaster Operations Centre this week estimated 24,000 households countrywide have been displaced.
'Major boost'

KRCS Secretary General Ahmed Idris yesterday told Kenyan TV that "a better part of northern Kenya is really cut off: moving anything to [the north-western counties of] Wajir, to Mandera is a nightmare"; the Kenyan military was assisting the Red Cross in airlifting relief to specific locations.
People trapped by raging floodwaters have also been plucked to safety by helicopters in Kenya.
As of yesterday, 33 people are reported to have died while seven are missing; the IFRC said the new grant will help the KRCS reach an addition 150,000 people;
In August, the Kenya Meteorological Department forecast above-average seasonal rainfall for October to December, driven by El Niño and a positive Indian Ocean Dipole; the KMD now says the rains may peak this month but continue until January.

The IFRC's Regional Director for Africa, Mohammed Omer Mukhier, said on X/Twitter that the Kenyan flood crisis highlighted the need for climate action now; the KRCS was on the front line, providing relief and support to affected communities.

'A nightmare'
The Djibouti Red Crescent, meanwhile, has activated a simplified early action protocol for floods and will use a DREF grant of 80,000 Swiss francs to assist 2,500 people, including with early warning messages.
The UN in Somalia said last week that following historic drought, heavy seasonal downpours threatened 1.6 million people there, while the ICRC said today that hundreds of thousands had already been displaced.

Media reports also quoted the Ethiopian authorities as saying that at least 20 people have died and over 12,000 others displaced in the country's Somali Region by seasonal flash floods.
Deaths and property damage from floods have also been reported in Burundi and Malawi.

The current El Niño that developed from July is expected to persist at least until April 2024, influencing weather and contributing to a further spike in global temperatures, the World Meteorological Organization said last week.
In the first few days of November, the Kenya Red Cross began a flood response operation that now includes nearly half the country's counties, with the north worst affected. Across East Africa, hundreds of thousands of people have been affected by seasonal floods, exacerbated in some areas by El Niño and a positive Indian Ocean Dipole. (Photo: KRCS via social media)