Unique Red Cross project in Uganda to disburse funds ahead of disaster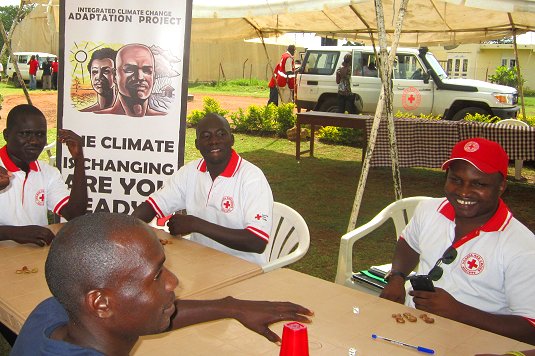 7 May 2013
A unique new Red Cross project for climate change adaptation (CCA) in Uganda held an inception meeting late last month in the north-eastern town of Soroti, where it will be centred.
It promises to radically change the way humanitarian agencies use climate information to reduce the impact of storms, floods and droughts. 
The project will support the long-term reduction of disaster-risk based on climate change projections, such as elevating houses to reduce waterlogging from heavy rainfall. 
Unprecedented
But uniquely in a CCA project, it also includes a second funding mechanism for disbursement in response to a weather or climate forecast. 
the Director of the Climate Centre. 
"Working across these different timescales will enable the project to look holistically at disaster preparedness, and react to warnings of disaster risk in a particular locality to support preventive actions like distribution of water-purification tablets.
"The project uses a novel approach to design a complex and unprecedented disaster preparedness system in Uganda." 
Once complete, it's hoped the system will provide an innovative way of managing disaster risk by using the full range of scientific forecasts for extreme-weather events.
Warnings
At the Soroti meeting, URCS leaders and technical staff discussed warnings currently available locally, and the actions that could be taken to reduce disaster-risk based on them. 
A baseline survey and a Vulnerability and Capacity Assessment will now gather detailed information at community level to answer these and other questions needed to design the early-warning system.
At the inception meeting, the Climate Centre modelled forecast-based financing in its popular educational game
Paying for Predictions
, in which players take action based on forecast information about a likely flood.
Ugandan Red Cross volunteers play Paying for Predictions at last month's Soroti inception meeting for a unique adaptation project funded by the German international development ministry through the German Red Cross, and implemented by the Uganda Red Cross Society. (Photo: Catalina Jamie)