On Earth Day 2021, Red Cross Red Crescent climate strategy 'for youth by youth' launched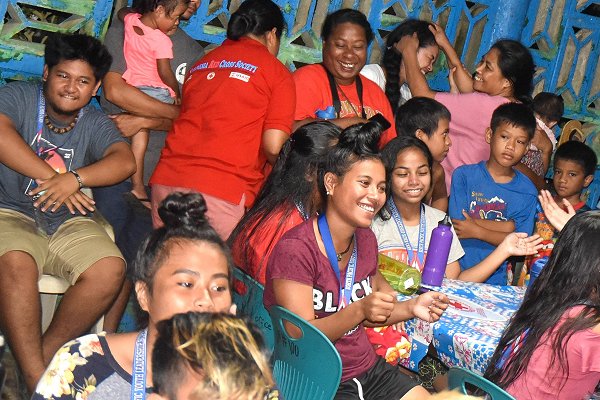 22 April 2021
The IFRC and its specialist reference centre on climate today launched a new strategy for youth-led climate action, aimed at helping National Societies shape their work on climate and available in English, French, Spanish and Arabic.
As the impacts of climate change become increasingly severe, today's youth – here defined as people aged between five and 30 – have an all-important task, according to the strategy document, rolled out at a webinar attended by more than 200 people from all over the world; participants enthusiastically pledged to spread the word in their National Societies about the "action-oriented" strategy.
"The IFRC recognises the key role that youth play in ensuring that people now and future generations do not suffer the consequences of a worsening climate," it adds.
"Filled with energy, youth across the world are ready to act [on] an unprecedented scale," and the strategy aims to continue the momentum through inspiring Red Cross Red Crescent youth to take meaningful climate action.
"The climate crisis is our present and our future. We owe it to ourselves to act and design a climate-safe future today," the strategy quotes Isa, 19, from the Philippines, as saying.
'Youth continue to inspire the world with drive,
creative innovation, and passionate advocacy
in addressing the climate crisis."
It identifies four important gaps preventing young people from maximizing their potential capacity for taking climate action: a sense of urgency in others, information and knowledge, a generally enabling environment, and "a seat at the table" of decision-making.
Despite this, across all regions, "youth continue to inspire the world with their intense drive, creative innovation, and passionate advocacy in addressing the climate crisis."
In a joint statement for the strategy's launch today, Bas van Rossum and Michelle Shi Jie Chew, respectively chair and Asia Pacific representative of the IFRC Youth Commission, which played a leading role in its development, said: "Young people's pragmatic and future-oriented mindset are vital to accelerate local action to strengthen community resilience in the face of climate change."
The IFRC says it recognizes the importance of reducing greenhouse gases, but its "predominant role" lies in addressing the humanitarian impacts of climate change through climate adaptation, as highlighted in its Strategy 2030 document, which includes adaptation as a "marked priority".
Red Cross Red Crescent programming must itself not contribute to climate change and environmental damage, a point addressed by the IFRC's own greening drives.
To this overall effort, young people bring "social movements through new forms of advocacy", the strategy document says, as well as energy, passion, creative solutions and access to communities.
Climate Cards
It identifies three key dimensions for promoting change: awareness, action and advocacy, and among existing tools available to reinforce all three are the Climate Centre's newly updated Climate Training Kit, the Urban Action Kit, Y-Adapt, games.
In addition, and also being unveiled today as the culmination of an inclusive creative process, are new children's Climate Cards, jointly developed by the IFRC and the UK Met Office with the Children in a Changing Climate Coalition.
Each card depicts one of 14 "craft missions" helping children learn what climate change is, discover its global impacts and where they are felt, and be inspired by climate action stories.
Many National Societies are already involved in shaping climate policies such as National Adaptation Plans and Nationally Determined Contributions; young people can support these efforts by becoming "advocates from within", helping National Societies reduce their own environmental footprints.
The strategy cites 12 compelling examples of climate action worldwide by Red Cross Red Crescent youth in (alphabetically) Australia, Croatia, Egypt, Guatemala, Haiti, Kenya, Lebanon, Pakistan, the Philippines, Portugal, Sweden and Uganda.
July 2019: The first North Pacific youth leadership super-camp and Y-Adapt training, Pohnpei, Micronesia. It was also the culmination of a short programme to train facilitators for Y-Adapt, who were introducing the methodology to their National Societies. The picture features in the new strategy for youth-led climate action rolled out today. (Photo: IFRC)