British Red Cross briefing on intensifying UK heatwaves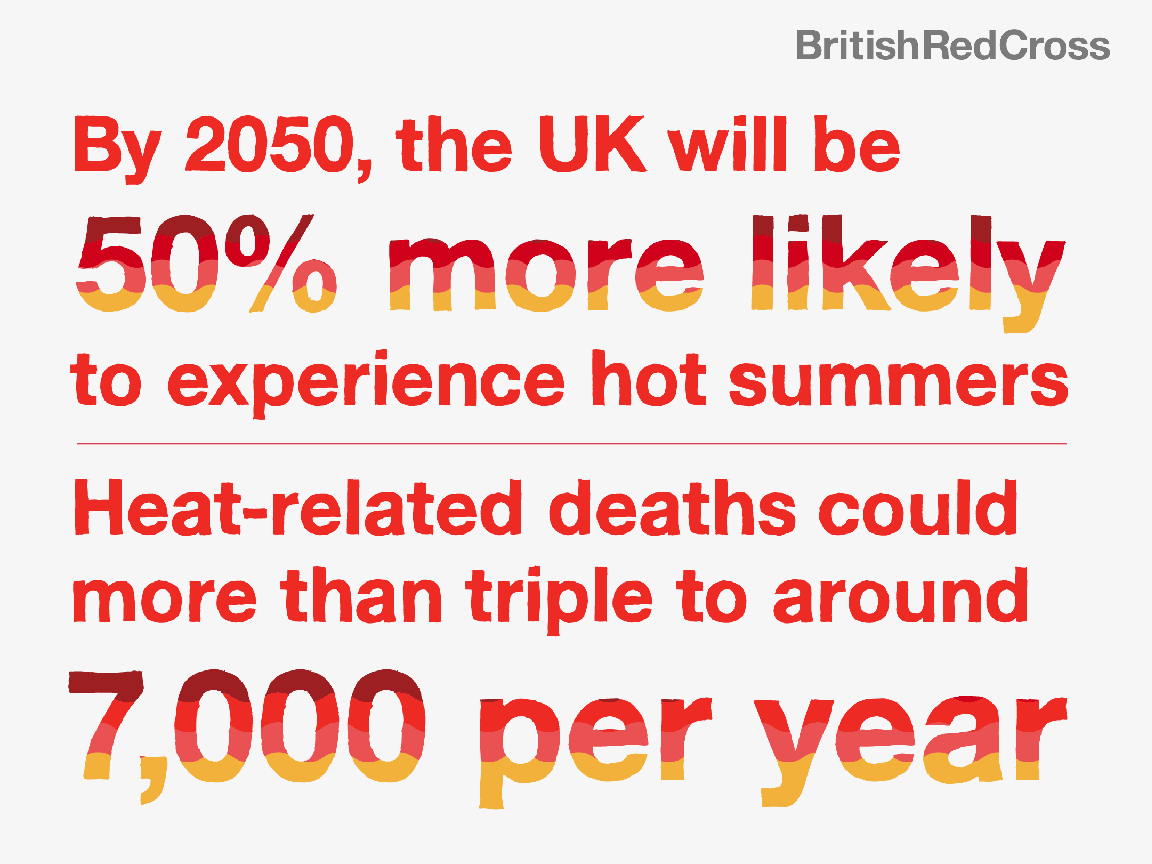 30 July 2021
by the Climate Centre
The UK is getting hotter, says the British Red Cross. As a result of climate change, heatwaves are longer and more extreme, and many people's health and well-being are suffering as a result – older people, city-dwellers, and those with underlying health conditions are among those most at risk.

Yet polling shows that a quarter of people in the UK believe heatwaves are not hot enough to be a risk, even though a record 2,556 excess deaths were recorded in England alone last summer.   

To minimize heat impacts, it is essential to build public awareness of the heat hazard, particularly those most at risk, the National Society says, ensure emergency-response systems are equipped with the skills and resources to reach those most vulnerable in the lead-up to extreme heat, and invest in climate adaptation the national level.   

Now a new BRC report – Feeling the heat – offers practical support to keep safe before and during a heatwave through a special checklist and advice on related first aid.
The research highlights a 'perception gap' in the UK on the health impacts of heat
It summarizes trends, consequences and solutions relating to extreme heat in the UK, and draws on existing literature, expert interviews, and a survey of 2,000 British adults exploring public awareness of the issue.

It also makes policy recommendations for "a human-centred approach to working with and supporting communities and those…most vulnerable to heat".
The BRC adds: "Impacts of heatwaves can be serious, but they are also preventable and they don't need to be deadly.

"However, the research highlights a 'perception gap' in the UK on the health impacts of heat, and suggests more work is needed to inform people about the risk of extreme heat…".
'Call to arms'
The report is part of a British Red Cross strategy to develop insights on climate policy and build momentum in the run-up to COP 26 in Glasgow.
It should serve as "a call to arms to start building and adapting our homes, hospitals, care homes, offices, infrastructure and transport networks to minimize the [heat] risk," media reports quoted Chris Stark, Chief Executive of the UK's independent Climate Change Committee, as saying.

The BRC is seeking to raise awareness of the impact climate change is having now on communities in the UK and around the world, and to offer support and solutions to the public and policy-makers.
The new brief includes a recommendation that UK government should prioritize "planning, response, recovery and learning, and the needs of the most vulnerable" in the areas of resilience, adverse weather, and related health issues.
It was issued shortly before the 2021 State of the Climate report which showed the UK is already experiencing disruptive climate change with increased rainfall, sunshine and heat.
The year 2020 was the third warmest, the fifth wettest and the eighth sunniest on record – the first time a single year has seen all variables in the top ten.
(Infographic: BRC)