Record numbers expected at first-ever virtual D&C Days alongside 'pivotal' COP 26 meeting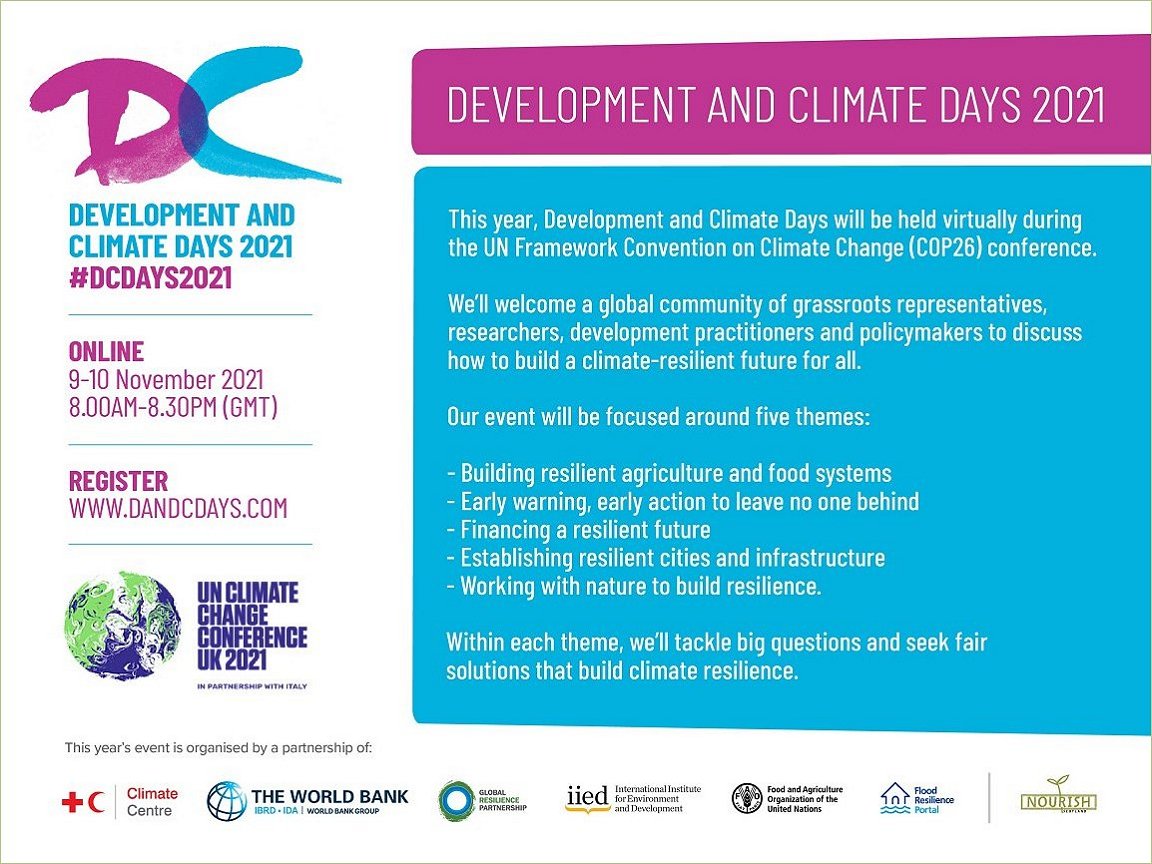 8 November 2021
By the Climate Centre
A record number of people are expected to attend this year's Development and Climate Days, which starts tomorrow alongside a COP meeting widely regarded as pivotal to the future of the planet and humanity.
As of the weekend, just over 1,000 people had registered to take part in the two-day event, which is being held virtually for the first time, breaking a record set at COP 23 in Bonn in 2017; registration is still open.
The aim is to make D&C Days the most inclusive yet and accessible to all, not just those present in person at COP 26 in Glasgow, organizers said.
As usual, however, it will assemble community representatives, researchers, development practitioners, humanitarians and policy-makers from around the world "to discuss how to build a climate-resilient future for all".
COP 25 was held in Madrid in December 2019 under the presidency of Chile; D&C Days – founded in 2002 by IIED's Saleemul Huq – marks its 20th anniversary next year.
#DCDays21 will centre on five "evidenced themes" developed over the past two years "providing the backbone to the programme, with conference sessions strategically linked to them," organizers add.
Landscapes

Being introduced at the opening plenary Tuesday, they are: agriculture and food; early warning, early action; finance for a resilient future; cities and infrastructure; and nature-based solutions.
The last of these will look at "challenges and opportunities faced by local organizations working in forest and farm landscapes to strengthen resilience, and specific contexts of climate-related hazards such as droughts and floods," the IFRC's Senior Officer, Nature-based Solutions, Ninni Ikkala-Nyman, its co-presenter, said.
#DCDays2021 is a partnership of the Climate Centre, the International Institute for Environment and Development (IIED), the UN Food and Agriculture Organization (FAO), the Global Resilience Partnership (GRP), the World Bank, and the Zurich Flood Resilience Alliance; Nourish Scotland also contributed.
For the first time in the history of the planet, most of the world is urban and cities are regarded as being particularly vulnerable to climate impacts – the fourth theme, introduced by IIED. It examines how a variety shocks such as Covid and climate interact and demonstrates adaption to extreme heat – a major hazard increasingly affecting cities.

The FAO and GRP tomorrow introduce the first of the five themes and IIED again the third.
The Kenya, Malawi and Uganda Red Cross are among National Societies taking part in D&C Days this year.
Media

Tuesday's D&C Days sessions facilitated by the Red Cross Red Crescent – covering financing, infrastructural defences against flooding, urban heat, and early warning early action – are catalogued online together with other Movement engagement with COP 26.
Today Monday – which is themed around adaptation and loss and damage – sees the greatest single day of Movement involvement at the UN climate talks, including a key UK COP presidency event on loss and damage, streamed from 14:15 to 15:45 UTC and moderated by Climate Centre Director Maarten van Aalst; IFRC Secretary General Jagan Chapagain is among the speakers.
The British Red Cross, whose CEO Mike Adamson is among D&C Days speakers, today jointly organizes two events: with BBC Media Action on the role of the media and, in the science pavilion together with the British Met Office, on harnessing science for adaptation. The Danish Red Cross and partners have organized another on unlocking private capital for social good.
The ICRC and IFRC are also jointly organizing events centred on aspects of climate finance.
'Near-term action'?

On Tuesday IFRC President Francesco Rocca, who is in Glasgow, is scheduled to do a one-on-one interview with Devex.
On COP as a whole Maarten van Aalst said today: "The first week saw great intentions, bringing us a lot closer to the 1.5-degree goal; this week we need to see the ambitions turned into concrete near-term action.

"In particular, we still need major commitments to help the most vulnerable cope with what we already face and which humanitarians at the front lines of the rising risks are experiencing every day.

"I'm hopeful that today's adaptation and loss and damage theme will add momentum,"
#DCDays2021 is intended to be the most inclusive yet and accessible to all, not just those present in person at COP 26 in Glasgow. (Flyer: IIED)