Remembering the future: first collaboration with Red Cross Red Crescent Museum is a time capsule for the long term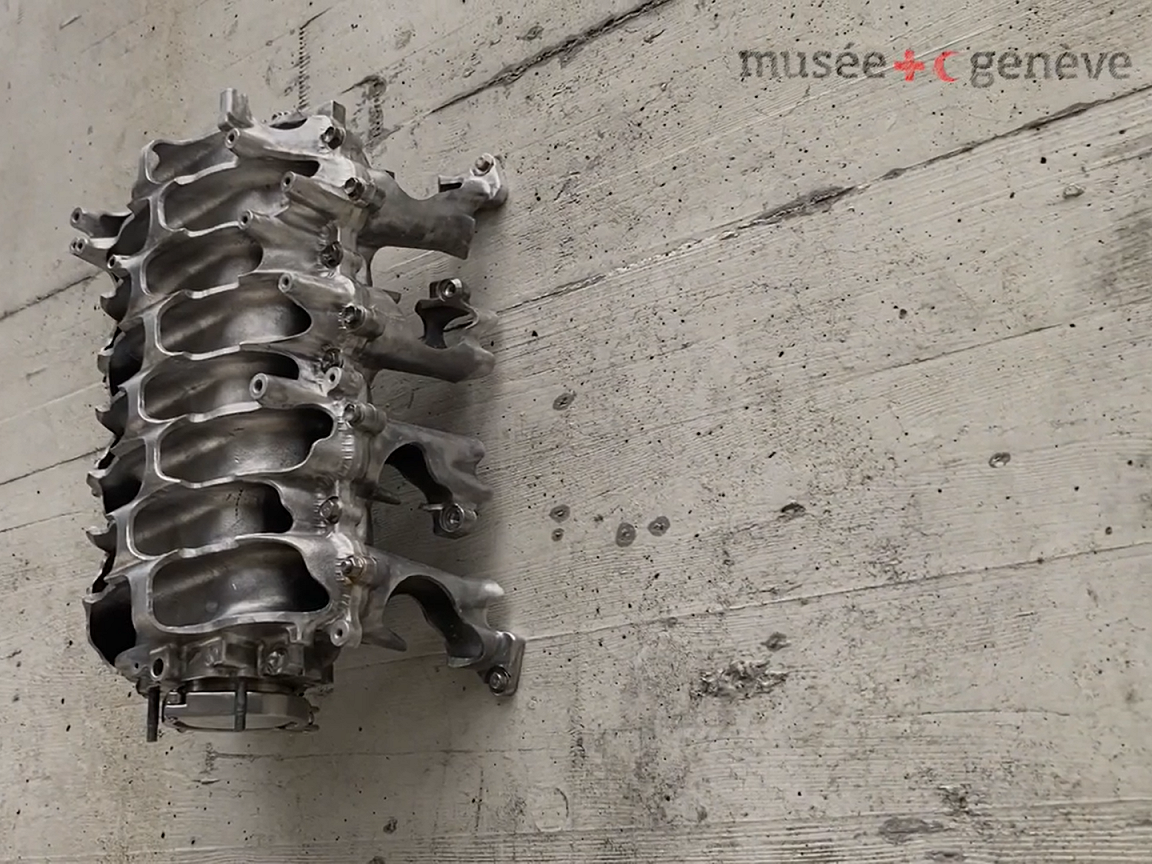 4 January 2022
by Rebeka Ryvola de Kremer, Climate Centre, Washington, DC
The first-ever collaboration between the Red Cross and Red Crescent Museum in Geneva and the Climate Centre is a time capsule, to be opened in 2050, in the form of a wall-mounted sculpture (photo) unveiled late last month. 

The capsule, made by Los Angeles-based United Environment Architecture, serves as an entry point for activities around 'long-termism' or the evolution of humanitarianism, climate and environmental stewardship, and collective action.
"We are thrilled to showcase the time capsule in the museum's atrium, a sculpture full of hopes and dreams that raises questions on how to become good ancestors," the museum said in a news release.
It contains contributions collected in 2020 from 50 people all over the world: relics of the pandemic, newspaper cuttings, drawings, objects, letters and poems.

"When the time capsule is opened in 2050, the part of a combustion engine that it is made out of may be obsolete," the museum added.
"Along with the hopes and dreams it contains, the time capsule itself raises questions of recycling, long-termism, the changing face of humanitarian work, environmental stewardship and collective action."
'Strange year'
Long termism is a critical concept for work at the intersection of humanitarian and climate action. It has to do with a shift away from short-term, election-cycle decision-making towards longer time-horizons, and the Climate Centre has been championing it since at least 2019, in collaboration with EIT Climate-KIC and Boston University.

In many industrialized societies this kind of thinking is all but non-existent, while elsewhere we see that it is already deeply embedded in storytelling, for example, and permeates the treatment of the environment, elders, and unborn generations.

The capsule is a way to bring this critical and important framing to a broader audience, with the aim of expanding long-term thinking and practice in society.
The idea for the project took hold during the height of the Covid pandemic in 2020, growing out of online conversations with people from the Movement, climate activists, and other thinkers.

Contemplations
"What if we gathered a representation of experiences, ideas, and wishes from this strange year as a way of sparking long-term thinking and also connecting more tangibly with the future?" we asked ourselves.
With funding from EIT Climate-KIC, the idea grew. United Environment Architecture proposed a time capsule made from old internal combustion engines to represent technology that could be obsolete by 2050, as well as recycling and repurposing.

The capsule is accompanied by a plaque explaining the ideas behind it, and it will offer museum visitors prompts for their own contemplations on what it means to be a good ancestor for future generations.

Our hope is that this sculpture will inspire people to think beyond the pandemic and its aftermath, and how this moment – with all our unique skill-sets and growing collective energy – can be harnessed to change the course of humanity.
The Red Cross Red Crescent time capsule was sealed in early 2021, containing messages from 50 people from every continent except Antarctica, mementos from lockdowns and quarantines around the world, and newspaper cuttings, cartoons, art, letters, and poems with people's hopes and dreams. (Photo: Red Cross Red Crescent Museum.)