IFRC: 5 million more people in Americas in extreme poverty and exposed to climate and other disasters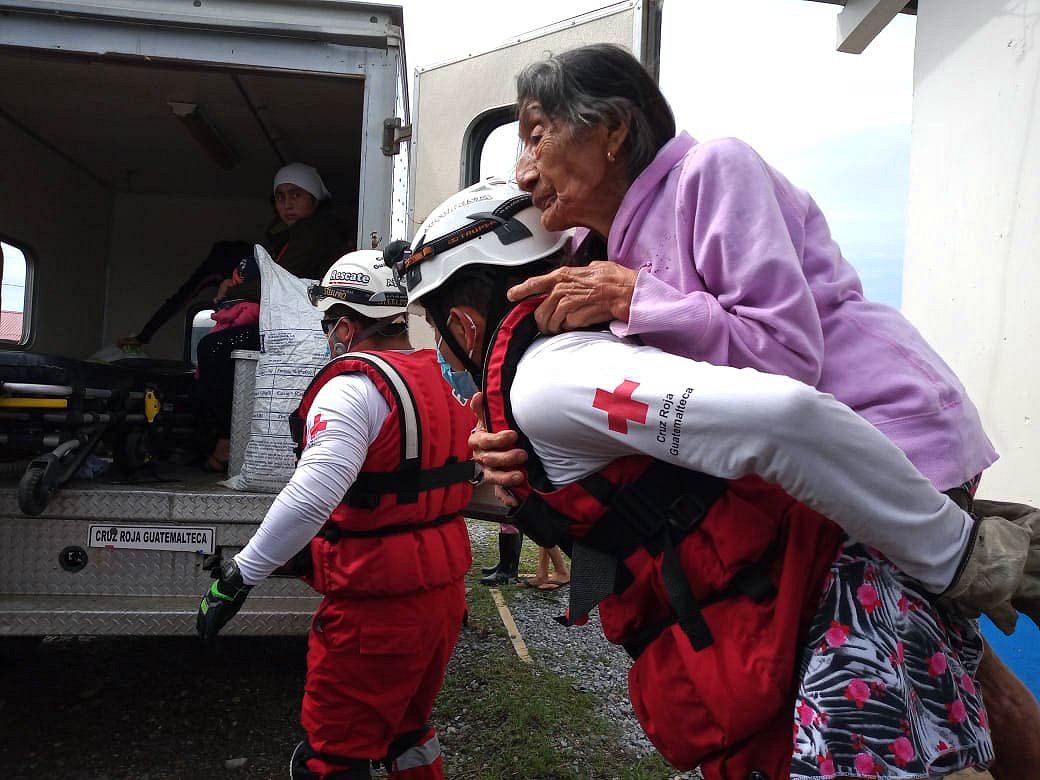 15 March 2022
By the Climate Centre
Two years since the start of the Covid-19 pandemic, 5 million more people are in extreme poverty in Latin America and the Caribbean, making them more exposed to the impact of disasters, the IFRC warned in a news release from Panama City last Friday.
This brings the estimated number of people in extreme poverty in the region to 86 million, with women, migrants and those in vulnerable urban areas especially at risk.
This level of extreme poverty has not been seen for nearly three decades, the IFRC added, and "leaves vulnerable communities highly exposed to the impact of disasters, such as the recent rains and floods in South America and other climate-related events."  

It also increases their risk of displacement and migration: in 2020, at least 1.5 million people were displaced in Central America due to emergencies including Hurricanes Eta and Iota (photo).

Compound effects

IFRC Director for the Americas Martha Keays said: "The income, savings and purchasing power of the most vulnerable families have declined, and unless we act in 2022, we will continue to witness these effects in the form of hunger, exclusion and unequal access to Covid-19 vaccines.

The IFRC says nearly 140 million people worldwide have suffered the compound effects of Covid-19 and climate-related disasters since the beginning of the pandemic.
Ghotai Ghazialam, the IFRC's Covid operations manager for the Americas, said that over the past two years, "we witnessed how communities were pushed further to poverty and inequality, while facing other parallel emergencies related with climate events. This affected people already in a very critical situation.

"To strengthen their resilience, it is critical to accelerate and support their socioeconomic recovery and ensure their access to vaccines and comprehensive health services, all of which are key to preventing them from falling into irreversible precariousness."
'High costs'

The Red Cross will this year "continue to promote disaster risk reduction, preparedness, equitable access to vaccines, and implement their COVID-19 response programmes," the IFRC release says, especially in areas where vaccination rates are low, such as in the Caribbean.
Since the start of the pandemic, the IFRC and Red Cross network in the Americas has provided water, sanitation and hygiene services to more than 10 million people, and information on Covid-19 and vaccines to more than 7 million.
The IFRC Friday recalled that the recent IPCC report – "a flashing red light, an alarm for where we are today," in the words of Climate Centre Director Maarten van Aalst – for the first time finds that climate change is already contributing to humanitarian crises in vulnerable contexts.
The IFRC also links a 2021 report from the Economic Commission for Latin America and the Caribbean which said the "Caribbean is one of the world's most disaster-prone regions, being highly vulnerable to climate change and extreme weather events, which have very high costs in…human lives, productive assets, physical infrastructure, product supply and demand, agriculture and tourism."
Guatemalan Red Cross volunteers evacuate vulnerable elderly people facing the ravages of Hurricanes Eta and Iota. (Photo: Guatemala Red Cross via IFRC)