UN: In 5 years, everyone on Earth must be protected by early warning for extreme weather, climate change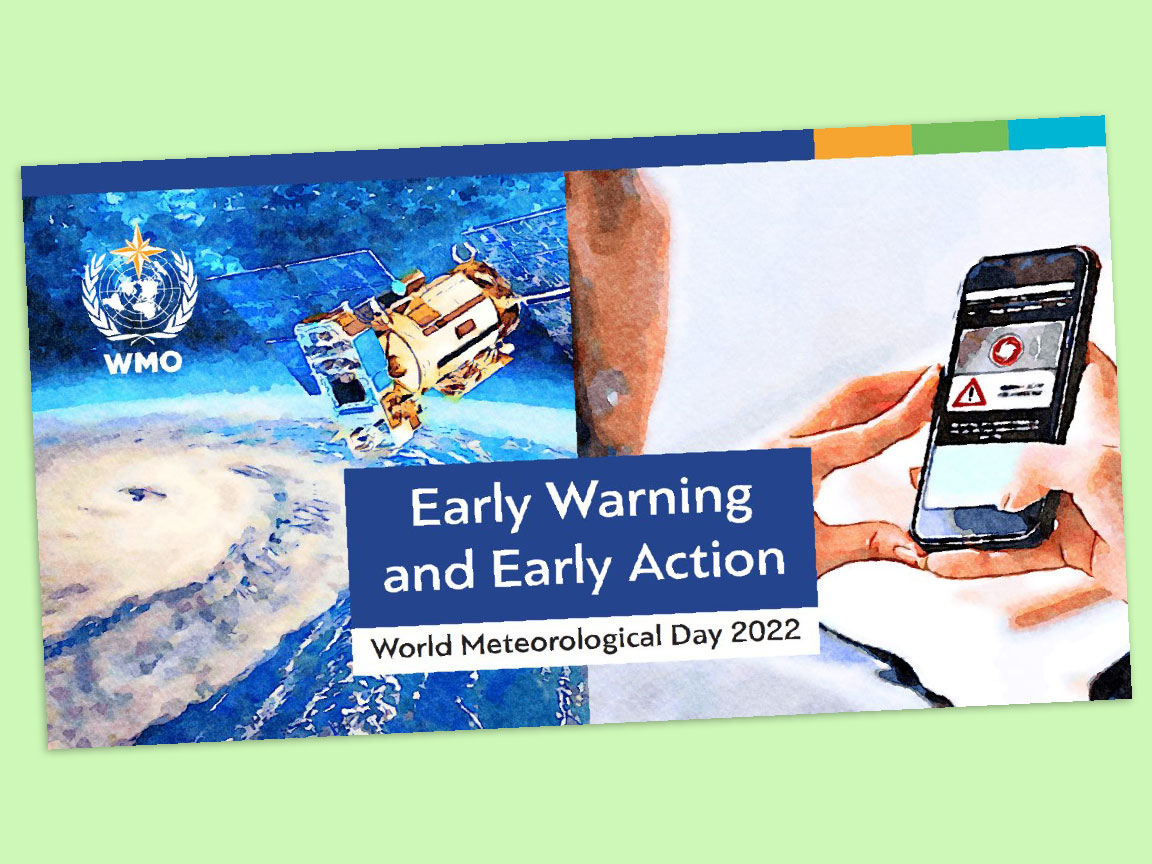 23 March 2022
By the Climate Centre
An ambitious new UN target unveiled today on World Meteorological Day would see everyone on Earth protected by "early warning systems against increasingly extreme weather and climate change" within five years.
UN Secretary-General António Guterres has tasked the World Meteorological Organization (WMO) to present a plan to achieve this goal at COP 27 in Egypt this November, a WMO press release said.
The recent IPCC report on climate impacts, which for the first time characterized climate change as a humanitarian issue, "said each increment of global heating will further increase the frequency and intensity of extreme-weather events," Mr Guterres said.
"We must invest equally in adaptation and resilience. That includes the information that allows us to anticipate storms, heatwaves, floods and droughts."
'Early warnings and action save lives. Today I announce the UN will spearhead action to
ensure everyone on Earth is protected'
But a third of the world's people, mainly in least developed countries and small island developing states, are still not covered by early warning systems; in Africa, 60 per cent have no coverage.
"This is unacceptable, particularly with climate impacts sure to get even worse," he added.
"Early warnings and action save lives. To that end, today I announce the United Nations will spearhead new action to ensure every person on Earth is protected by early warning systems within five years."
The theme of this year's World Meteorological Day is early warning and early action, with hydrometeorological and climate information for disaster risk reduction.
The WMO says a greater focus on what weather with do rather than just what it will be – impact-based forecasting – as well as "coordination between national meteorological and hydrological services, disaster management authorities and development agencies is fundamental to better prevention, preparedness and response."
Recorded disasters have increased by a factor of five over the past 50 years "driven by human-induced climate change, more extreme-weather events and improved reporting," the WMO says.
"But thanks to improved early warnings and disaster management, the number of lives lost decreased almost threefold over the same period thanks to better weather forecasts and proactive and coordinated disaster management."
WMO Secretary-General Petteri Taalas called for the investment of 1.5 billion US dollars over the next five years "to improve the quality of the services and related infrastructures especially in [least developed countries and small island developing states]" for floods, droughts, heatwaves and storms.
'A comprehensive early warning system must also include lessons learned from past events'
Early warning systems, the WMO argues, "must include agreed response plans for governments, communities and people, to minimize anticipated impacts.

"A comprehensive early warning system must also include lessons learned from past events, in order to continually improve responses ahead of future weather, climate, water and related environmental hazards."
The WMO quotes the 2019 Global Commission on Adaptation flagship report Adapt Now finding that early warning systems provide a "more than a tenfold return on investment – the greatest of any adaptation measure included in the report."
It also recalls the COP 26 Glasgow Climate Pact urging "developed countries to urgently and significantly scale up their provision of climate finance, technology transfer and capacity-building for adaptation."
Existing relevant partnerships flagged by the WMO today include the Global Multi-hazard Alert System, the Systematic Observations Financing Facility, and the Climate Risk and Early Warning Systems Initiative (CREWS).

The WMO says it will this year scale up work on early warning systems in Africa through CREWS with a new US$ 5 million programme for the Central Africa region, with similar programmes to follow in the Horn and East Africa.
*
The ambition of universal coverage is very laudable, writes Climate Centre Director Maarten van Aalst, and we've seen we still have work to do to turn warnings into action – even in the case of floods in Europe or heat in North America.
But we particularly need to make sure we reach the most vulnerable people; right now, early warning systems are often not reaching the communities most at risk.

To build those systems, the WMO and national met services are a good starting point, but the key is not just to generate better warnings. The essential step is to link them to early action – ensuring that people receive and understand warnings and are able to protect themselves, their loved ones and their livelihoods in an increasingly volatile climate.

I'm proud of our work, for instance, in the context of the international Anticipation Hub, to enable systematic early action based on such warnings, especially in the most vulnerable places, where local Red Cross Red Crescent volunteers are saving lives by translating science into concrete action.
The theme of this year's World Meteorological Day is early warning and early action. (Image: WMO)