First European humanitarian forum flags 'dramatic impact of climate change'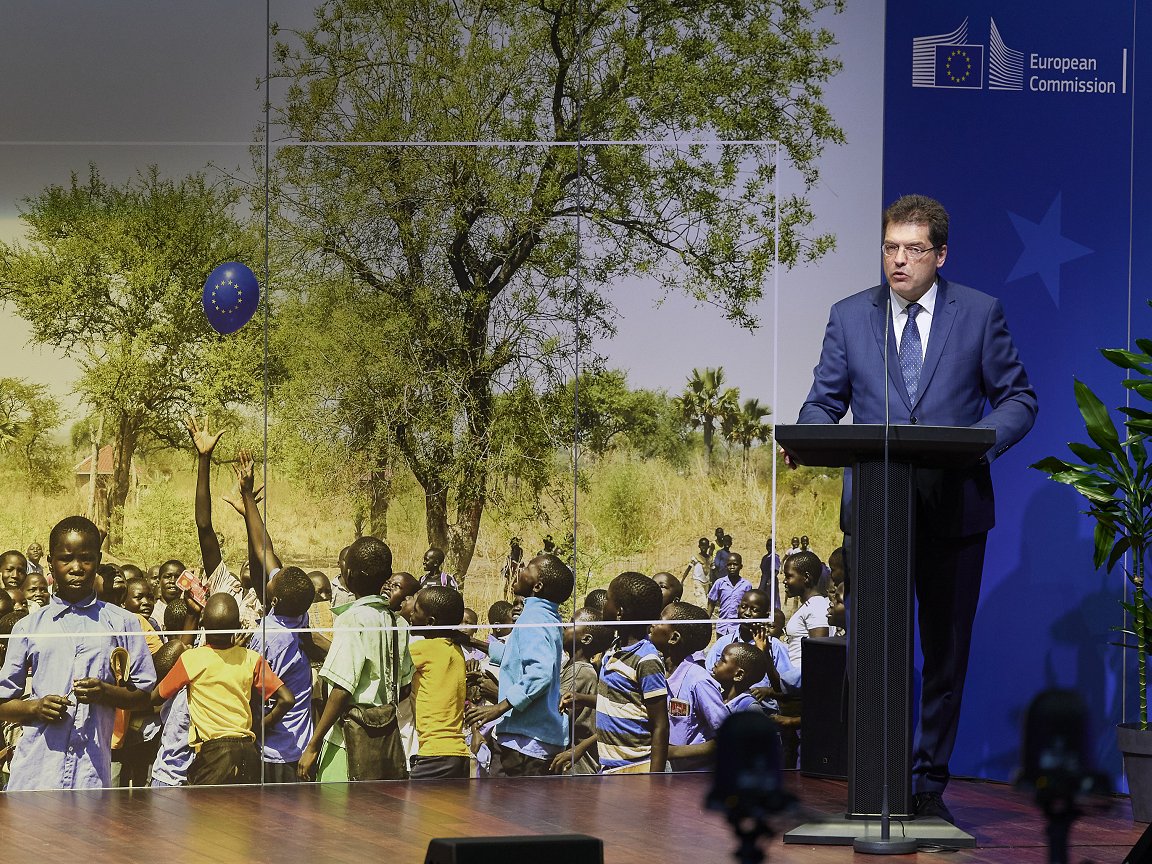 24 March 2022
By the Climate Centre
The three-day European Humanitarian Forum, the first event of its kind, jointly organized by the French presidency of the European Council and the European Commission to discuss humanitarian challenges and ways of responding to them, ended yesterday in Brussels and online.
The hybrid forum brought together political leaders and humanitarian actors from local NGOs and many international organizations and follows a national humanitarian conference in France in December.

"Humanitarian needs have reached historic levels due to armed conflicts, climate change and the socio-economic effects of the Covid-19 pandemic," organizers said earlier this week.

"Safe and unhindered humanitarian access to populations is in danger, particularly because of violations of international humanitarian law by state and non-state actors."
The forum provided "a global platform for open strategic debates between EU policy-makers and the international humanitarian community."
'Suffering'

European Commissioner for Crisis Management Janez Lenarčič said in an opening address that humanitarian needs are "standing at an all-time high [and] the gap between needs and the available resources widens"; he tweeted that hunger was reaching unprecedented levels around the world.
EU Special Representative for Human Rights Eamon Gilmore, in his address, said respect for international humanitarian law is "essential to save lives and uphold human dignity in Ukraine and everywhere there is armed conflict".   
ICRC Director-General Robert Mardini said the International Committee sees "the devastating human cost of armed conflicts up close every day. Ensuring respect for IHL and preventing violations from occurring in the first place is the best way to reduce this suffering. The European Union and its member states have a pivotal role to play."
As well as hunger and conflict, the forum agenda also included localization of aid, gender-based violence, displacement, international humanitarian law, climate change – including nature-based solutions – and climate finance, and mental health and psychosocial support in humanitarian settings.
Among IFRC contributions, Under Secretary General for Global Relationships Nena Stoiljkovic said a pilot partnership between the International Federation, European National Societies and the European Commission "to support strengthening of local capacities and response to humanitarian and health crises", now in an inception phase, would be implemented in 25 countries. "Multi-year quality programmatic funding makes a difference," she said.
'Something actionable'
On climate, Xavier Castellanos, Under Secretary General for National Society Development, called for stronger efforts to promote anticipatory action, tweeting that "extreme weather does not have to mean disasters – if we predict weather and protect communities before it strikes, we can save lives and livelihoods." An example was the IFRC's 2020 report on people-centred early warning systems.
The Climate Centre's Catalina Jaime, who manages work on climate and conflict, told a session on early warning that there were now as many as 300 different agencies "trying to identify how to translate forecast information into something actionable".
Three partnerships were especially fruitful: the Anticipation Hub, supported by Germany and the IFRC, the Risk-informed Early Action Partnership, and the Academic Alliance for Anticipatory Action, launched in December by USAID.

For the first time, she stressed, "thousands of scientists from all over the world wrote with 'high confidence' in the recent IPCC report that climate change is creating humanitarian impact.
"We know that early warning and early action give us that window of opportunity between a forecast and a shock to reduce risk and support the most vulnerable," but remaining gaps centred on humanitarian decision-making, planning and local capacity.

"We can have the best information in the world, but if organization like the National Society or a local NGO don't have the capacity to implement actions because of a lack of logistics, human resources or technical means, there is no early action we can do." This was the "elephant in the room".

Unprecedented needs

Among others, the forum panel on early warning also included Ricklef Beutin, Director General for Crisis Prevention, Stabilization, Peacebuilding and Humanitarian Assistance at the German Foreign Office, and John Harding, Head of Climate Risk and the Early Warning System Initiative Secretariat at the World Meteorological Organisation.
A closing joint statement by the European Commission and France yesterday said the forum had "highlighted the unprecedented level of humanitarian needs, with almost 300 million people around the world requiring humanitarian assistance in 2022, according to the United Nations, while also taking into account the effects of the war in Ukraine.

"The Forum recalled the dramatic impact of climate change and the resurgence of international armed conflicts, exacerbated by the Covid-19 pandemic, as key drivers of humanitarian needs."
European Commissioner for Crisis Management Janez Lenarčič tells the opening session of the European Humanitarian Forum this week that humanitarian needs are at "an all-time high". (Photo: European Commission)