'The world needs to do more to incorporate disaster risk in how we live, build and invest'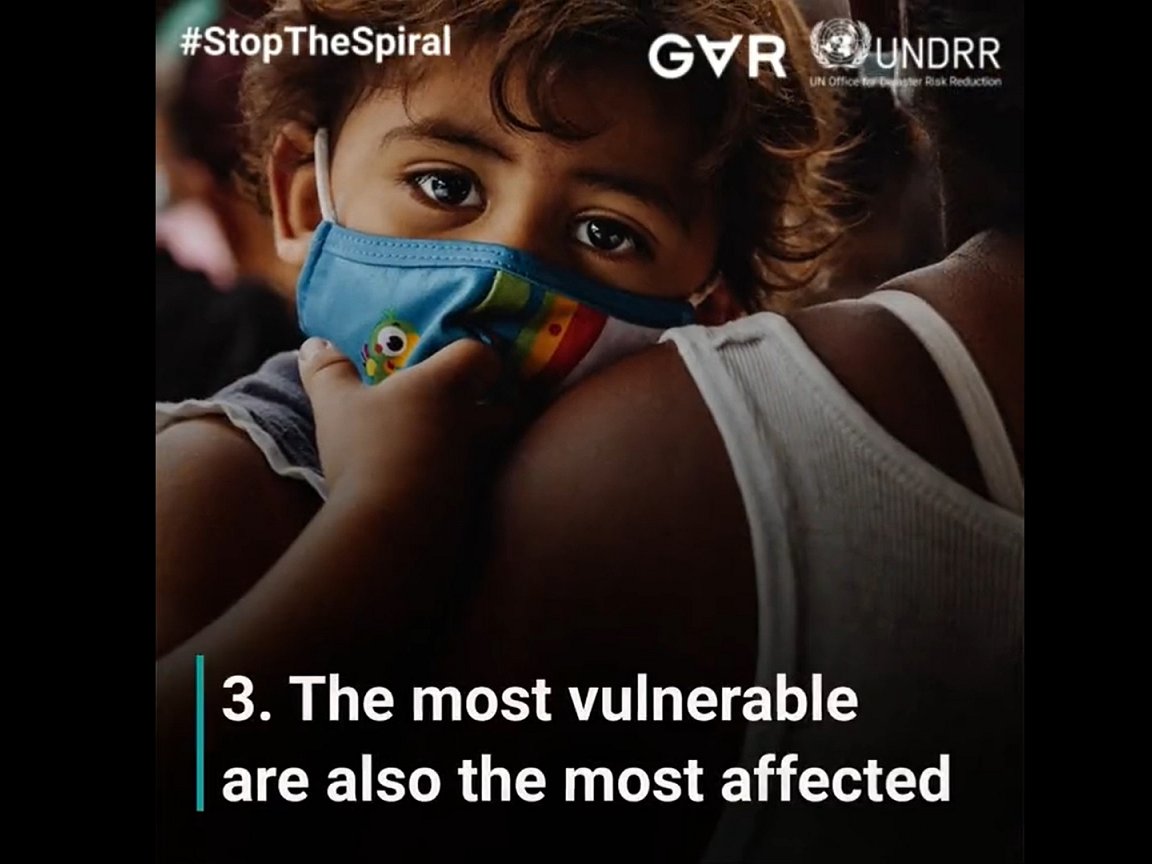 26 April 2022
By the Climate Centre
The UN's flagship Global Assessment Report on Disaster Risk Reduction 2022 was published today: it says human activity is contributing to "an increasing number of disasters across the world, putting millions of lives and every social and economic gain in danger."
GAR22 highlights that the climate emergency and Covid-19 combined "point to new reality" worldwide, that reducing risk amid uncertainty is fundamental to achieving sustainable development, and that the best defence against future shocks is to transform systems now, build resilience by addressing climate change and reduce the vulnerability, exposure and inequality that drive disasters.
Stressing that "a growing area of risk is around more extreme weather events as a result of climate change", the report builds on calls at COP26 to accelerate adaptation by "showcasing how policy-makers can climate-proof development and investments".
This includes reforming national budgets to consider risk and uncertainty while reconfiguring legal and financial systems to incentivize risk reduction.
The report's full title is Our World at Risk: Transforming Governance for a Resilient Future; it was released by the UN Office for Disaster Risk Reduction ahead of the global platform next month.
UNDRR chief Mami Mizutori said in a press release today: "Disasters can be prevented, but only if countries invest the time and resources to understand and reduce their risks.
"By deliberately ignoring risk and failing to integrate it in decision-making, the world is effectively bankrolling its own destruction. Critical sectors, from government to development and financial services, must urgently rethink how they perceive and address disaster risk."
Three C's
Presenting the report at UN Headquarters in New York, Deputy UN Secretary-General Amina Mohammed said: "The world needs to do more to incorporate disaster risk in how we live, build and invest, which is setting humanity on a spiral of self-destruction."
"We must turn our collective complacency to action. Together we can slow the rate of preventable disasters as we work to deliver the sustainable development goals for everyone, everywhere."
GAR22 says the scale and intensity of disasters are increasing, "with more people killed or affected by disasters in the last five years than in the previous five".
Developing countries are worst affected and the highest cost is borne by the Asia Pacific region, it adds, which loses an average 1.6 per cent of GDP to disasters every year.
Compiled by an international team of experts, GAR22's findings will feed a forthcoming review of the Sendai Framework, constituting what Ms Mizutori today described as "a wake-up call that countries need to accelerate action across the framework's four priorities to stop the spiral of increasing disasters."
Echoing GAR22's finding about overlapping crises, IFRC Secretary General Jagan Chapagain today tweeted a comment from the International Federation's 11th European regional conference in Tbilisi that "Despite the progress we have made, the world is in turmoil".
The three C's threatening humanity now were Covid-19, climate change and conflict: "We need to step up our humanitarian diplomacy. We must carry out neutral, independent humanitarian action," he said
'We cannot keep managing each crisis as a separate surprise'
Responding to GAR22 and also in Georgia for #Tbilisi22, Climate Centre Director Maarten van Aalst said: "We can reduce many risks we already face by better preparedness, early warning and early action, and risk reduction – especially in the most vulnerable places.

"Sadly, those who are worst affected have the least resources or ability to influence development patterns that shape risk, from social policy to urban planning. To really reduce risk we must also reduce inequalities.
"Covid and the food and energy crisis aggravated by the conflict in Ukraine have both dramatically increased vulnerability to increasing climate hazards, especially for the poorest people, as we are already seeing with the food-security crisis in East Africa.
"Countries and communities are struggling to cope: the impacts of one shock often aggravate vulnerability to the next. To avoid such downward spirals, we cannot keep managing each crisis as a separate surprise."
In its call to #StopTheSpiral of disasters, #GAR22 identifies five emerging trends, of which the third is the vulnerability of the world's poorest to rising risks and cascading disasters, now aggravated by the food and fuel price rises. (Video grab: UNDRR)