Climate change intensified rain that led to flood 'catastrophe of enormous proportions' in South Africa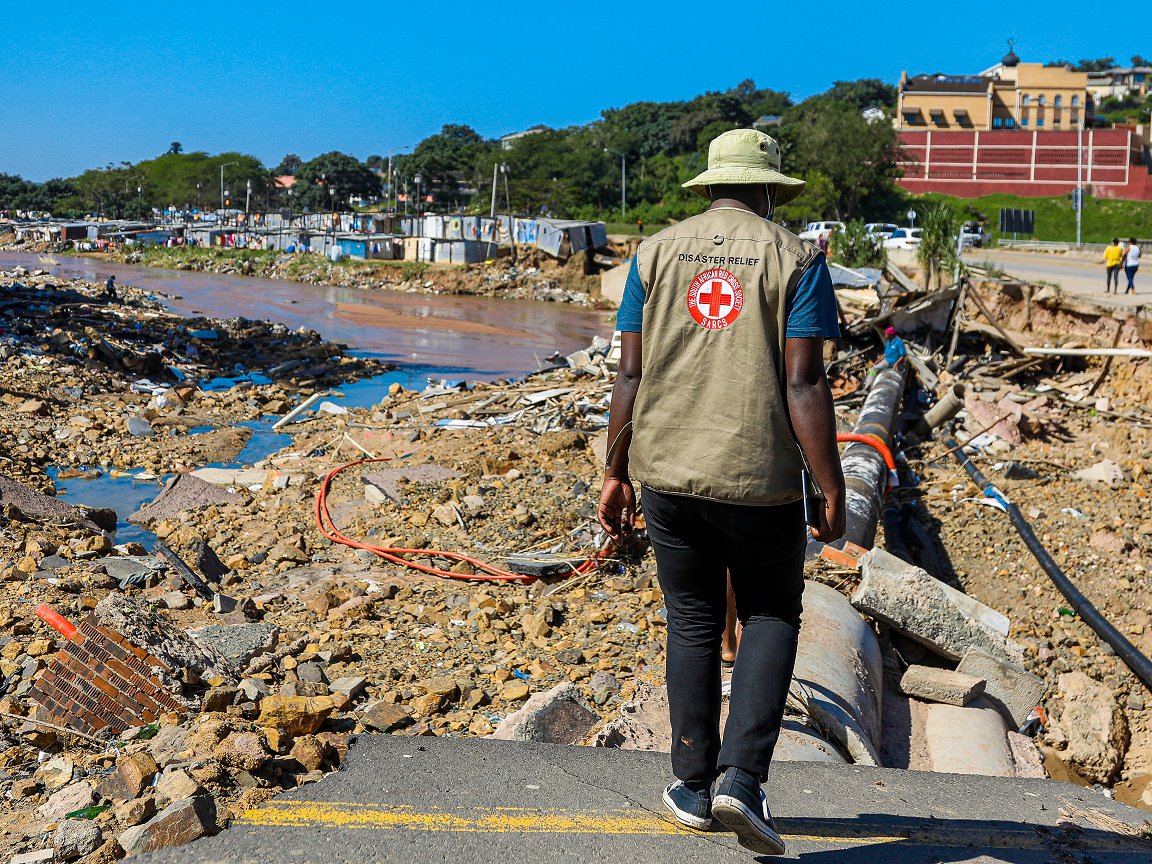 16 May 2022
By the Climate Centre
The probability of an event like the rainfall that resulted in last month's flood disaster in the South African coastal provinces of KwaZulu-Natal and Eastern Cape was approximately doubled by human-induced climate change, World Weather Attribution scientists said last week in their latest rapid assessment.

The intensity of the event, meanwhile, increased by between 4 and 8 per cent.

Scientists from France, Germany, the Netherlands, the UK and the US as well as South Africa itself took part in the study, which found the event "has a return time of about 20 years in today's climate [whereas it] would have been rarer in a 1.2°C cooler world, with a return time of about 40 years," a WWA press release said.
It added: "Heavy rainfall events are projected to increase in frequency and magnitude in the future with additional global warming levels."

Calling the flood disaster that peaked on 11 and 12 April "one of the deadliest natural disasters in South Africa's recent history," the IFRC appealed for 8 million Swiss francs to enable the South African Red Cross Society (SARCS) to assist 30,000 people.

The IFRC appeal text points out that "the most affected areas are not only the most vulnerable and impoverished in South Africa but have also been overwhelmed by other disasters this season, including the effects of Tropical Cyclones Ana and Batsirai," as well as Covid.
"This disaster underscores the increasing intensity of extreme-weather events caused by climate change, and their harsh impact on the most socio-economically vulnerable."
'The most affected areas are not only the most vulnerable and impoverished in South Africa but they have also been overwhelmed by other disasters, including cyclones and Covid'
South Africa's President Cyril Ramaphosa was quoted as saying last month after a visit to the disaster zone: "This is a catastrophe of enormous proportions and we need to act with haste to assist affected communities," adding that government ministers would be working to address the impact of changing global weather patterns.
"This disaster is part of climate change," he said. "It is telling us that climate change is serious; it is here. We can no longer postpone the measures we need to take to deal with climate change."
The SARCS said it had been involved on the ground in KwaZulu-Natal since the first reports of floods and fatalities on 11th, listing five locations where it had reached more than 2,500 people with various forms of relief.
The South African Weather Service said it had been able to issue timely "impact-based warnings" ahead of the most extreme downpours, but "it appears that the exceptionally heavy rainfall exceeded even the expectations of the Southern African meteorological community at large."
After a special meeting the KwaZulu-Natal government issued a statement describing the event as "one of the worst weather storms in the history of our country. The heavy rainfall that has descended on our land over the past few days, has wreaked untold havoc and unleashed massive damage to lives and infrastructure."

The KZN authorities said no district had been spared flood impacts, but the EThekwini Metro area, which includes the city of Durban and surrounding towns, was the epicentre "with most of the rain and the worst damage".

A scene of almost total devastation greeted Red Cross volunteers last month when they arrived at the Quarry Road informal settlement in KwaZulu-Natal, after exceptionally heavy rain caused a flood disaster of catastrophic proportions. (Photo: Moeletsi Mabe/IFRC)