Climate and anticipatory action among nine focuses at humanitarian partnership weeks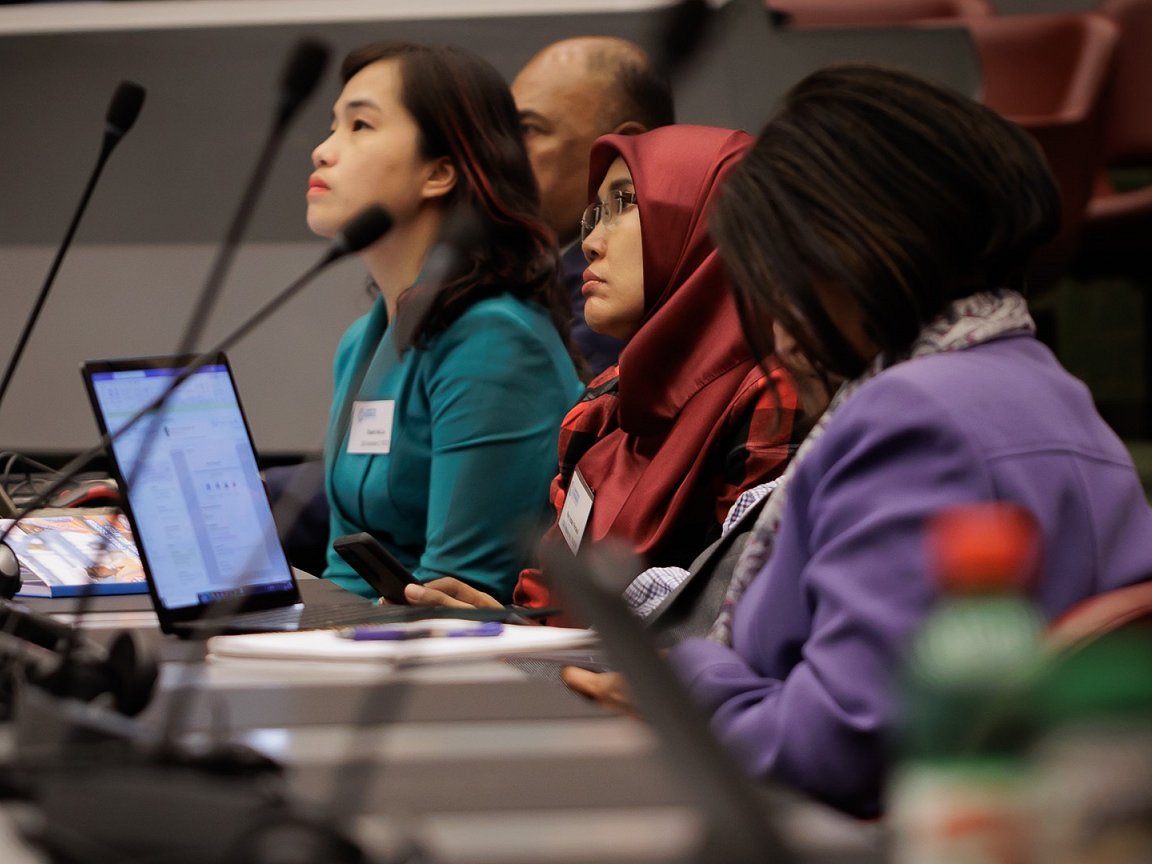 23 May 2022
By the Climate Centre
The 2022 Humanitarian Networks and Partnerships Week ended on Friday, held in hybrid format with nearly 1,700 people taking part in Geneva and just over 5,000 online for one and two weeks respectively.
Most sessions in the face-to-face week were also accessible remotely.
One of the largest events of its kind, HNPW "provides a collaborative space for practitioners and experts from a large variety of humanitarian stakeholders," including governments, UN agencies, the Red Cross Red Crescent, NGOs, universities, the military, and the private sector, organizers said.
First held in 2015, the HPNW format is defined by a group chaired jointly by the Swiss Agency for Development and Cooperation and UN OCHA; this year it agreed nine "areas of common concern" for the three weeks of discussion, among them climate change and anticipatory action.
Climate (see below) has been on the HNPW agenda since 2020, "reflecting the increasing recognition across the humanitarian community of the need to scale up our action and adapt our responses in light of the climate crisis and the humanitarian needs it is generating," organizers explained.
This year the ICRC, IFRC and the Geneva-based International Council of Voluntary Agencies joined the UN to coordinate the climate workstream for HNPW, identifying themes informed by the Climate and Environment Charter for Humanitarian Organizations.

'Super-important'

The Anticipatory Action priority topic was led by the inter-agency task force and the Anticipation Hub, and sessions "included recent risk-analysis methodologies, highlighted network activities, and explored synergies between humanitarian and development actors."
The Climate Centre's Catalina Jaime, who leads its work on anticipatory action in conflict settings, stressed the importance of "connecting with long-term investment in risk reduction and collaborative research on compound risks".

The UN listed five key policy goals for anticipatory action based on collective experience in the humanitarian sector: predictable financing, investment, application to a wide variety of hazards, collective learning and partnerships, and inclusion of anticipatory action in national disaster management.
Edem Wosornu, OCHA's Chief, Response Support Branch, said HPNW was "super-important" for several reasons: it enabled partners to talk when not in crisis mode "so that when we meet in a crisis we know each other already"; it also enabled exchanges of views by humanitarians across continents.
*
Rooms buzzed with activity in Geneva during this year's hybrid event, writes the Climate Centre's Tesse de Boer, Technical Adviser on the climate and conflict team, who was at HNPW.

Some 250 sessions covered the broad spectrum of humanitarian actors and topics, with anticipatory action and the climate crisis among the areas of common concern. Participation was strong with many joining online, making this humanitarian exchange particularly accessible for a geographically dispersed audience.
The 32 sessions on climate all shared a common message: we are recognizing the need for action, and more is required faster.
Climate screening

On the first anniversary of the charter, various sessions explored how we can move from commitments to implementation.
In a high-level event to take stock of progress achieved so far, clear results were outlined: 230 organizations have signed up, and climate is higher on the agenda than ever. Climate Centre Director Maarten van Aalst, in a keynote address, highlighted the IPCC's recent message that climate change is a humanitarian crisis.

The Climate Centre organized a session on the first commitment of the charter to "step up our response to growing humanitarian needs and help people adapt to the climate and environment crises."
The Climate Centre presented its approach to screening projects for climate risk, with case studies from Israel and the Occupied Territories by the ICRC's Christophe Caens and from Uganda by Emmanuel Ntale of the Uganda Red Cross Society.
The URCS, he explained, saw climate action as supporting policy changes at government level through research and climate-smart programming, and via anticipatory action in the short term and a long-term focus through Y-Adapt.
The 2022 Humanitarian Networks and Partnerships Week ended on Friday, held in hybrid format with nearly 1,700 people taking part in Geneva and just over 5,000 online. (Photo: OCHA)