'Every budget, every program, every private-sector initiative must be risk-informed and resilient'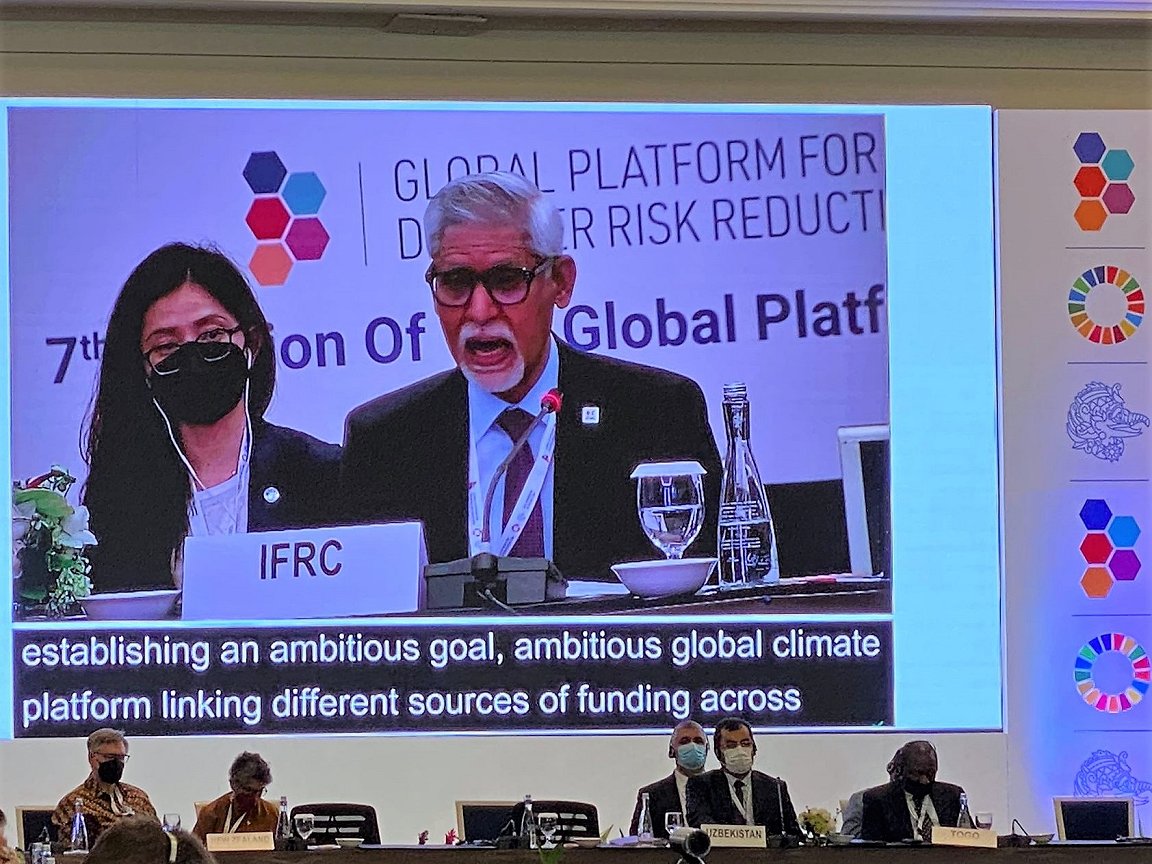 30 May 2022
By the Climate Centre
The 2022 Global Platform for Disaster Risk Reduction ended on Saturday in Bali, Indonesia "at a time when the world is recovering from the COVID-19 pandemic while facing the growing impacts of the climate emergency," as the concluding co-chairs' summary put it.
"This has been compounded by conflicts, including the war in Ukraine, which has disrupted global supply chains, led to inflation, and threatened food security, further deepening vulnerabilities of people living in the most disaster-prone parts of the world."
The seventh GPDRR, a hybrid event that included more than 4,000 participants from almost all the countries of the world, was held mainly to take stock of the implementation of the Sendai Framework.
On climate, the summary said DRR and adaptation had "the common objective of reducing vulnerability and enhancing capacity and resilience…Convergence of public budgets prevents fragmentation of resources which are already limited, while unlocking climate and disaster-related finance.

"Such comprehensive approaches should be further extended to the most vulnerable sectors, such as the agricultural sector that absorbs most disaster losses."
Nature was both at risk from climate change and a source of solutions: "Ecosystems should be considered as critical infrastructure and recognized for their basic services, bringing environmental, socio-economic and cultural benefits."
Disaster law
At the meeting in Bali, IFRC Secretary General Jagan Chapagain called for "more funds, expertise and energy to help local communities through anticipatory action."
The IFRC, he added, was "actively exploring new models of engagement, including innovative financing for humanitarian action that strengthens community resilience."
In its full official statement to the global platform, the IFRC said its concept of a world transformed by Covid-19 "could not be more relevant to us as we face growing needs and an uncertain future."
The IFRC earlier put forward a four-part call for "a change in our modus operandi to proactively deal with future risks".
It argued, firstly, for support to communities to take "action that revolutionises positive change".
Secondly, "[w]e must listen to the science and use it to plan for and protect against future risks"; acting on the science "must be our standard way of working. Anticipatory action that puts communities at the centre must be the new normal."
Thirdly, leveraging the power of partnerships: already undertaken by the IFRC in working "more broadly than the humanitarian, development and climate sectors" were the anticipatory action task force, forecast-based action by the Disaster Response Emergency Fund, the Anticipation Hub, the Risk-informed Early Action Partnership, and more.
Finally, the IFRC statement said, "new approaches to programming and donor funding … must allow the private sector to meaningfully engage and demonstrate the value of structures that can be more sustainable, replicable, and scalable".
On the GPDRR sidelines, the Association of Southeast Asian Nations and the IFRC signed an MOU to strengthen community resilience in all areas around disaster, including law and emergency response, as well as health, gender, youth, and climate change.
'Compounding impacts'

In other important climate points at Bali, UN General Assembly President Abdulla Shahid of the Maldives called for the international community to "weigh the costs of climate impacts on each and every sector and industry; we must look at the social benefits of building resilience in health, education, and citizen engagement; and we must consider the costs to biodiversity and ecosystems.
He added that "every government agency, every budget, every program, every private-sector initiative, must be risk-informed and resilient.
In an interview with The New Humanitarian, meanwhile, Mami Mizutori, the head of the UN Office for Disaster Risk Reduction, said "a while ago, maybe there was less blur in a situation where you first had a humanitarian response, relief, and then gradually, that country or that region moves into development, and hopefully into sustainable development."
Asked why she thought DRR was clearly within the realm of humanitarian aid, Ms Mizutori said that "because of the multiple hazards and the compounding impacts, the time when the humanitarian actors need to operate is unfortunately getting longer and longer.
"If we can't really separate these two activities … humanitarian actors need to think about embedding risk into their action and working more closely with the development actors."
Briefing a side-event remotely on the IPCC sixth assessment report, Climate Centre Director Maarten van Aalst said said it was "the combination of hazards with high vulnerability and trends including poverty, inequality, unsustainable use of natural resources and urbanization where many people are concentrated in high risk areas" that was contributing to humanitarian crises and "increasingly driving displacement in all regions".
IFRC Secretary General Jagan Chapagain called at the GPDRR in Bali for "more funds, expertise and energy to help local communities through anticipatory action." (Photo: social media)