IFRC's first global Heat Action Day coincides with early heatwaves in France, Spain and the US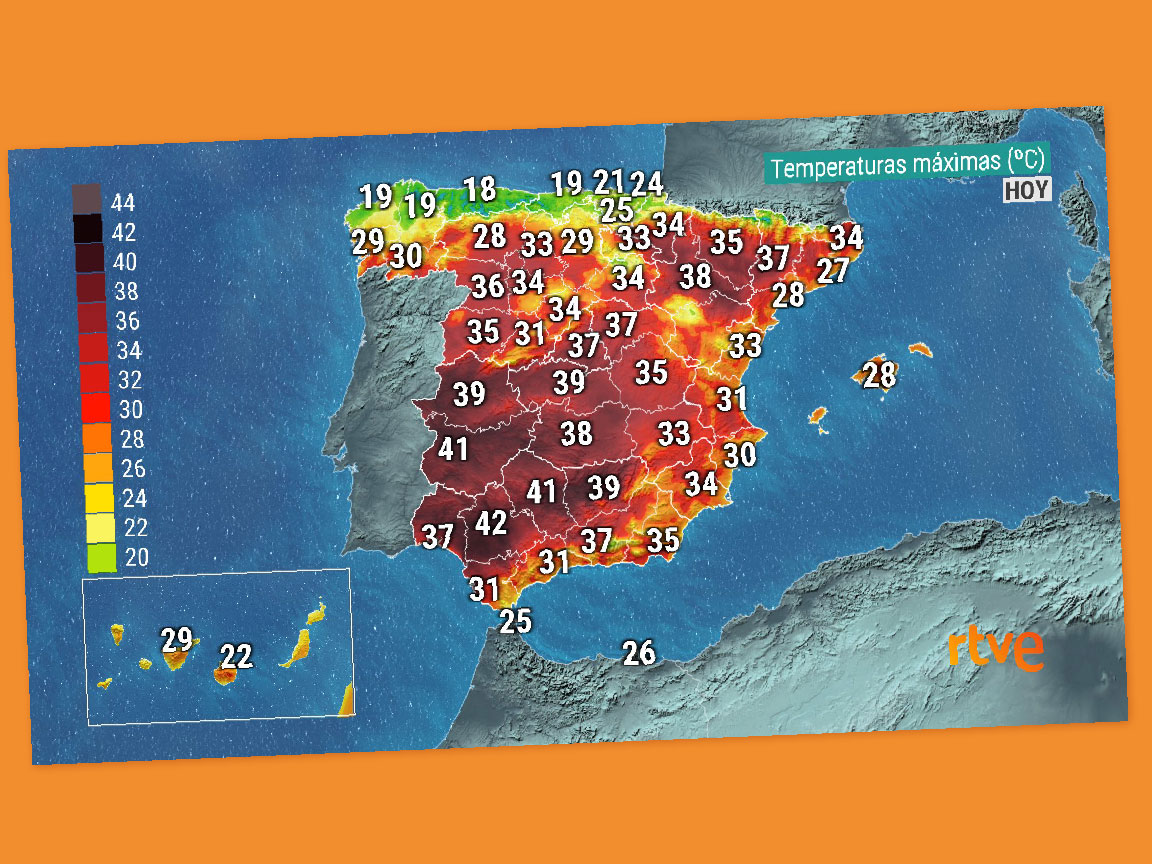 14 June 2022
By the Climate Centre
The IFRC today launched its first global Heat Action Day as the American, French and Spanish Red Cross became the latest National Societies to flag their public-health guidance with people in parts of these countries – but almost all France and (photo) Spain – facing intense early heatwaves.
The American Red Cross said yesterday that a "sweltering heatwave that baked the West is moving eastward across the country this week, with many areas seeing record-setting temperatures …
"Excessive heat warnings are expected for the Plains states, Mississippi, Ohio and Tennessee valleys, the Gulf Coast, the south-east and mid-Atlantic regions, putting tens of millions of people in the path of this dangerous heat."
Also Monday the French Red Cross reminded people to register the vulnerable "who are fragile, isolated and at risk from the consequences of rising temperatures" in their communities, as part of the National Society's heatwave plan.

Météo France over the weekend cautioned people to expect "record early" temperatures potentially above 35°C across the country.
In Spain, meanwhile, temperatures over the past week have been the highest in at least 20 years, with a maximum forecast temperature today of 43ºC in some parts of the south.
The Spanish Red Cross tweeted an infographic of its ten basic stay-safe tips, as the national weather service Aemet also pointed out that it has not been this hot this early in the year since 1981.
Spanish forecasters have said that climate change means summer there now starts between 20 and 40 days sooner than 50 years ago; 2021 was Spain's hottest and driest year on record, with an all-time high of 47.4ºC in Córdoba province.
'Heatwaves are climate change's silent killers,
but they don't have to be'
An IFRC press release for Heat Action Day described the years from 2015 to 2021 as "the hottest on record and this year is already a punishing one."

Recent "life-threatening temperature spikes" across India, Pakistan, East Asia, southern Europe and the US were "an ominous sign of what is to come as the world gets warmer".
The release adds that: "People living in cities are hardest hit because urban areas are warmer than the surrounding countryside and are getting hotter due to climate change.

"Those most at risk are already vulnerable – the elderly and isolated, infants, pregnant women, those with pre-existing ailments and the urban poor, who often work outdoors or live and work in buildings without air conditioning or adequate ventilation."
IFRC President Francesco Rocca said today: "Heatwaves are the silent killers of climate change, but they don't have to be.

"Most heatwaves are forecast days or weeks in advance, giving ample time to act early and inform and protect the most vulnerable. The good news is that there are simple and low-cost actions authorities can take to prevent unnecessary deaths from heat.
"The climate crisis is driving and intensifying humanitarian crisis in every region of the world. But when cities and communities are better prepared, extreme weather doesn't have to become a disaster or a tragedy."
'From Miami to Mumbai and Athens to Abidjan, mayors in our network are collaborating on heat actions. But far more work is needed'
Heat Action Day, which sees Red Cross Red Crescent branches and partners in over 50 cities holding awareness-raising events, is a collaboration between the IFRC and C40 Cities to call on officials, planners and residents the world over to prepare.
Climate Centre Director Maarten van Aalst said: "This is a day when we show how simple actions can often save lives and reduce suffering: first aid for heat illness, for example, or call services to check in on the elderly who are especially vulnerable.

"We've seen flashmobs happening from Turkey to Bangladesh to Italy – more than 50 around the world – to raise awareness over a risk that is often unnoticed and not recognized as the killer that it is," he told journalists at an online briefing.
C40 Cities Executive Director Mark Watts said today: "Cities that are used to hot weather need to prepare for even longer periods of sweltering heat and cooler cities need to prepare for levels of extreme heat they are not accustomed to.

"From Miami to Mumbai and Athens to Abidjan, mayors in our network are increasing green spaces, expanding cool-roof programmes and collaborating on heat actions to improve resilience to rising urban heat. But far more work is needed to reduce and manage risks as the climate crisis worsens."
National Societies around the world are rising to the challenge of extreme heat, the IFRC says, supporting heat action-plans, spreading messages to the public, checking the most vulnerable, distributing water, supporting medical services, setting up cooling centres, and even helping people retrofit their homes to increase shade.

They're also expanding research on heat to parts of Africa, Asia and South America that have been overlooked in the past.
IFRC resources, compiled with the Climate Centre and the Global Disaster Preparedness Center, include the Heat Wave Guide for Cities and the Urban Action Kit, and there are also C40 Cities' own Urban Cooling Toolbox and Heat Resilient Cities Benefit Tool.

Scientists have concluded that climate change made the recent heatwave in India and Pakistan 30 times more likely, the 2019 heatwave in western Europe 100 times more likely, and the 2019–20 heatwave in Australia ten times more likely.
Forecast temperatures for Spain over the weekend. As the IFRC and C40 Cities launched their first global Heat Action Day today, the American, French and Spanish Red Cross became the latest National Societies to flag their public-health guidance as people in parts of these countries – almost all France and (photo) Spain – faced intense early heatwaves. (Weather chart: Aemet via RTVE)