Francesco Rocca re-elected IFRC president at 'unprecedented moment of risk for the world'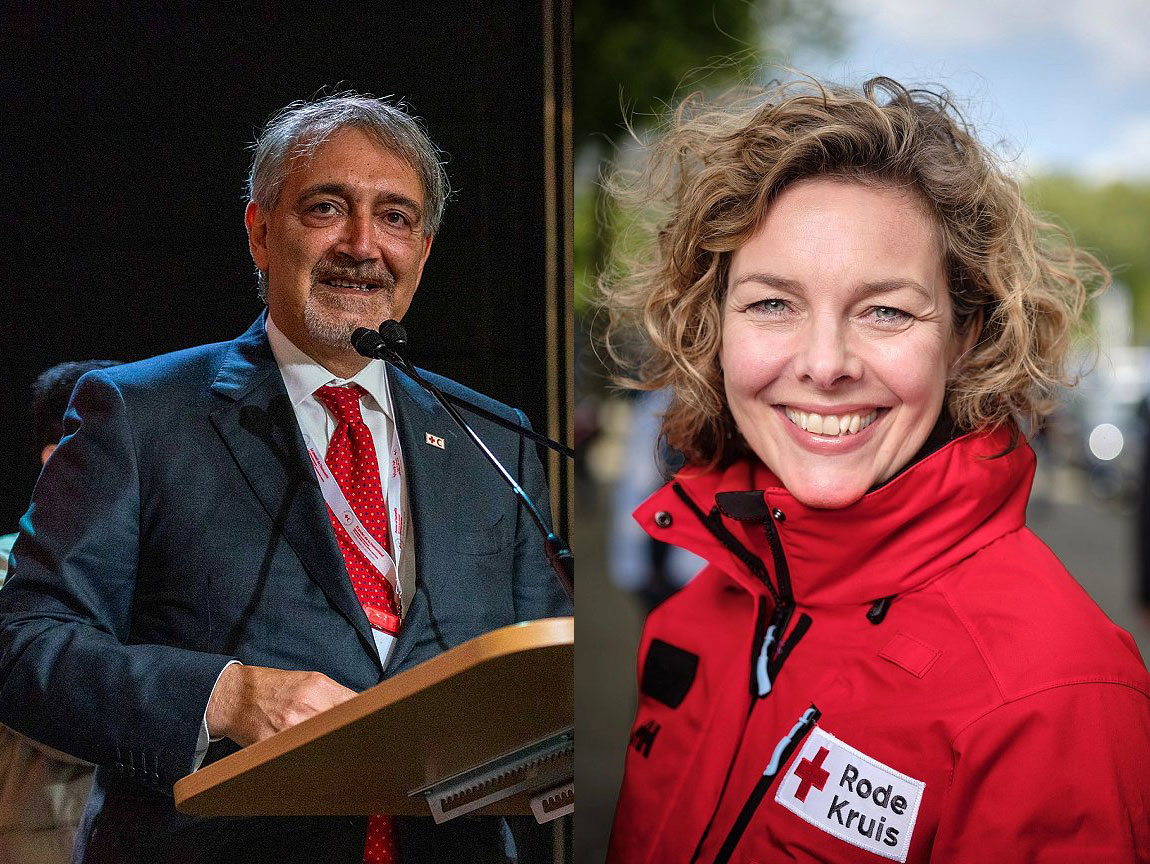 20 June 2022
By the Climate Centre
Francesco Rocca was yesterday elected to a second four-year term as IFRC president by representatives of 192 National Societies at the IFRC's 23rd General Assembly in Geneva, which began Sunday.
"We are living in extremely turbulent times," he said afterwards. "The dangerous roads of global economic instability, food shortages, the climate crisis and health emergencies are converging to create an unprecedented moment of risk for the world.
"I am proud to take this challenge together with our 14 million Red Cross Red Crescent volunteers who at this very moment are doing their utmost to serve their local communities".
In an interview with Al Jazeera later, Mr Rocca said climate change was the "defining challenge" of our time, with "the magnitude of the natural disasters that are increasing sometimes overwhelming capacity to respond."
Reducing health inequalities and support for migrants were the other two priorities identified by the IFRC president, an IFRC news release said.
The 'defining challenge' of our time
Mr Rocca urged the international community to translate global solidarity into action: "When there is political will, open dialogue, and decisions are made multilaterally, everything is possible.
"The political, public and humanitarian response to the Ukraine crisis has shown what can be done when humanity and dignity come first, when there is global solidarity and the will to assist and protect people."
Four new vice-presidents and 20 governing board members were also being voted into office at the General Assembly, including the director of the Netherlands Red Cross, Marieke van Schaik, who was elected to the board yesterday.
"It is a great honour to represent our members on the board of the Federation," she said. "Every day we see how important the international humanitarian network of the Red Cross is, and what an enormous impact we can have as a global movement.

"On the board, I will be working on topics such as improving humanitarian aid through the use of data and dealing with the impact of climate change. As the Dutch Red Cross, we have a lot of knowledge and experience to share on both themes."
In a special statement on climate, Ms Van Schaik said that "if we indeed consider the climate crisis to be our number one priority … we all need to be working on a different scale altogether.

"And I include the [Netherlands Red Cross] in this, where we are still doing way too little in this regard, despite having hosted the Climate Centre for the past 20 years and being acutely vulnerable to the impacts of climate change ourselves."
She called on National Societies in Europe to honour commitments made at the IFRC's April European regional conference in Tbilisi, including signing the climate and environment charter.
'We are still doing way too little'
In a video message to the General Assembly, Climate Centre Director Maarten van Aalst asked delegates to remind themselves of the exact wording of the conclusion of the IPCC Working Group II report on impacts, of which he's Coordinating Lead Author.
"Any further delay in concerted and anticipatory global action on adaptation and mitigation will miss a brief and rapidly closing window of opportunity to secure a liveable and sustainable future for all," it had said.
The General Assembly will be immediately followed on Wednesday by the two-day Council of Delegates, also in Geneva.
Francesco Rocca began volunteering in the late 1980s, working with asylum seekers and refugees in Italy. He joined the Italian Red Cross in 2007 and became its president in 2013. A lawyer by training, he started his career fighting organized crime.
Marieke van Schaik studied international relations at the University of Amsterdam and worked as a project manager at the DOEN Foundation. Before taking over as director of the Netherlands Red Cross in 2018, she was managing director of the Dutch charity lottery. (Photos: IFRC/NLRC)