Uganda Red Cross pioneers Y-Adapt in Africa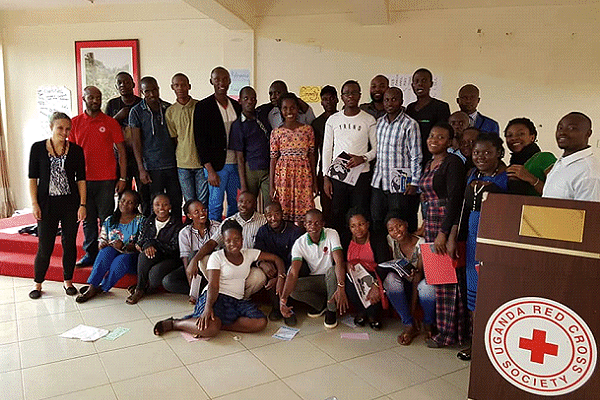 27 March 2019
The Uganda Red Cross Society (URCS) earlier this year became the first National Society in Africa to roll out the Y-Adapt climate-adaptation curriculum at a week-long training of trainers for 30 young people (photo) at its Kampala headquarters.
It comprised seven sessions ranging from an introduction to Y-Adapt, comparing weather and climate, critical thinking on mapping extreme-weather impacts, brainstorming to identify and prioritize resources in specific communities, and creating action plans for climate change adaptation.
At the end of these sessions the trainers were equipped with skills that will help them strive for innovation and creativity among the youngsters.
The youth-led interventions are intended to help reduce the effects of extreme weather in their communities.
Outdoor activities
The trainers also encouraged the young people to work together in supporting their communities to implement adaptation solutions, including slow-drip irrigation, awareness campaigns, digging roadside drainage trenches, and planting domestic vegetable gardens.
In an effort to advance their newly acquired skills gained from the training, selected participants from different regions took part in a test of the practical usage of Y-Adapt at Ahmadiyya Muslim High School Kampala over three consecutive days; thirty senior students were selected to be trained on the Y-adapt curriculum.
The students identified climate-related challenges they face during school time due to exreme events like weathered-off football and other outdoor activities, and school trips to historical places like Kasese town, the former copper-mining centre.
"The students were enthusiastic about engaging in adaptation actions like digging trenches around their sports field and carrying out awareness campaigns," said the Climate Centre's Mawanda Shaban.
'High risk'
After the training, the young people learnt how to take both community and individual action to protect the vulnerable resources such as forests, lakes, schools, using simple creative solutions like irrigation and drought-resistant seed, and the students were eager to implement the new knowledge at home.
The training sessions helped promote the curiosity and inquisitiveness of the young people, many of whom spoke of the need to implement different aspects of Y-Adapt in their communities.
Uganda was ranked as "high risk" in a climate assessment of humanitarian crises and disasters last year supported by the Irish government, with impacts on displaced people and vulnerable groups, increasing inequality and socioeconomic vulnerability.
Y-Adapt is designed for future generations to help curb global warming and its effects on the environment; Uganda's youngsters will now campaign for communities to reduce the impacts of extreme-weather events, helping guarantee the environment for future generations.
Uganda's newly trained Y-Adapt instructors are now equipped with skills they will use to strive for innovation and creativity among young people, helping communities reduce the effects of extreme weather. (Photo: URCS)