Central America and Caribbean National Societies react quickly to approaching TS Bonnie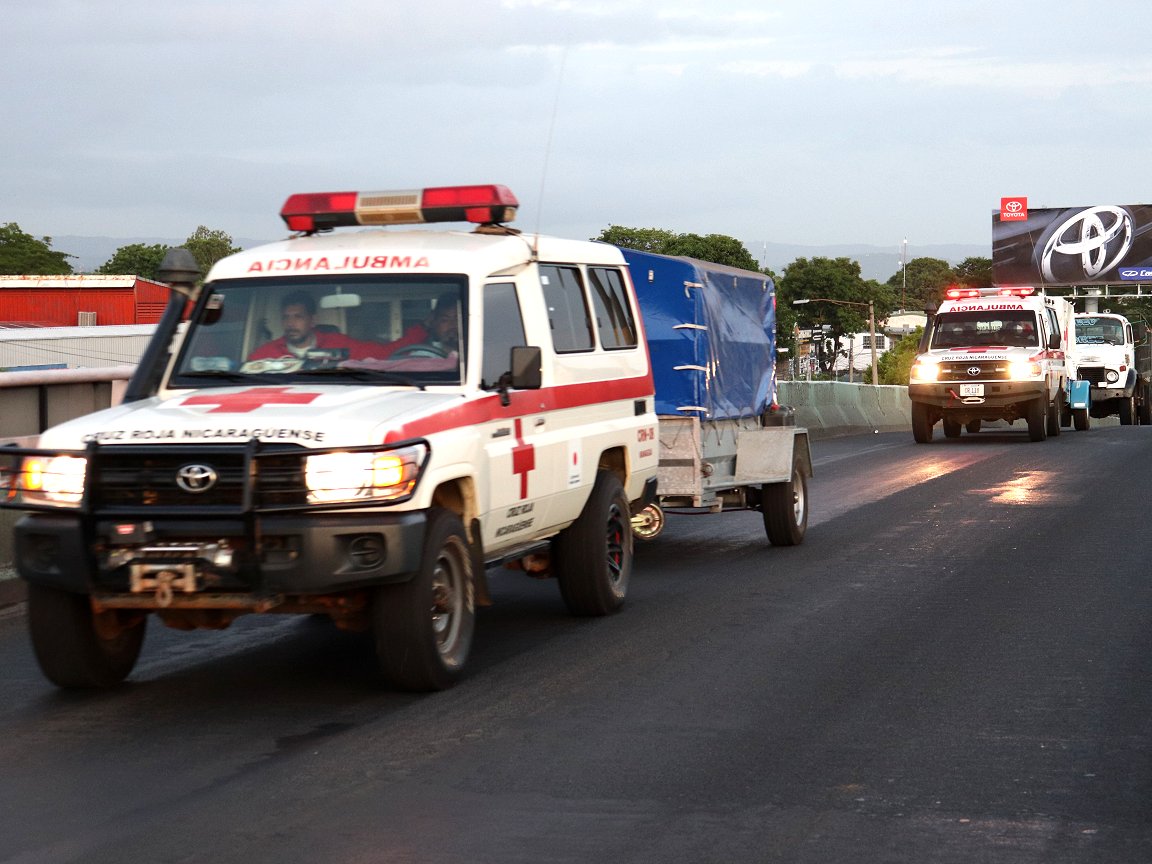 5 July 2022
By the Climate Centre

Tropical Storm Bonnie swept east to west through Central America over the weekend, just to the north of the Nicaragua-Costa Rica border, after spending several days in the southern Caribbean as an unnamed system.
It was later upgraded to a hurricane – the region's third this year – and was today paralleling the coast of Mexico, where it's posed a risk of floods but is not expected to make landfall.
Media reports say four people died in storm-related floods in Nicaragua and one in El Salvador.
National Societies in the region moved promptly late last week once the storm's intentions became clear, helping to limit its immediate impacts, disaster managers say.
In the early hours of Thursday, the day before it came ashore on Nicaragua's Caribbean coast, the Nicaraguan Red Cross mobilized several water-treatment plants, accompanied by specialist teams, for deployment in vulnerable communities, including Waspam, Puerto Cabezas, Prinzapolka and Bluefields.
As of Sunday, the Red Cross said in a special report it had evacuated nearly 4,000 people and carried out nearly 140 evaluations of vulnerable communities, in coordination with the Sistema Nacional para la Prevención Mitigación y Atención a Desastre.
Euronews quoted a Bluefields resident, Leslie Aguilar, as saying: "When the Red Cross came to warn me, I packed all my things and my clothes, and then at least I could save my skin. The rest can stay. Material things can be recovered, but life is more important, right?"
The Red Cross in Costa Rica, meanwhile, reported that it had assisted with the evacuation to shelters of more than 5,500 people, with nearly 100 communities affected by the storm.
'Life is more important, right?'
The preparations for the arrival of Tropical Storm Bonnie are among measures currently being incorporated into the design of a new DREF-based early action protocol for storm-related floods in both countries.
Red Cross volunteers in Guatemala and El Salvador also monitored vulnerable communities as Bonnie passed by to the south.
In late May, forecasters at the US National Oceanic and Atmospheric Administration said there is a 65 per cent chance of an above-normal hurricane season, which would be the seventh in a row to be so.
In mid-June the IFRC issued a DREF worth nearly 180,000 Swiss francs to help the Nicaraguan Red Cross prepare for the season, which last week supported the actions for Bonnie.
Red Cross teams in Sant Vincent and the Grenadines, Saint Lucia, Grenada, Trinidad and Tobago, Guyana, Suriname, Venezuela, and Colombia all activated emergency plans and kept communities informed ahead of the passage of Bonnie, which caused light flooding in these countries, the IFRC in the Americas region reported today.
Water-treatment plants, accompanied by specialist teams, on their way to vulnerable Nicaraguan communities in the path of TS Bonnie late last week. (Photo: Nicaraguan Red Cross via Facebook)