UK sees 40°C for first time in modern era as wildfires 'rage' on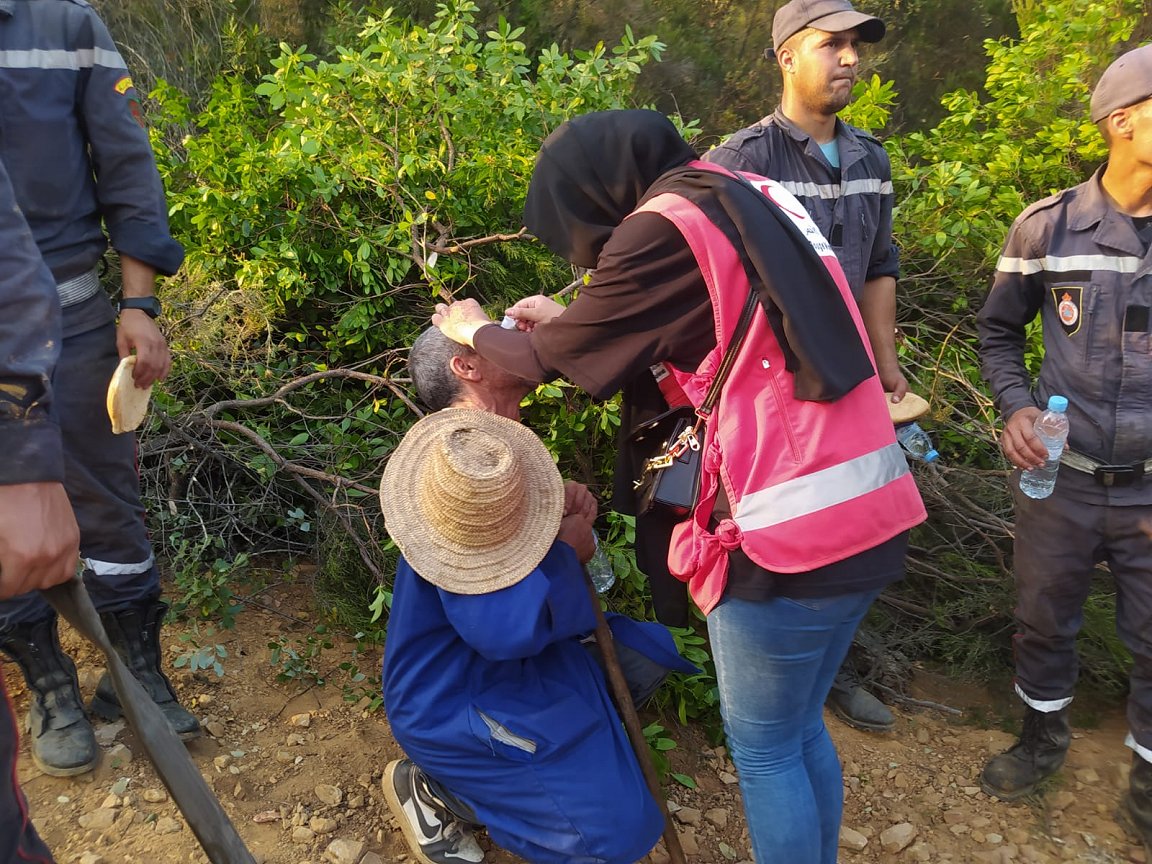 19 July 2022
By the Climate Centre
The British Met Office said today that a temperature of 40.2°C was provisionally registered at London's Heathrow airport at 12:50 local time – around the expected UK peak of the current heatwave that has been afflicting western Europe and North Africa (photo).
This would comfortably exceed the previous British national record temperature of 38.7°C set in a heatwave in July 2019, and it followed the Met Office's first-ever national red alert for dangerous heat.
Monday-Tuesday was also provisionally the UK's warmest night, with the temperature staying above 25°C in places, beating the previous overnight high of 23.9°C set in 1990.
Chris Davies, British Red Cross Head of Crisis and Emergency Response said: "These are unprecedented temperatures for the UK, and our changing climate means we expect more heatwaves in the future.

"Our teams are out responding, providing water to ambulance crews at hospitals, and checking on homeless people in temporary accommodation.
"Longer-term, we're working with communities to help them understand how their neighbourhoods are affected by heat and what action they can take."
Red alerts

The British Red Cross has also been sharing information with vulnerable people on how to beat the heat, as well as advice on recognizing heat exhaustion and heat stress.
The UK record fell as firefighters in Europe and North Africa continued to battle wildfires triggered by the intense heat in the northern hemisphere summer.
Wildfires swept across parts of northern Morocco, injuring hundreds of people and displacing many others, the IFRC said last weekend.

Moroccan Red Crescent volunteers were "on the front line rescuing and evacuating families, and distributing food and medicine" to both residents and firefighters.
In Portugal temperatures rose as high as 46°C, the World Meteorological Organization said in a press release yesterday, and red alerts were in effect for much of the country as very hot conditions increased the risk of fire.
The French Red Cross today tweeted that forest fires continued to "rage" in France, especially in the south-west Gironde department; its volunteer teams were working with emergency aid and rescue systems "alongside holidaymakers and residents who were forced to evacuate to escape the flames."
'Temperature extremes'

National Societies in Portugal, Spain, Greece and Morocco (photo) have also been on the ground assisting emergency services and displaced people in fire-affected regions, and distributing advice on how to stay safe in the heat.
Met Office climate attribution scientist Nikos Christidis said yesterday: "Climate change has already influenced the likelihood of temperature extremes in the UK.

"The chances of seeing 40°C days in the UK could be as much as ten times more likely in the current climate than [without] human influence.

"The likelihood of exceeding 40°C anywhere in the UK in a given year has also been rapidly increasing, and, even with current pledges on emissions reductions, such extremes could be taking place every 15 years in the climate of 2100."
The WMO release also recalled the 2019 World Weather Attribution study which said "every heatwave occurring in Europe today is made more likely and more intense by human-induced climate change".
A Red Crescent volunteer treats the eyes of a resident affected by wildfire last week. Wildfires have swept across parts of northern Morocco, injuring hundreds of people and displacing many others, the IFRC said. Moroccan Red Crescent volunteers were "on the front line rescuing and evacuating families, and distributing and medicine" to both residents and firefighters. (Photo: Moroccan Red Crescent)