Water-borne diseases and food insecurity threaten Pakistan as Red Cross Red Crescent steps up relief effort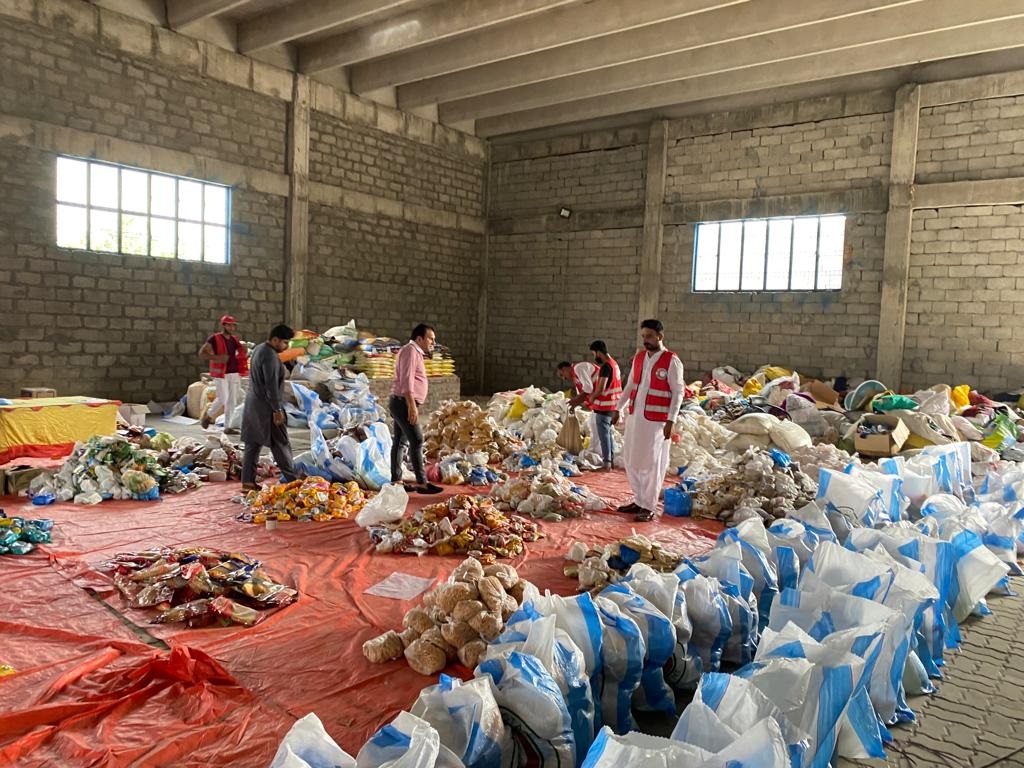 7 October 2022
By the IFRC
(This story is an IFRC press release issued earlier today in Islamabad and Kuala Lumpur.)
As widespread flash floods in Pakistan continue to trigger waves of displacement, the IFRC and the Pakistan Red Crescent are scaling up their humanitarian assistance.
In a revised emergency appeal, the IFRC is asking for 55 million Swiss francs to assist three times more people than with its original appeal – now set at a target of 1 million.

The increase was prompted by the worsening situation, where a surge of flood-borne diseases and lack of access to food is on the rise.

In the areas where floods are receding, health and hygiene concerns such as cholera, dengue and malaria, pose severe threats to people's well-being.
Pakistan has experienced an unusual amount of monsoon rainfall, three times higher than the last three decades, which affected 33 million people, killing 1,700 and displacing nearly 8 million from their homes.

Hundreds of staff and volunteers have been working tirelessly since the onset of this disaster to assist those in need.
'Pakistan has experienced unusual rainfall,
three times higher than the last three decades'
A new study from the World Weather Attribution group of international scientists, including the Red Cross Red Crescent Climate Centre, found climate change likely intensified the rainfall that left huge swathes of Pakistan underwater and turned lives upside down.
More than two months into the floods, the IFRC and the Pakistan Red Crescent have reached around 270,000 people in the most affected areas, delivering critical life-saving assistance including tents, food, clean water and medical support (photo).
The revised appeal will strengthen the delivery of ongoing response, with focus on food, water, medical care, and shelter assistance through volunteers from the communities they serve.
The Chairman of Pakistan Red Crescent, Sardar Shahid Ahmed Laghari, who has been visiting affected areas with emergency response teams over the past weeks, says: "The needs remain massive and keep on growing, and they are different for men, women, boys and girls.

"Our staff and volunteers are inclusively working with these different groups from raising awareness to delivery of interventions.

"It's critical that families' needs are met or these tragic floods will impact them in the long-term – just as people are suffering from the ongoing inflation and economic crisis."
Displaced families
Through the strength of its staff and volunteers, the Pakistan Red Crescent has managed to access hard-to-reach communities in dire need of assistance.
The IFRC and its partners such as German and Norwegian Red Cross and the Turkish Red Crescent have been collaborating with the government and humanitarian groups to cater to the most vulnerable people, with special focus on displaced families, women, and children.
Peter Ophoff, IFRC's Head of Delegation in Pakistan, said: "This revised appeal will enable us to help the most vulnerable get back on their feet, especially those who live in the hard-to-reach areas.

"Before the lingering effects of this disaster turns into a catastrophe, the IFRC is acting now in scaling up preventative public health interventions, including improved access to sanitation and increasing hygiene awareness to the emerging health crisis.
"Parallel interventions will also be made on shelter, livelihoods and cash assistance."
Pakistan Red Crescent volunteers in Gujranwala city, Punjab province, packing and tagging relief goods for distribution in the flood-affected communities last week. (Photo: PRCS via Twitter)