Climate Centre launches Youth Advisory Group on Climate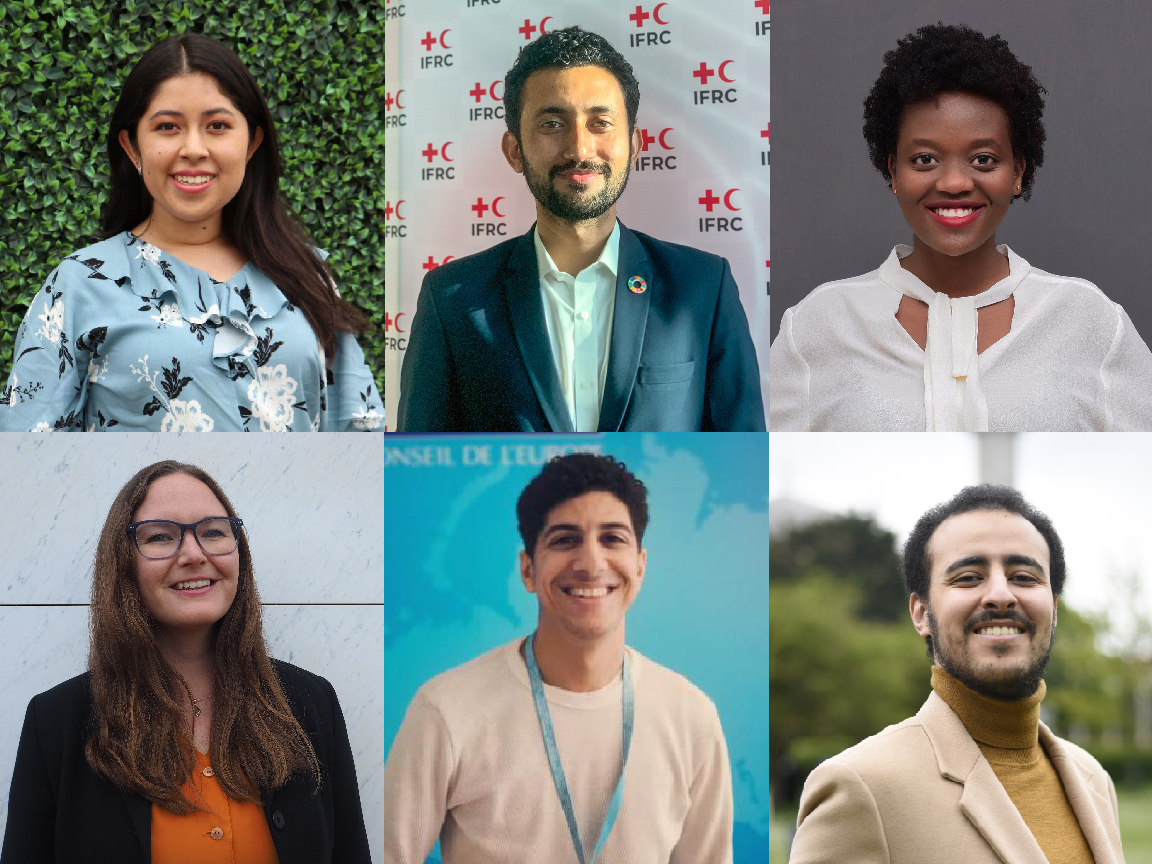 11 October 2022
By the Climate Centre
The Climate Centre is today announcing the establishment of a Youth Advisory Group on Climate that will work to expand the enthusiasm for youth-led climate action across the Red Cross Red Crescent Movement, and advise on the implementation of its strategy for such action by young people.
The group will also support regional contributions to the annual Red Cross Red Crescent climate and youth summit, promote climate action through an online community, be a focal point for the IFRC Youth Commission, and advise the Climate Centre's own programme management team.
The new advisory group, who will meet regularly online, consists of six Red Cross or Red Crescent staff or volunteers, aged from 18 to 30, from each of the six IFRC regions. The founder members are (alphabetically and left to right in the photo):
*Ana Gabriela, a psychologist at Ecuador's San Francisco de Quito University, who won praise from the IFRC Solferino Academy for an initiative to improve adolescents' mental health through games.
*Adnan Khan, a student of disaster management, works with the Pakistan Red Crescent and sits on an expert panel who advise a committee of the Pakistani parliament on climate-related policy-making, and was one of the authors of a global youth statement presented at COP26.
*Doris Mwikali's innovative approach to youth engagement at the Kenya Red Cross Youth Department has earned her a place at this year's IFRC Solferino Future Fellows Programme. She is Africa's representative to the SDG4 youth committee focusing on creation of climate-smart education systems.
*Hayley Payne is a climate change, disaster management and development practitioner with a drive for developing inclusive mitigation and adaptation solutions. She works in the international disaster and crisis response team of the Australian Red Cross.
*Marc Tilley was a Migrant Associate with the ICRC in Geneva. His background is in human rights, forced migration and protection, and he's particularly interested in advancing our understanding of how climate change exacerbates the vulnerabilities from instability and conflict.
*Saad Uakkas is a Moroccan doctor and a global activist on youth engagement and empowerment in climate and health. He is North Africa coordinator of the African Youth Initiative for Climate Change and is one of the coordinators of the first-ever youth pavilion at COP27.
The IFRC Youth Commission has made the climate crisis one of its priorities, with a clear action agenda in the Red Cross Red Crescent strategy on youth-led climate action, and reflected at the 2021 Climate and Youth Summit.
'There is a need for better exchange of knowledge and representation –
part of the reason for our setting up this group'
Climate Centre Director Maarten van Aalst said today: "Since 2021 the ambitions of young people in the Red Cross Red Crescent in relation to the climate agenda have become increasingly clear: they want to make a difference. It's an honour for the Climate Centre to support the IFRC Youth Commission in these efforts.
"Their ambitions include raising awareness among their peers and increasing their own understanding, taking local climate action, and advocating for their own and future generations to join in decision-making.
"But we've observed that despite this great interest from around the globe, many young people do not know where to get started on their journey, while voices from National Societies currently do not always reach global or regional platforms.

"There is a need for better exchange of knowledge and representation, and that's part of the reason for our setting up the Youth Advisory Group on Climate.
The group will be free to organize and structure their work as they think best, and one representative will take part in monthly meetings between the Climate Centre and IFRC Youth Commission; group members will commit to the position for one full year.
The new IFRC-Climate Centre Youth Advisory Group on Climate, alphabetically from top left: Ana Gabriela, Adnan Khan, Doris Mwikali, Hayley Payne, Marc Tilley, Saad Uakkas.