'Daybreak' at COP27? Climate Centre beta tests new climate game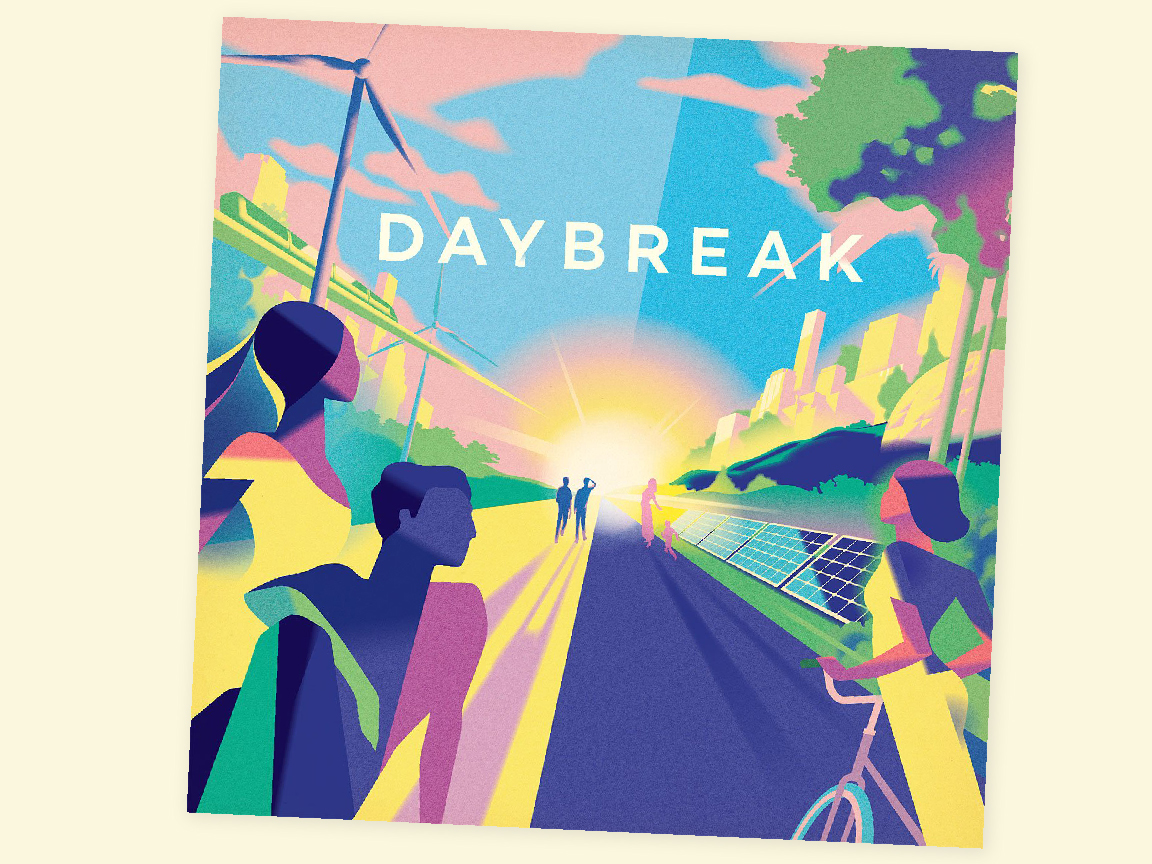 18 October 2022
By the Climate Centre
When world leaders arrive in Egypt for the UN climate talks next month, "they'll be charged with navigating some of the weightiest challenges humanity has ever faced, from setting aggressive emissions-reduction targets to deciding if poor countries are owed reparations for the climate havoc wreaked by rich countries," Bloomberg News reports this week.
But for players of a brand-new climate game, Daybreak, from creators Matt Leacock and Matteo Menapace that has been developed with advice from the Climate Centre, "the challenges are identical but the solutions roll out in seconds," Bloomberg reporter Erin X. Wong writes.
Four players assume the roles of China, the US, Europe and (a majority of the world's people) the global South, and collectively decide on global projects to reduce emissions, preparing for opportunities and crises equally.
Climate Centre Technical Adviser Sayanti Sengupta "marvelled as her friends slapped down cards to create solar farms, struck multilateral climate deals across the table, and swapped tiles to phase out fossil fuel energy," Wong added.

The central tension lies in the trade-offs. "Do you use your opportunity cards to fund the global project, or do you capitalize on growing social movements in your region? Do you invest in mangrove forests, hedging against future floods, or do you prioritize the rapid shift to renewable energy?" The game tallies temperature and thawing ice as droughts and heatwaves escalate.
'We wanted players to viscerally experience
the emissions piling up on the board
and their knock-on effects'
After three years in development, Daybreak will go on sale early next year, joining many existing climate-related games.
It is "a cooperative game about stopping climate change. It presents an empowering vision of the near future, where you and your friends help our societies become more resilient to climate impacts while decarbonizing the world," according to Matt Leacock's website.

Leacock is best known for Pandemic – one of the most successful modern cooperative games – while Matteo Menapace is a designer specializing in cooperative play who has collaborated with the Climate Centre on various game projects.
Leacock and Menapace consulted environmental advocates, from Greenpeace and WWF to the Climate Centre, which itself has developed dozens of DIY educational games, Wong reported.

The New York Times has also reported on the Climate Centre's advisory role in this design process. In Daybreak design diaries, Menapace explains that work started with a model of the atmospheric emissions cycle.

"Talking to the Red Cross Red Crescent Climate Centre helped us realize the game should represent the human suffering and loss caused by the climate crisis, and that the challenge was 'not merely a war on carbon'," the diaries say.
In its current form, Daybreak includes nearly 150 cards with different ways of fighting climate change, from walkable cities to global funding for crisis preparedness, inspired by the real-world humanitarian innovation of forecast-based financing.

"The [unique selling point] of the game," the Climate Centre's Sengupta told Bloomberg, "is that it's not only something that brokers knowledge, but also actually gives you hope that you can do something collaboratively."
Playfulness
Pablo Suarez, innovation lead at the Climate Centre, said Daybreak highlights trade-offs like "us versus them, now versus later, and certainty versus uncertainty, such as whether to invest in adaptation when you're not sure if an extreme event will actually occur".

He cited his own 2012 workshop at the White House involving a frisbee that symbolized a hurricane, neatly illustrating the importance of early warning.
"Games are uniquely well-suited to help people experience complex issues where you have limited information, you have to make decisions, and your decisions will have consequences," Suarez said.

"Playfulness allows people to engage very intensely into imagining the range of possible futures."
Daybreak is about stopping climate change and "presents an empowering vision of the near future" in which players help society become more resilient to climate impacts while decarbonizing the world. (Image: Matt Leacock-Matteo Menapace)