Climate-smart programmes and operations for National Societies: a comprehensive new guide from the IFRC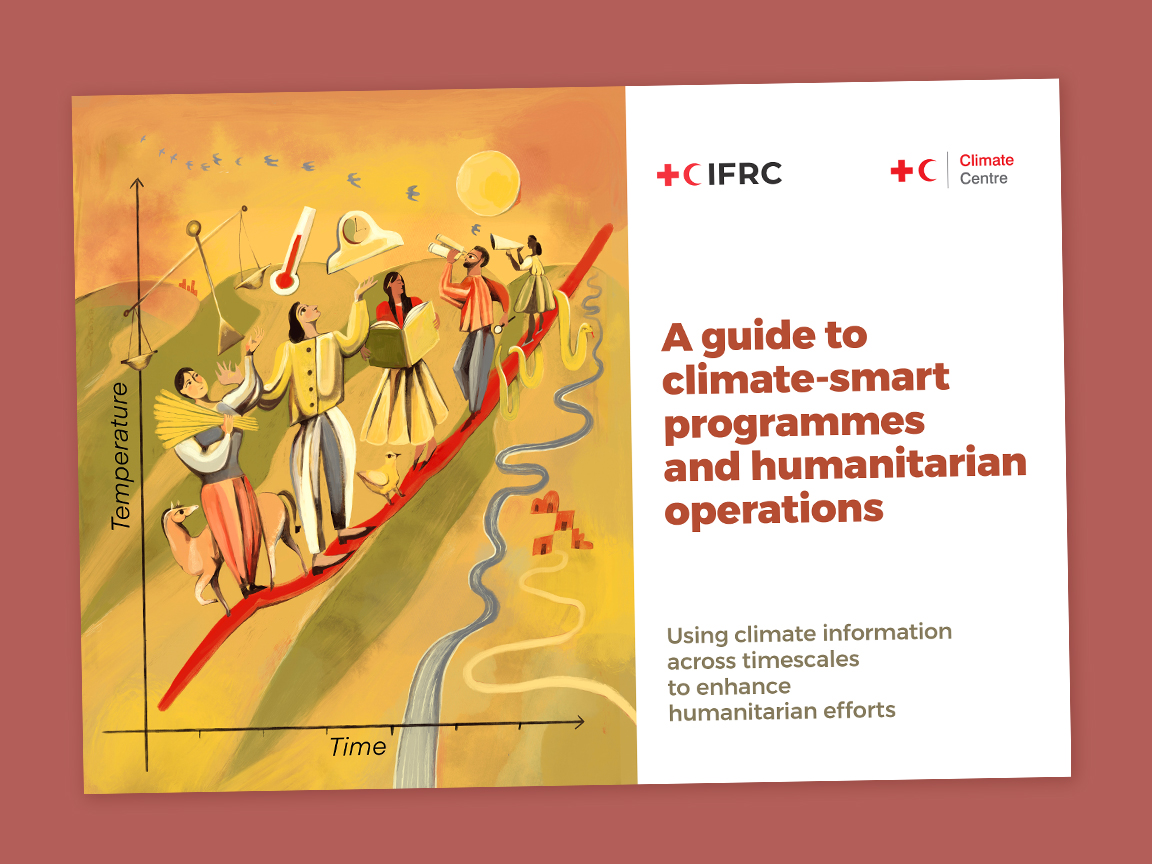 7 August 2023
By the Climate Centre
The IFRC and its specialist Climate Centre today published a comprehensive new guide to climate-smart programming and humanitarian operations for Red Cross Red Crescent National Societies.
Available in full and summary versions, the guide focuses on how to use climate-related information to reduce risk and human vulnerability, and includes detailed annexes and user-friendly tools.

Around the world, Red Cross and Red Crescent staff and volunteers are witness to the reality of climate change, extreme weather and their consequences: more intense and frequent heatwaves and cold waves, droughts, floods, heavy precipitation and storms, as well as slow-onset impacts like disappearing glaciers or the rising sea-levels that threaten and often displace coastal communities

These impacts, in turn, cause health risks, reduce food and water availability, damage homes and infrastructure, and drive people off their land and out of their homes.
'This guide will help National Societies integrate
climate considerations into humanitarian work'
Climate change is contributing to this rapidly changing landscape of risk, generating humanitarian crises through climate extremes; humanitarian needs are growing apace, outstripping the resources available to respond to disasters and emergencies.
The IFRC's Caroline Holt, Director of Disasters, Climate and Crises, said today: "This important guide will help National Societies integrate climate considerations into all humanitarian work as it becomes abundantly clear that it's an essential humanitarian concern, with the Red Cross Red Crescent at the fore.
"It's hoped this publication will help National Societies reduce climate risks they face in their work, and above all reduce climate impacts on the communities they serve."
Early versions of the guide were piloted by the National Societies of (alphabetically) Malawi, Nigeria and Pakistan, whose input was extremely valuable.

Analysis

To adapt to climate change and reduce the risks it brings with it, the humanitarian sector needs to change the way it approaches prevention, preparedness, response and recovery, A guide to climate-smart programmes and humanitarian operations argues.
This involves ensuring that programmes and operations can withstand future shocks and stresses, based on the careful analysis of climate risks.

Changing hazards need to be mapped, human exposure and vulnerability understood, and the best available climate science and local knowledge taken into account.
The guide also offers advice on how humanitarian work can pay dividends for national adaptation.
(Cover image: Rebeka Ryvola/Climate Centre)