IFRC: As climate-related disasters escalate, humanitarian sector urges investment in preparedness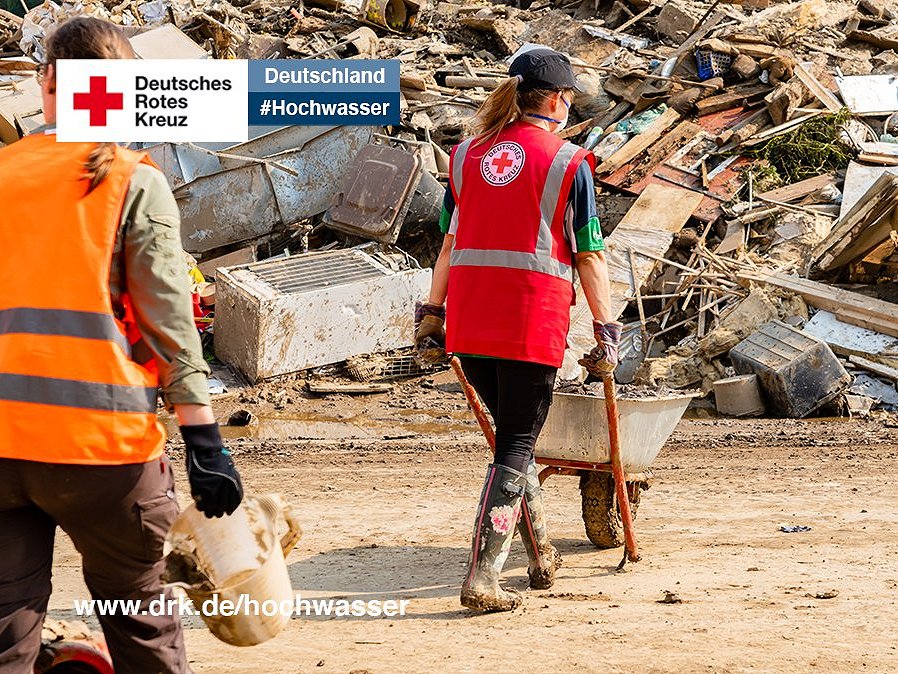 24 August 2021
(This story is an IFRC press release issued in Geneva earlier today.)
The recent devastating wildfires, heatwaves, droughts, floods and storms are having a severe impact on millions of people and put lives at risk across the globe, the IFRC has warned.
The extreme rainfall that led to last month's devastating floods in Belgium, Germany, Luxemburg, and the Netherlands were made 1.2 to 9 times more likely to happen due to climate change, according to an attribution report by an international team of leading climate scientists and the Climate Centre. The report also found that such downpours in the region are now 3–19 per cent heavier because of global warming.
Jagan Chapagain, Secretary General of the IFRC, said: "It cannot be more evident that climate change is here – and its humanitarian impacts are devastating.

"As humanitarians, it is our role to respond to disasters, but also to address risks and better prepare our communities, especially the most vulnerable.
"We cannot do it alone. With COP 26 approaching, we urge governments to make comprehensive and lasting political commitments to boost preparedness, build resilient communities and save lives." 
The results of the World Weather Attribution report are in line with the conclusions of the major Intergovernmental Panel on Climate Change report released earlier this month, which assessed that there is now unequivocal evidence that humans are warming the planet's climate, and human-induced climate change is the main driver of changes in weather extremes.
Health hazards

Climate Centre Director Maarten van Aalst: "The science is clear. Climate change is hurting us already today. The huge human and economic costs of these floods are a stark reminder that we need to prepare for more extreme weather events.
"Local communities are already confronted with the rising risks, and it is critical that they are aware of what's coming their way, supported to reduce risk where we can, but also to evacuate and respond if needed."
The catastrophic flooding in Western Europe killed more than 220 people and forced thousands to leave their homes.

Thousands of volunteers from National Red Cross and Red Crescent Societies responded to the crisis and worked tirelessly to evacuate people, provide shelter, and distribute food, clothing and medical supplies.
The impact of such disasters can be reduced by investing in local communities and giving people the tools to respond.
In the face of tropical storm Henri, meanwhile, the American Red Cross is currently providing in-person and online guidance to communities on how to prepare for a flood, keep families safe during such emergencies, and clean up a flooded home.
In the Middle East, Red Crescent societies, including those in Iran, Iraq and Syria, have been responding to the drought affecting the lives of millions of people.

In Saudi Arabia, the Red Crescent has organized a nationwide campaign on mitigating the health hazards caused by the temperatures climbing up to 50°C.
'We cannot do it alone'
Ahead of the worst of a winter season, the Mongolian Red Cross Society gave unrestricted cash grants and animal care kits to 2,000 herder households in most-at-risk areas, helping to prevent the suffering among communities.
Around the world and particularly in vulnerable areas, the IFRC has expanded the use of forecast-based financing to allocate emergency funding ahead of predicted disasters.

This helps communities take the necessary measures to protect themselves such as strengthening their houses and evacuating people before a disaster hits.
But as the climate crisis is accelerating and more needs to be done: 1.7 billion people have already been affected by climate and weather-related disasters in the past decade, according to the last World Disasters Report.
In 2020, IFRC through its Disaster Relief Emergency Fund provided 75 National Societies with 32 million Swiss francs to support 109 operations – many of which were floods and cyclones in the Asia Pacific region and Africa.
The German Red Cross like other National Societies in Europe deployed thousands of staff and volunteers to assist with emergency evacuations, relief and clean-up operations after last month's historic floods. The exceptional rainfall that led to the disaster was made up to nine times more likely by climate change, scientists now say. (Photo: DRK)