IPCC co-chair Debra Roberts gets honorary doctorate at NL University of Twente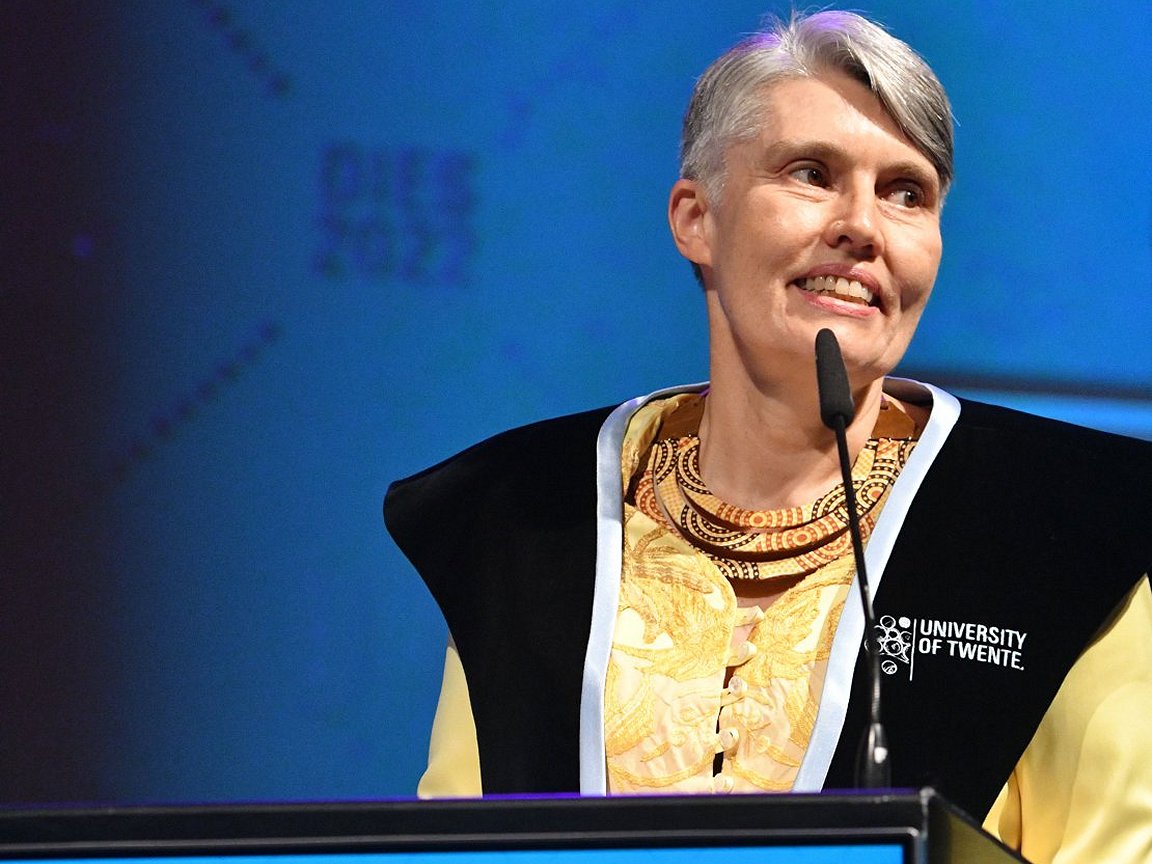 26 May 2022
By the Climate Centre
The highly respected South African climate scientist, Debra Roberts, who jointly leads the IPCC's Working Group II on impacts, last Friday received an honorary doctorate at the University of Twente in the Netherlands, as part of celebrations for its 60th anniversary week postponed from November due to Covid.
Dr Roberts, who is also Head of the Sustainable and Resilient City Initiatives Unit in the eThekwini municipality that includes her home city of Durban, was awarded the doctorate last year "for her excellent scientific work in the field of climate risk management, her leadership in the Intergovernmental Panel on Climate Change, and for linking global climate risks to local realities, putting people first," UT said.
"Debra's work is very special," said her academic honorary promoter and IPCC colleague, Climate Centre Director Maarten van Aalst, who is also UT Professor of Climate and Disaster Resilience.
"Not only is she a fantastic scientist but also someone who really bridges science, policy and practice. She is grounded, convincing and inspirational. She's a very important role model.
"Debra's work in Durban is about the global problem of climate change, and specifically how it plays out in local communities.
"So bridging the gaps between hard scientific knowledge and people's own experience about the risks they already face in everyday life – very much connected to all kinds of other challenges in their own health, their own homes, their own livelihoods; this is what Debra's all about."
Other honorary doctorates went to cybersecurity expert Jaya Baloo, physicist and science policy-maker Wim van Saarloos, and Prince Constantijn of Orange-Nassau, who UT said also "all stand for the sustainable, fair and digital society that the University of Twente aims to support."
'She is grounded, convincing, inspirational'
While in the Netherlands last week Dr Roberts briefed the House of Representatives Standing Committee on Economic Affairs and Climate on the recent IPCC WGII report.
"It's clear that we live in a very challenged present," she said. "Global warming has caused dangerous and widespread disruption in nature, and because of the increase in the frequency and intensity of extreme events around the world, both on land and in ocean systems, we are seeing mass mortalities.

"Probably most importantly for us here today is that climate change is affecting the lives of literally billions of people around the world," through impacts from more intense cyclones, from sea-level rise, from heavy precipitation events.

"And indeed my own city has just recently been devastated by such a precipitation event, and all of that is driving losses and damages around the world."

An important point for policy-makers, the WGII report indicated, was that "these impacts are magnified in the world's cities…and with an increase in heatwaves, we're seeing the exacerbation of the urban heat-island effect."
Extreme events were not manifesting as singular entities, she told the committee, but "coming together in multiple events, creating risks that are much more difficult for us to manage."
Debra Roberts was born in 1961 in what is now Zimbabwe and was the first woman in her impoverished family to go to university. "'I was the kid who kept caterpillars in a shoebox in her room," she has said. She first graduated in biology and chemistry and the University of Natal.
She has been named one of the 100 most influential people worldwide in climate policy and has received several awards for her work including, the AfriCan Climate Research Award.
Dr Debra Roberts at the University of Twente last week. An extended interview covering her life and work conducted by U-Today magazine is online. (Photo: University of Twente)