Western Europe again on high alert for lethal heat and fire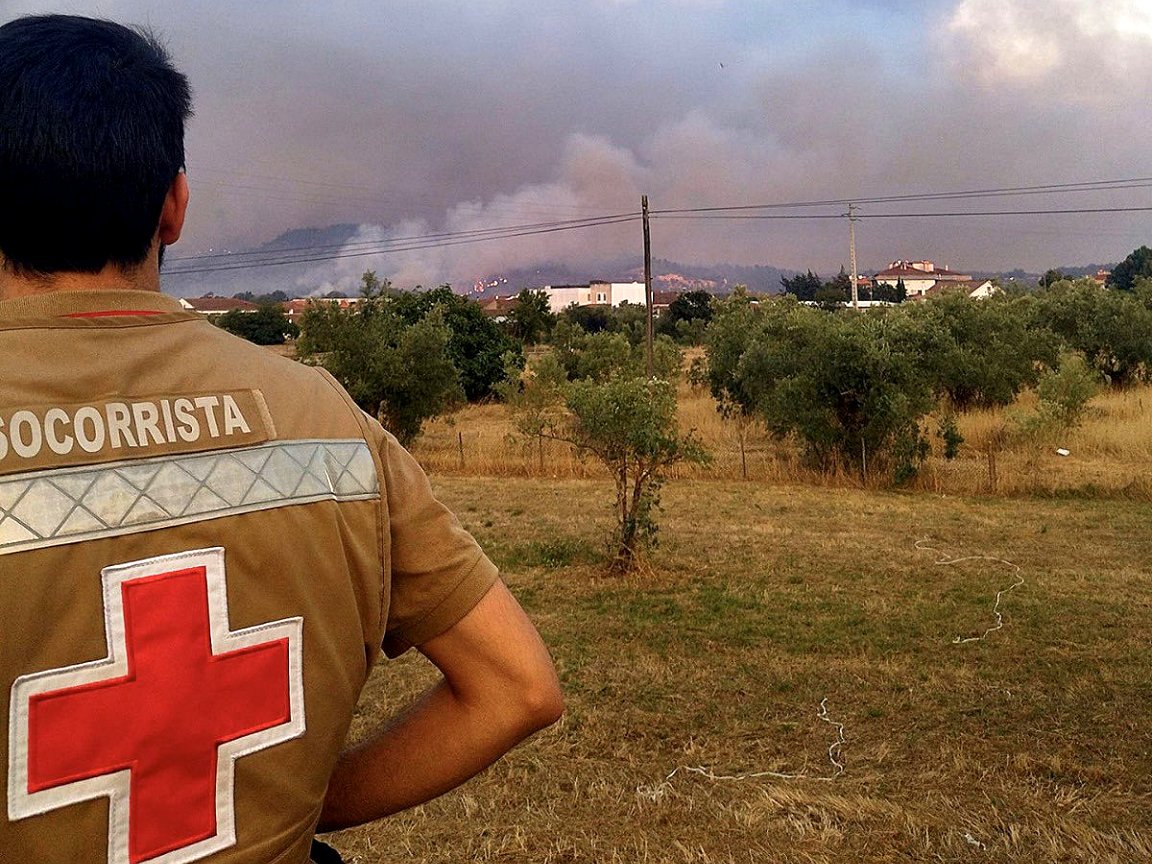 12 July 2022
National Societies in Western Europe were this week again on the alert for dangerously high temperatures and an increased risk of wildfires.
The Portuguese Red Cross has been assisting emergency services tackling at least two serious forest fires in the centre of the country (photo) that media reports said injured nearly 30 people.
An ongoing heatwave that began in the middle of last week triggered a national 'state of contingency', and forecasts said temperatures could reach 45°C this week.
The French news agency AFP yesterday quoted Prime Minister Antonio Costa as saying: "In the coming days we will experience conditions of maximum risk. The slightest lapse in vigilance could result in a fire of significant proportions."
On Friday, the French Red Cross said 30 volunteers had mobilized to assist people affected by "a mega-fire" in the southern Bordezac-Béssèges region.
'This is a trend. It's not going to stop overnight'
"Like large swathes of the country, south-east France has suffered from drought this year, increasing the risk of fires," AFP reported at the weekend.
The Spanish Red Cross – which like other National Societies is flagging its health guidance for extreme heat – said there was now a "full-on heatwave" in Spain, with some areas nudging 40°C.
The UK Met Office said today in a warning that "[e]xceptionally high temperatures are possible during Sunday and Monday and could lead to widespread impacts on people and infrastructure".
Placing almost all of England and some of Wales under a rare amber alert for heat, it added: "Population-wide adverse health effects are likely to be experienced, not limited to those most vulnerable to extreme heat, leading to potential serious illness or danger to life."
The Met Office said "the increase in the frequency, duration, and intensity of [heatwaves] over recent decades is clearly linked to the observed warming of the planet and can be attributed to human activity".
There was already "strongly-embedded warming due to climate change" across Europe that was increasing the likelihood of breaking the existing UK temperature record of 38.7°C observed at the Cambridge Botanic Garden in July 2019; some models had indicated the UK might see 40°C this weekend.
Practical support
Stressing the danger of extreme heat to vulnerable groups like the elderly, Climate Centre Director Maarten van Aalst yesterday told BBC television that "we of course all have a collective responsibility to do our best to look out for our friends and neighbours who could potentially be vulnerable."

He continued: "We are seeing all kinds of extremes increase around the world, but particularly heat extremes. The link is very direct."
Calling for a rethink on urban planning, for example, among other measures, Professor Van Aalst said: "Greener cities are cooler cities, so we should be thinking about how we design our houses, how we design our neighbourhoods. Because this is a trend; it's not going to stop overnight."
British Red Cross research last year said that although heatwaves are "longer and more extreme," polling showed a quarter of people in the UK believed they were still not severe enough to be a real risk, even though a record 2,556 excess deaths were recorded in England alone in summer 2020. 

The report – Feeling the heat – offered practical support to keep safe before and during a heatwave through a special checklist and advice on first aid.
Portuguese Red Cross volunteers were last week assisting emergency services tackling at least two serious forest fires in the centre of the country that media reports said injured nearly 30 people. (Photo: CVP via IFRC)