Opinion: Mega-disasters and 'weather whiplash' add to qualitative shift in big picture facing UNGA high-level week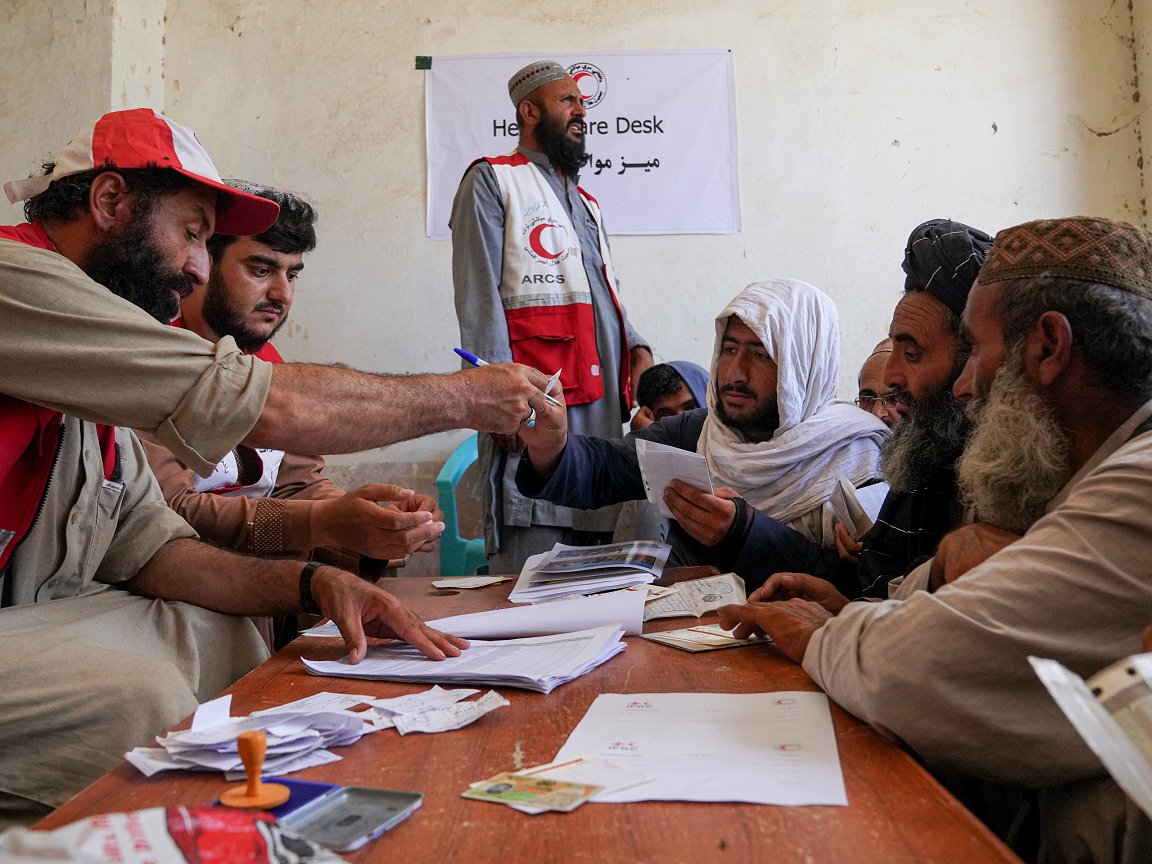 20 September 2022
By Maarten van Aalst, New York
The international humanitarian community is facing a crisis that is changing both quantitatively and qualitatively, with climate change straddling a range of problems, at once both complicating and connecting them.
Shortly before this year's General Assembly, the United Nations Foundation put it well: as a backdrop to global diplomacy's big moment, "complex, overlapping crises unfold around the world. Food insecurity is looming. Humanitarian needs are deepening. Climate goals remain largely unmet. Inequality is worsening."

The need for "unprecedented, urgent global cooperation" was becoming clearer by the day, and yet – I would add – this appears no closer now than it ever was, with one possible exception.
The leaders of both the International Committee of the Red Cross and the International Federation of Red Cross and Red Crescent Societies last week joined forces to issue an impassioned call for world leaders gathering in New York to address, above all, ballooning food-insecurity in Africa. The Red Cross Red Crescent now puts at more than 140 million the number of people facing "acute food insecurity" on the continent, with the Horn of Africa most starkly exemplifying the humanitarian perfect-storm of drought, flood, conflict and the socioeconomic legacy of the Covid pandemic; what we have called "the three C's": climate, conflict and Covid.
"While addressing urgent needs, it is essential to set the foundation for resilience," said the joint statement by Francesco Rocca and Peter Maurer, presidents respectively of the IFRC and the ICRC. "More efforts must be made – by governments, private sectors, and humanitarian and development groups – to support long-term food security, livelihoods, and resilience plans."
Communities are brought to their knees by drought, then relieved not by gentle rain that renders the soil cultivable again but by historic deluges that run off into the sea
One very obvious element in this new big-picture is, of course, the conflict in Ukraine, that in another context we might refer to as a "sudden-onset disaster". But on the same day that the Movement leaders issued their statement (and this is the exception), the UN in Geneva reported that 2.7 million tonnes of grain had by then been exported through the Black Sea grain initiative, pushing down the global food price index by nearly 14 per cent from its peak in March.   
The World Food Programme, our partners in anticipatory action, have already bought 120,000 tonnes of Ukrainian wheat to support humanitarian programmes in the Horn, Yemen and Afghanistan. It will be a while before the full benefits of this unique UN operation have filtered through to remote areas of Somalia, for example. But dare we hope?
In principle, at least, conflict and all the negatives that flow from it are under the control of human beings; the guns can be laid down just as quickly and easily as they can be picked up. But stepping back from "human-induced climate change" is theoretically and practically much harder – even if no less essential.
We cannot simply erase the greenhouse gases that we have already put into the atmosphere in the past, so we're stuck with decades of changes, even in the most optimistic scenarios of emissions reductions. As the IPCC has told us, we can do much more to adapt to the now-inevitable changes, but we are also already reaching limits to adaptation, and thus face irreversible loss and damage.
A further consequence of the war in Ukraine has been the global energy crisis that has complicated the politics of Net Zero in many countries. In much the same way as some European media have commented satirically that "war is back", issues that we in the climate sector had hoped were on the way to being settled – at least in terms of goals and timelines if not simple on-off decisions, such as fracking and coal – are no longer quite so straightforward.
There is now a significant risk of a dangerous delay in phasing-out of fossil fuels, with locking in a further rise in risks as a consequence. The principal humanitarian imperative is simply to preserve life in the short-term; with politicians and media predicting that elderly people, for example, risk freezing to death in their own homes in the coming northern winter amid skyrocketing energy prices, how do we compellingly argue for emissions reductions many times more ambitious than what has actually been achieved? With, at the very least, added difficulty.
What I'm calling the qualitative change in the situation we face encompasses another element – the compound risks already hitting us today. It wasn't widely noticed in the IPCC report that was launched earlier this year just as the Ukraine war was starting, but one of its key messages was that climate risks are playing out ever-more complex and compounding ways, and some of our responses are further aggravating future risks.
One example, multiple hazards with compounding impacts: you may well not have heard of what scientists have dubbed "drought-pluvial seesaw", or more popularly "weather whiplash". In this scenario, communities are brought to their knees by drought, lasting sometime for months, and are relieved not by gentle rain that renders the soil cultivable once more, but by possibly historic deluges that simply run off into the sea, leaving a trail of destruction behind them. The cycle then repeats.
One of the most recent studies in this new field earlier this year found weather-whiplash hotspots in North America, Europe and Australia. Anecdotally, this is not new to us in the Red Cross Red Crescent Climate Centre: as long ago as 2009, with reference to resilience work in Colombia, we were reporting on the "'drought-flood-drought' typical of climate-related disasters worldwide".
Similarly, we've seen cases where hazards are joining dots across regions, including in electricity supply in Europe this summer, with record-low hydropower reservoirs, nuclear power stations that need to be turned down because cooling water is getting too hot, and coal-fired power plants that cannot be reached by barges due to record low river-levels. At the same time due to coping strategies like air-conditioning, demand for electricity was at peak levels.
Such impacts are not just an engineering challenge or an economic problem, but are also directly connected to a cost-of-living crisis that has very real humanitarian impacts.
'Superflood'

Notwithstanding the new focus on compound risks, I would also argue that the sheer scale of individual disasters – the quantitative aspect – is also approaching the dimensions of a qualitative change. The devastating floods in Pakistan, aggravated by the warming climate, are the most recent example, in a country that has, of course, already experienced what instantly became known as a "superflood" in 2010, and suffered from record-breaking heat just a few months ago.
This year we simply ran out of seemingly appropriate language to describe the event, which left an area of Pakistan roughly the size of Italy underwater. "[A] nightmarish mash-up of the 2004 tsunami, the 2005 Kashmir earthquake, and the 2010 Haiti earthquake all rolled into one," was how Foreign Policy journalist Fatima Bhojani eloquently put it. And demonstrating, as always, how rising climate-risks hit hardest in places where vulnerability is highest.
There is always a danger in any discussion of climate change of descending into simple catastrophism; of offering merely a counsel of despair. For us in the Red Cross Red Crescent it was surely encouraging to see our core concept of neutrality so emphatically vindicated (thankyou Turkey and the United Nations!) by the Baltic grain deal.
If it's possible to broker an arrangement like that, in the midst of a full-scale conventional war between mechanized armies, let's hope we can find similar common ground for a trajectory toward climate stability in this complex world. So for this high-level week of the UNGA, at least – when heads of state and government fly in to New York (in many cases direct from the funeral in London of Queen Elizabeth II) to discuss the world's biggest challenges – let's think positively and take this initiative as our auspice.

It's all to do for COP27 in Egypt, when we need another big step forward on ambition after Glasgow to, as the IPCC put it, "secure a liveable future for all". The Red Cross Red Crescent Movement stands ready to play its part, saving lives, calling attention to the crises unfolding before our eyes, and particularly building resilience in the face of rising risks.
Professor Maarten van Aalst is Director of the Red Cross Red Crescent Climate Centre. He writes here in a personal capacity.
Chronic drought in Afghanistan has had more publicity this year and wider impacts, but in this picture Afghan Red Crescent personnel provide cash relief to people affected by unseasonal floods at the end of July in the Spin Boldak district of Kandahar province. (Photo: ARCS via IFRC)